Why Microfeathering Is The Hottest New Treatment for Full, Natural Looking Eyebrows
"My goal is to create a 'brushstroke' that looks as fine and natural as native hair, focusing especially on areas that are thin or sparse," says Kristie Streicher.
---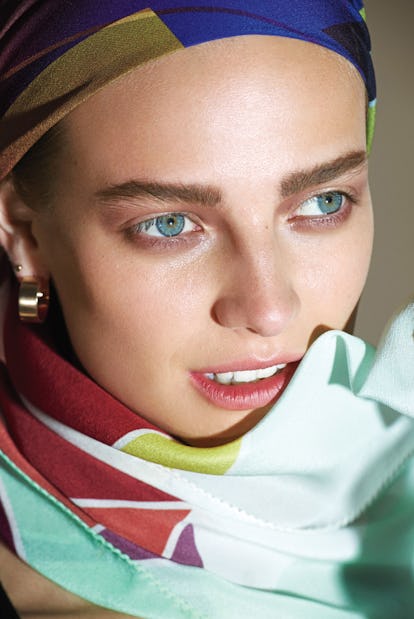 Photograph by Roe Ethridge, Styled by Clare Byrne; hair by Didier Malige; makeup by Dick Page at Statement Artists; Model: Ine Neefs at DNA Models; Lighting Design by Christopher Bisagni for Christopher Bisagni Studio; Digital Technician: Travis Drennen; retouching by Two Three Two; Lighting Assistants: Will Englehardt, John Ciamillo; Fashion Assistant: Jordyn Payne; model wears Lisa King scarf; Lana jewelry earrings. red alert: Kim Reenberg; manicure by Michina Koide for Chanel at Art Department; digital technician: Todd Barndolllar at Capturethis; photography assistants: Andrew Harrington, Kiri Wawatai; fashion assistant: Raymond Gee.
Once upon a time, the only antidote to slim eyebrows was a bit of pencil and a steady hand. But that was all before microblading, a popular process which involves implanting semipermanent pigment into the skin with tiny blades to make brows look fuller, took the beauty world by storm. Now, Kristie Streicher, the co-owner of Striiike in Beverly Hills (the beauty studio she owns with her two sisters), aims to raise even more brows with microfeathering. "My goal is to create a 'brushstroke' that looks as fine and natural as native hair, focusing especially on areas that are thin or sparse," Streicher says. Adele, Gwyneth Paltrow, and Kiernan Shipka are all fans of her feathered brow, a signature tweezing-and-tinting technique that results in a more natural, sprouty-looking arch than microblading. Here, Streicher explains what all the fuss is about and shares her signature take on the process.
Brows have been such a major beauty focus for the past few years and now everyone is talking about microblading. Can you explain exactly what it is for those who don't know?
Microblading is a form of semi-permanent cosmetic tattooing, where you deposit pigment superficially into the skin of the eyebrow. We create small incisions using a fine and very precise blade, and then add pigment into the incisions, resulting in an "eyebrow hair." While standard eyebrow shaping only allows me to take hair away, microblading allows me to add strokes to areas that are thin or sparse.
How does microblading differ from a tattoo?
It only goes into the superficial layers of the epidermis—the top skin layer—whereas a tattoo penetrates deeper into the dermis, making it permanent. Microblading usually lasts up to a year.
You're known for the "Feathered Brow," and for your stellar tweezing and tinting, but now you're microblading, too. What does the Kristie Streicher version of microblading look like?
My overall esthetic is more natural, so I'm calling it Microfeathering. Traditional microblading looks macro, not micro. I really wanted to give clients something that resembled their natural hair so well that they wouldn't be able to tell the difference. Microfeathering incorporates more of your natural hair, brow shape, and growth pattern by blending strokes into the brow. There are no stencils! I've been perfecting the technique for many months on test models along with taking advanced classes. Now I am able to incorporate what I have learned from my formal education with the services I've been performing for over 20 years.
What should you expect from great microblading—or microfeathering—job?
You should not be able to differentiate between the Microfeather strokes and real eyebrow hair, and the strokes should be the appropriate length and orientation to seamlessly compliment your natural hair growth. The color should also match your eyebrow hair color, not your head hair color. For those with very light blonde eyebrow hair, I recommend having your brows tinted to a slightly darker, richer color beforehand.
How long does an appointment last? Do you need more than one microfeathering session?
It's a two-appointment process. The first appointment is around two hours. The second, which should be booked 6-8 weeks after, is the "perfecting" appointment and takes about an hour. Then, I evaluate the healing process, add additional hair strokes, and reinforce previous strokes. (Over time, microfeathering can fade and need to be refreshed.)
What sort of prep do you recommend before someone tries microblading?
I recommend growing out your brows for a minimum of two months beforehand. Microfeathering looks best and most natural when the strokes are surrounded by real hair. It's not a three dimensional procedure and isn't meant to create an entirely different and new eyebrow—but more of a way to fill in less-full areas. The question that is on my—and probably everyone's mind—does it hurt?
It shouldn't. Your brows are numbed with potent topical beforehand. But there may be some very mild discomfort afterwards.
Do you have any aftercare tips?
Yes! The most important thing is to apply a thin layer of Aquaphor or coconut butter with a clean cotton swap three to five times a day for the first two days. You want to keep the area from scabbing as much as possible to prevent the loss of pigment. You'll also want to use SPF, avoid brow makeup, keep the area clean, use simple skincare, and avoid swimming and tanning. And no itching!
See all of the best full brows in W:
In the Mood for… Bold Brows
Watch: Katy Perry Confesses to Crying to Some of Her Own Songs