Are Mini Trampolines the Future of At-Home Fitness?
One editor jumps on the trend by giving The Ness's new rebounder a try.
---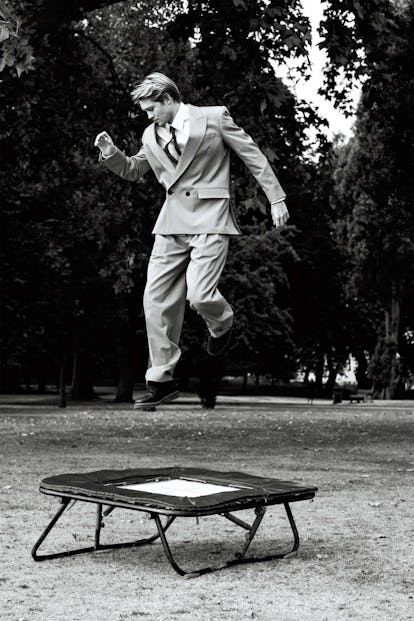 Joe Alwyn photographed by Paul Wetherell for W Magazine, November 2018
After trying dozens of different online workout classes, with nothing really sticking, I was at the point of giving up on finding a good pandemic fitness routine. But then I was introduced to the streaming version of the bounce class, a beat-based, high-intensity trampoline workout from The Ness, a digital platform and New York City studio that counts Kelly Ripa, Gwyneth Paltrow and Eva Longoria as fans.
This is not the type of trampoline you played on as a kid. Instead of a massive platform that takes up half the yard, a rebounder is a round device about the size and height of a large dog bed. And even though I wish I was able to give it a try in person at The Ness' chic Tribeca space, I'm relieved I could begin from the comfort of my home, mainly because I got so out of breath after five minutes that I had to take a break.
As a new member, I started with a complimentary 20 minute Zoom consultation with an instructor who walked me through the key moves. The movements felt a bit silly at first, but once I got the hang of pressing down on my heels (which offers the most stable base for your body), things got a lot better. In the beginning, I was worried that my feet would get caught in the bungee cord exterior of the trampoline, but the instructor reassured me that there's no risk of slipping through the openings with sneakers on. Another fear that might come to mind is bonking your head on the ceiling. For me, at 5"1, I knew this would not be an issue, but taller recruits don't need to fret either: This isn't a "jump as high as you can" type of trampoline—the tension level ensures you'll never go flying.
Once I was set up, I queued up one of the classes on The Ness's digital platform (a library of on demand classes that they launched early on in the pandemic) and jumped around to high-energy songs ranging from Justin Bieber to Janelle Monáe for 30 minutes, learning the "ski" move and doing scissor kicks to kick my heart rate into high gear. It's intense, but fun—I was dripping with sweat, completely distracted from everything else going on, and felt so accomplished afterwards.
While you can do the classes on any small trampoline, The Ness just released a custom version ($399 from thenessnyc.com, with arched legs for optimal stability and 3 firmness settings) powered by Jumpsport, making it easier than ever to shake up your at-home routine. Is it worth the investment?
"The health benefits and the full body workout (all from one piece of equipment) are incredible," says the brand's co-founder Dria Murphy. "Because the rebounder absorbs the impact on the knees and joints, the low impact nature of the movement is far less jarring to those areas compared to workouts like running." While you can feel the trampoline physically working your muscles (even your abs, which you'll be working the whole time to stay balanced), it also helps other parts of your body, too: "Bounce also increases lymphatic drainage, strengthens the pelvic floor as it requires more stability throughout the entire workout, helps increase bone density, and increases balance," Murphy says.
There's also the storage factor: As opposed to a treadmill or elliptical, it can easily be stashed in a closet when it's not in use. And because the noise is so minimal, any downstairs neighbors shouldn't be affected by your moves.
Now that I've taken a few bounce classes, I can officially say that I'm hooked to the point that I won't be renewing my gym membership even once everything opens again. The biggest appeal to me is the convenience factor: I just pull out the trampoline from the corner of my apartment, hook up my laptop to my TV, and hop right in. The range in class lengths (from 25 to 50 minutes) means that I always have time to get a good sweat in, even if it's a quick one during my lunch break. And something I'm looking forward to? Taking my trampoline outside once it's warm enough. It may not be the bouncy trampoline of my childhood, but it might be just as fun.
Related: How The Class By Taryn Toomey Became an Essential Pandemic Workout