TRIBECA FILM FESTIVAL 2017
Christina Ricci, Mariska Hargitay, and More Women in Film Celebrate Women's Voices
"Without a woman's voice, there would be no humanity in the world," said Tribeca Film Festival co-founder Jane Rosenthal.
---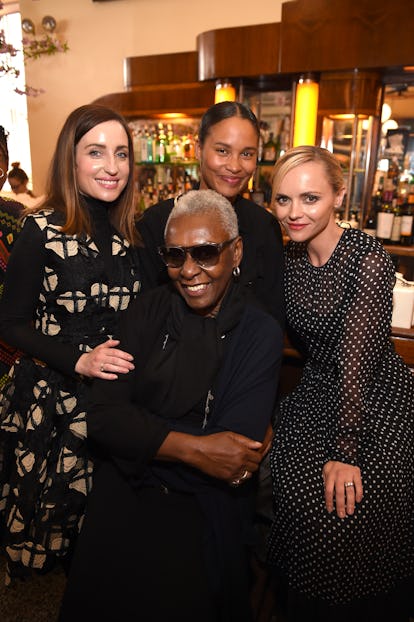 Dimitrios Kambouris
"Welcome to this little brunch," said Jane Rosenthal, co-founder of the Tribeca Film Festival, by way of introduction on Friday afternoon.
She was being humble.
"This little brunch" was the Chanel and Tribeca annual Women's Filmmaker Luncheon, celebrating outstanding women filmmakers presenting works during the film festival, now in its 16th year. This year's lunch took over the Odeon located in–where else–Tribeca, packing the restaurant with a impressive women including Diane Lane, Christina Ricci, Dianna Agron, Joy Bryant, Alice Eve, Melanie Lynskey, Bethann Hardison, and Ellen Burstyn.
As Rosenthal was eager to announce, the lunch wasn't the only celebration of women–this year's festival boasts 51 female directors: the highest number in the festival's history. "Women's voices in storytelling are more important now than ever," she said. "Our voices as women need to be heard loud and clear. Without a woman's voice, there would be no humanity in the world. A man starts in our womb, in our bodies, they come from us."
Her colleague, and executive vice president of the festival, Paula Weinstein, echoed the sentiment, commenting on the power of women. "Bill O'Reilly got fired," she said to an outpouring of cheers. "A car company started pulling because they didn't want to hurt their women clients, they are that important to Mercedes Benz. Thank goodness we share that power. It's not political correctness; it's just correctness."
Weinstein then announced the third annual Through Her Lens: The Tribeca Chanel Women's Filmmaker Program, a multi-faceted program designed to support emerging U.S.-based female writers and directors of short-form narrative films to remarkably even louder cheers.
Over passed plates of tuna tartare and mini burgers, guests circulated the space, discussing the films they'd seen at the festival thus far. Actress Olivia Thirbly had seen her fair share, thanks to her juror status in the Documentary/Student Vision competition category. "It entailed watching about 25 or 30 extraordinary short films," she said. "We had our deliberations yesterday, and we were in there for about five hours. It required a lot of conversation to figure it out. We were locked in a room with a bunch of coffee, but it was amazing."
Mariska Hargitay was enjoying the leisurely lunch, having just wrapped the 18th season of Law & Order: Special Victims Unit just the day before. "I feel amazing, and sort of emancipated," she said of finishing the season. "It's always a hard time for me this time of year, because I'm just so exhausted not just from this year, but cumulatively of 18 years."
Which is not to say the actress was off-duty; on Monday, Hargitay will premiere _I Am Evidenc_e, a feature-length documentary that she produced. "It's a dream come true," she said. "It's about the backlog of untested rape kits that nobody knows about. There are 400,000 untested rape kits in the country. It's a women's issue told through women's voices and that's what we need right now: women's voices."
Related: "Women's Rights Are Human Rights": 62 Fashion Insiders Speak Out in a Powerful Video for International Women's Day