Truman Capote's Ashes Have Had Quite the Afterlife
Truman Capote's ashes will be put up for auction. It's just the latest turn in the strange story of the author's remains.
---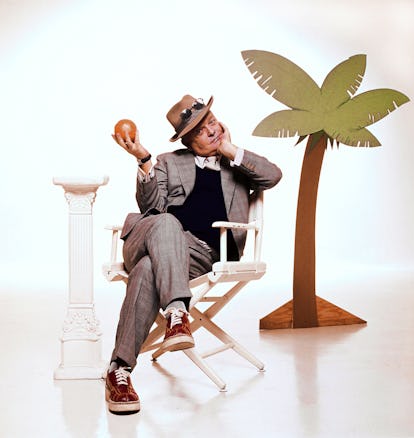 Getty Images
Even after death, Truman Capote still somehow knows how to command attention. A portion of the author's ashes have had a strange afterlife, and now, in a somewhat macabre twist, are up for auction.
When Capote died in 1984 he left most of his remains to longterm partner Jack Dunphy, but a small portion of his ashes were left to his close friend Joanne Carson (yes, Johnny Carson's ex-wife). They were stored in an urn at Carson's Bel Air home. She quipped that Capote has always wanted to live a bi-coastal lifestyle in death. It was there they rested peacefully…for the first four years at least.
During a 1988 Halloween party and Carson's home someone mysteriously made off with the ashes (as well as $200,000 worth of Carson's jewelry and some other personal mementos Capote had left to Carson). Though, six nights later, Carson claimed that a mysterious car drove into her driveway in the middle of the night, startling her before abruptly speeding off. She went outside and found that Capote's remains had been returned, nestled in the middle of a coil of garden hose.
Afterwards, Carson had the remains entombed in a mausoleum at Westwood Memorial Park in Los Angeles. Marilyn Monroe and Natalie Cole were buried not too far away, a thought Carson found appealing.
"Oh, how Truman will like being near Marilyn and Natalie," she once told People magazine. "They can dish like there's no tomorrow."
In 2013, the ashes would again become one of the world's most sought after party guests. Producers of the Broadway adaptation of Capote's "Breakfast at Tiffany's" reportedly wanted the remains to be present , but the plan was put aside amid fears that they could once again be stolen.
"We did try to get him here," a producer explained at the time. "Joanne says he always wanted to (see) Holly Golightly open on Broadway, and we thought it would have been poignant for the entire company. I think ultimately the risk of theft was just too high, but he was certainly there in spirit."
Carson herself joined Capote's spirit on the other realm party circuit in 2015, and now her own possessions are being auctioned off. That includes, apparently, her share of Capote's ashes.
Hollywood auction house Julien's announced that they'll be selling off the remains at a September auction.
"We've never sold ashes before. Some may think it's morbid, but (Capote) would be loving this," Darren Julien, the chief executive of the auction house, told the New York Daily News. "He loved the element of shock, and he loved publicity."
As part of the sale, Julien's will also be auctioning off two separate collections of Capote's prescription pill bottles, collections of books from his personal library, and some his personal clothes and accessories.
Who knows how Truman Capote would actually feel about the turn of events, but he'd probably be a bit underwhelmed at the expected price tag. The ashes, which are entombed in cold wood, are estimated to go for a final price of $4,000 to $6,000.
Watch W's most popular videos here: