Read & Resist: W's Daily Briefing for June 2
From calls to "shoot" and "run over" protesters on the New York City police scanner to what exactly went down with Virgil Abloh and #BlackOutTuesday, here's what to read up on today.
---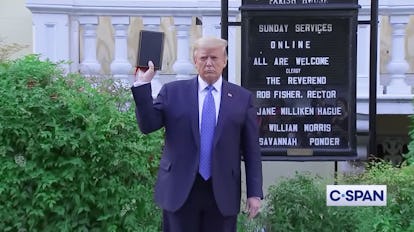 Courtesy of C-SPAN
Back in the day, W started off the morning with a quick round-up of links to that day's fashion- and culture-related news. Times have changed; in the week since a white police officer named Derek Chauvin killed an unarmed black man named George Floyd, protests have erupted across the country, which seems to devolve more into a police state by the day. Now, more than ever, it's important to stay up to date, which is why we're reviving "Chic in Review" as the slightly more radical "Read & Resist." Here are the stories, videos, and tweets we're hoping you don't miss this Tuesday:
As Trump described himself as an "ally of peaceful protesters" in the Rose Garden on Monday, reporters could hear police attacking peaceful protesters with riot shields, tear gas, batons, and rubber bullets. "The production, it turned out," Evan Osnos writes, "had only just began."
"The governors of California, Illinois, and Michigan have all made it clear that they will not seek the involvement of federal troops in their efforts to handle disturbances in their states," Jeffrey Toobin writes. "But that's not the end of the story."
"This weekend, as protests against police brutality triggered disproportionate responses from law enforcement that only seemed to prove the point of the movement, the platitudinous word soup deployed from various brands online felt even more at odds with reality than usual," E. Alex Jung writes in this overview of how brands have coopted the language of social justice.
A complete timeline by Zoe Haylock.
Another timeline, by Vanessa Friedman and Elizabeth Paton, of how the Louis Vuitton and Off-White designer's now infamous screenshot lead to an outpouring of outrage and memes.
"The reality is that—objectively examining protests—violent protest has a positive impact on political and policy change. Nonviolent protest brings awareness to an issue; violent protest brings urgency to an issue," Daniel Q. Gillion, an expert on civil rights protests, tells Laura Bassett in GQ. "It forces individuals to pay attention to these important discussions of race relations, but also prompts the international community to join in and say, "Hey, there's something wrong there.
On Monday, Elizabeth Kimand and Gwynne Hogan report, officers on the New York City-wide police scanner responded to protesters with comments such as "shoot those motherfuckers" and "run them over."
The Los Angeles city budget devotes $3.14 billion of its total $10.5 billion to the police. And yet, Luke Darby writes, "there's little evidence, if any, to suggest that more policy actually correlates to fewer crimes."
"Today, it would be absurd if ICE agents led a Cinco de Mayo parade, or if CIA agents wished Eid Mubarak to Muslims after Ramadan," Derecka Purnell writes. "Why? Because those agencies are responsible for the surveillance, imprisonment, and death of people in those communities. The absurdity is not simply about whether individual bad people work in those careers, but rather—as one of my favorite rappers, J. Cole, explained—the job is bad."
"There's no cohesion in the look of the marching multitudes, which is part of the deep resonance in those images," Robin Givhan writes. "Humanity is arrayed in its countless forms. No one is costumed to play the game of respectability politics because the people who have for so long defined the rules of engagement have voided the terms."
Newsreel
Food For Thought
Related: Justice for George Floyd: What to Read and What You Can Do