Unpacking the Trump Administration's Celebrity PSA Spreadsheet
The 34-page report lists 274 names, categorized by demographics like "super spreaders" and featuring critics like Chrissy Teigen.
---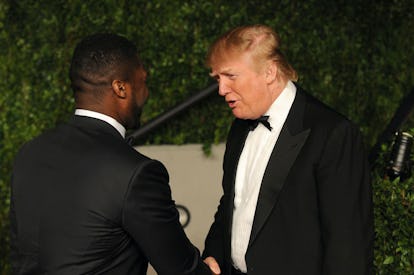 Getty Images
On Thursday night, Lil Wayne tweeted an endorsement of Donald Trump, which the president's campaign immediately promoted to Black voters. The response was swift—and eventually, markedly suspicious. Two weeks ago, Ice Cube announced that he's been consulting the Trump campaign on Black voter outreach. Last week, 50 Cent announced his support for Trump (though eventually walked it back). This week, Lil Pump endorsed Trump, several days before Wayne. Surely, some wondered, there must be some sort of behind-the-scenes rapper outreach program?
As it turns out, there is. Well, sort of. It's just a fraction of the Trump administration's famous-person outreach operation. Politico has obtained a report titled "PSA Celebrity Tracker" from the House Oversight Committee, which contains 34 pages' worth of famous people Trump's Health and Human Services Department were considering to take part in a PSA touting the administration's coronavirus plan. The idea was to use celebrities to help "defeat despair," though there were more explicitly political elements considered. At one point, the Department pitched the plan with the theme "Helping the President will Help the Country." To be clear, even the Department knew many of these celebs were explicitly anti-Trump, but still sought their help for some sort of PSA.
In total, there are 274 names, annotated with criminal records and past political affiliations. There's also a column for the demographics that the Department of Health's Michael Caputo hoped to target—and, most importantly, whether or not the celebrity said yes. All told, the ad campaign swallowed up a total of $300 million collected from taxpayers.
Wayne's name can be found at the top of the list, though his status is marked "pending." (The PDF is dated October 23.) His "demographic" column reads exactly the same as those of Nicki Minaj, Lil Baby, Lil Uzi Vert, Beyoncé, Cardi B, Eminem: "Black Americans, Super spreaders, General population." It's unclear what qualifications are needed for the "super spreaders" category, but 41 additional names made the cut. They include Ariana Grande, Justin Timberlake, Lady Gaga, Brad Pitt, Jim Carrey, Jennifer Lawrence, Gwyneth Paltrow, Billie Eilish, Chrissy Teigen, Johnny Depp, and Will Smith.
In many cases, it's unclear why Caputo would think the celebrity would remotely consider any business with the Trump administration. Louis-Dreyfus, for one, passionately dragged Trump throughout the night she hosted the DNC. There's also Judd Apatow, who "believes Trump does not have the intellectual capacity to run as President." Even more perplexing: Russell Simmons. "Stated that Trump is the epitome of white supremacy," his "additional notes" section reads. "Accused of sexual assault by 20 women."
It's also unclear how many of the celebrities were ultimately approached, but of those who were, 22 declined. The names highlighted in red include Selena Gomez, Britney Spears, Viola Davis, Sandra Oh, and Miranda Cosgrove. The vast majority of names are marked "pending answer," including some truly random choices, like the MMA fighter Tito Ortiz and The Strokes guitarist Albert Hammond Jr. It's equally amusing to realize who the administration didn't consider. Apparently no one involved has caught Timothée Chalamet fever.
Perhaps most surprising are those marked "maybe; follow-up." Maya Rudolph and Seth Meyers are both marked as "team is trying to make it work," and John Krasinski is marked "team is checking with him; has some conservative political views." The representatives of Jay-Z, Danny Devito, and Morgan Freeman were apparently open to considering it, but wanted to know who else was involved first. And from the sound of it, Guy Fieri, Dr. Oz, and Joe Rogan's teams may have gone forward, but the celebs were "overcommitted." (Of course, the might just have been their publicist's way of politely declining.)
So, did anyone actually say yes? Only two names are highlighted in green, only one of which ultimately came to be. The actor Dennis Quaid recorded an interview with the campaign, though later clarified that he intended it to be an apolitical promotion for public health. (George Lopez, who was set to meet with Anthony Fauci, also fell through, apparently out of concern for his past comments on Trump.) And instead of helping Trump, the other yes, singer Marc Anthony, just appeared in a Lincoln Project ad urging Puerto Ricans to vote him out.
Four days away from the election, it seems safe to conclude that Caputo's campaign was not a success. In fact, it's only made matters worse for the Trump administration. Health and Human Services secretary Alex Azar has ordered a review, citing suspicion of its overall "misuse of hundreds of millions of taxpayer dollars for partisan political purposes … and to direct taxpayer funds to friends and allies of Trump Administration officials."
Related: Kim Kardashian Won't Criticize Trump, But Hopes to Work With Next President Too