The Trump Organization Is Giving Up on One of Its Manhattan Hotels
The Trump SoHo has been controversial from the beginning.
---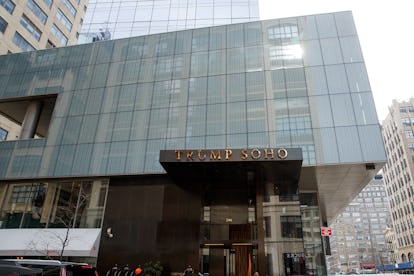 Drew Angerer
The afternoon before Thanksgiving is one of the best days to bury a potentially embarrassing news story. One half of the country is in transit, while the other half is either in a frenzy to wrap things up at work or already relaxing with a bottle of wine. Basically, who's paying attention?
This is something the Trump Organization knows well. Today, at 3 p.m., the company announced that it's giving up on a marquee property in New York City. Yes, according to The New York Times, Trump Organization is walking away form the already struggling Trump Soho hotel. As is typical of many recent Trump-branded properties, the Trump Organization didn't actually own the 46-story tower that the AIA Guide to New York City once described as a "banal glass box." Instead, the company licensed out its name and managed its day-to-day business. Los Angeles-based investment firm CIM Group is the current owner, and will now buy the Trump Organization out of the agreement.
When the deal was struck in 2006, it likely seemed like a safe bet. Trump used The Apprentice to announce the project on national television. The property owners would get the name brand and extra publicity. The Trumps would have a second New York City hotel operation in addition to their owned-and-operated Trump International Hotel and Tower.
Though, the project proved controversial even before Donald Trump's foray into politics. For one thing, it's not even technically in New York's SoHo neighborhood, according to some interpretations of the area's boundaries. For another, preservationists claimed the tower was out of- scale with the character of whatever neighborhood it is in and protested. The hotel-condominium has also struggled to sell units, and in 2011 the Trump Organization and other defendants paid out a portion of a $3.16 million settlement stemming from a lawsuit brought on by buyer who claimed that sales figured in the building had been inflated.
Trump's political ascendance hasn't helped matters. The building's marquee restaurant, Koi, closed in April, and room prices have dropped.
The deal will be done by the end of next month, at which point the property's owner will rebrand. Eric and Donald Trump Jr. negotiated the deal as they continue to run their father's business while their father is president and their sister serves as an official advisor.
Related: Ivanka Trump Really Wants Someone—Anyone—to Rent Her Cursed New York Apartment