TVXQ, the Godfathers of K-Pop, on Returning After a Three-Year Break With a New Album, a New Look, and New Instagram Accounts
A candid conversation with the legendary Korean duo about their stripped-back new album, New Chapter #1: The Chance of Love, fashion, and finally joining Instagram.
---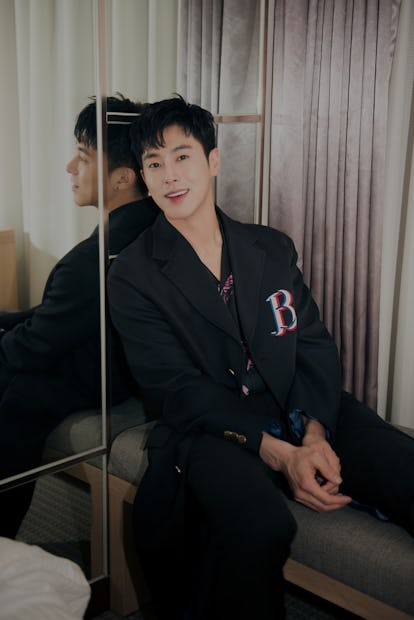 LeeYeongMo
On a recent Tuesday afternoon in Seoul, South Korea, a chorus of flashbulbs began to go off in a packed auditorium in the Zaha Hadid–designed Dongdaemun Design Plaza, where the men's wear brand Caruso was slated to present its fall 2018 collection as part of Seoul Fashion Week. The target of the cluster of photographers gathering at the front row: Shim "Max" Changmin and Jung "U-Know" Yunho, the musician duo who comprise the group TVXQ—which, after it was conjured into being 15 years ago by S.M. Entertainment, the label behind Girls' Generation, Shinee, f(x), and Red Velvet, was quickly swept into the upper reaches of K-pop stardom. (TVXQ, which stands for Tong Vfang Xien Qi, roughly translates to "rising gods of the east"; in Japan, where they are nearly as famous as they are at home, they record as Tohoshinki.)
On the evening of the Caruso show, three years had passed since TVXQ's previous studio album, 2015's Rise As God, was released. Just a week after the show, they were slated to release their ninth full-length effort, New Chapter #1: The Chance of Love. Though it's far from a debut, New Chapter #1 is, in some ways, exactly what the title suggests: a fresh start for a band that has reigned over the K-pop scene both at home and abroad for a decade and a half. It eschews the dense production of their previous records in favor of something a bit sparser; their belted choruses give way to silky falsettos. Jung began conceptualizing the narrative—which charts the rise and fall of a relationship in 11 parts, beginning with the synth-driven "Love Line"—last year, though he and Shim only started working together in earnest on the record two months ago.
"Being older, I'm not saying it's because of my age, but I am gradually trying to be loose overall compared to before, trying to show a side of me that is relaxed and natural," Shim said through a translator later that week. (Since their last release, Shim and Jung both entered their 30s; they have been writing, recording, and performing with TVXQ for half their lives.) It was an early weekend afternoon at the Jenny House salon, in Seoul's Gangnam neighborhood, an hour before the Munsoo Kwon Fall 2018 show, and a stylist had just finished splaying his bangs into strategic disarray over his forehead. "Musicians who play instruments, when they first start playing, they practice to be able to show fancy technique," he said. "But when time passes, they can put emotion into the instruments they play, into each and every melody," he continued. "A really good guitarist is not good just because he plays fast, right? Each note that he plays has a tremendous afterglow."
More confident in their musicianship, the two also stripped away some of the more performative elements of their aesthetic to emphasize what Jung called their "human side." This extends to their look too: Blogs dedicated to their style—whether onstage or at the airport—commemorate the chambray playsuits, leopard prints, and artfully distressed denim of album cycles past. But when we met, Shim wore a simple, oversize collared shirt with cropped black trousers and a blazer, and Jung wore a navy trench emblazoned with a cursive "B" over a floral button-down shirt.
"With our album jacket photo, for example, television appearances, and music, all those aspects are now closer to our real selves," Shim said. "We wanted to show the lifestyles of ourselves, rather than a superstar onstage, but more loose, natural. So doing that, should I say, we've cut out the fat."
This was not an evolution wrought by age and experience alone: Shortly after the release of Rise As Gods, both Shim and Jung entered their mandatory two-year service in the Republic of Korea Armed Forces. They were discharged in August and April 2017, respectively.
"I had been working too fiercely and diligently for 15 years, and so how I seemed to other people was very important for me," Shim said. "Being one step removed from the fierce work that I had been doing, I came to think that now I would like to do things that are more comfortable, more approachable."
Jung echoed his bandmate when we spoke later that evening: "I think we were refreshed," he said. We sat in a hotel room just above the grimy Migliore mall, a shopping center across the street from the DDP, where the brand Beyond Closet had just put a cap on Seoul Fashion Week. The singer had just returned from his home city, Gwangju, where he threw the opening pitch for a Kia Tigers baseball game before embarking on the four-hour journey back to Seoul for the end of the fall 2018 shows, and his red-and-blue jersey still lay on one of room's pair of twin-size beds. (He doesn't play favorites, but he holds a particular fondness for his hometown team: "Their fighting spirit is also my style," he told me.) "We had been just looking straight ahead every day, but with time to rest a bit we learned to look back and to the side," he added.
As a particularly auspicious marker of the new era and a means of communicating more directly with their fans, both Shim and Jung joined Instagram earlier this year, quickly amassing nearly half a million followers each—though they swear they're not competitive about the whole thing. "I've never thought about something like that," Jung told me, laughing, when I asked if they ever vie for more followers or likes.
More broadly, the Korean music industry has undergone an apparent transformation since TVXQ debuted in 2003: Shim and Jung were not the first musicians I spoke with to describe a recent shift in power away from the notoriously tight control of labels and management companies. As a result, the cinematic New Chapter #1, in contrast with their previous efforts, is more the product of their own creative input—of their new "signature," Jung described. At the same time, pop music exports from Korea have achieved international renown, and K-pop has become more accessible thanks to platforms like YouTube and Instagram—so the audience for their new efforts is larger and more diverse than ever.
"I feel even more responsibility," Jung said. "The entire world is paying attention."
Related: Block B's P.O—Singer, Rapper, Actor, Photographer—Is K-Pop's Busiest Star