Twin Peaks: The Return's Mysterious Use of Audrey Horne Has Finally Been Explained By Mark Frost
Co-writer Mark Frost finally explains her mysterious presence.
---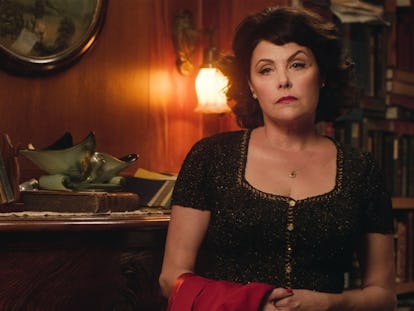 Showtime
Twin Peaks: The Return was full of mind-boggling moments to the point where it inspired more questions than answers. One of set of them centered around Audrey Horne, the precocious high schooler turned mother of town problem child Richard. Audrey's whole presence throughout the comeback season was so confusing, it inspired all kinds of theories ranging from the whole Return playing out as Audrey's dream to her being held in a mental hospital and the short man with glasses we take to be her husband, Charlie, is actually her therapist. While we may never actually find out who Billy is, we now know at least a little more about Audrey's life thanks to the new book by co-writer Mark Frost, Twin Peaks: The Final Dossier.
As it turns out, Audrey was in a coma, albeit one that lasted nearly a month after the explosion in the bank at the end of Twin Peaks season two. Her coma lasted three and a half weeks, as Vulture notes, and, like Diane, Audrey was raped by Agent Dale Cooper's doppelgänger. Apparently it happened while she was still in the hospital and Cooper impregnated her with her son Richard — a detail we do learn in the series — causing her to delay her high school graduation, and later opt for a GED. Audrey then proceeded to take classes at a community college, while running her own beauty salon that was a favorite among the Twin Peaks locals. She shed her loner ways somewhat when she married an accountant — presumably the man we know as Charlie — "without warning." "Witnesses close to the situation suggest that this was more of a marriage of financial convenience than affection," writes Frost, as Vulture reports. With it came "troubling accounts of [Audrey's] public scenes, heavy drinking, verbal abuse, and sexual infidelity."
Four years ago, Audrey reportedly closed her salon without explanation and retreated even more so from the town, Frost writes per Vulture. "[S]he seemed to vanish from public life, into agoraphobic seclusion, or, one troubling rumor suggests, a private care facility. The Horne family spokesperson has refused to respond to all inquiries regarding her whereabouts." So maybe it wasn't far-fetched after all to expect that "Audrey's Dance" was just in her mind and that panned shot right after to her staring in a mirror in what appears to be a mental facility was actually where she ended up, rather than at the Roadhouse.