Jude Law Gave His Son Raff Acting Advice for Twist
The son of Jude Law and Sadie Frost who's rumored to be dating his Twist costar Rita Ora talks his band, and working with Michael Caine.
---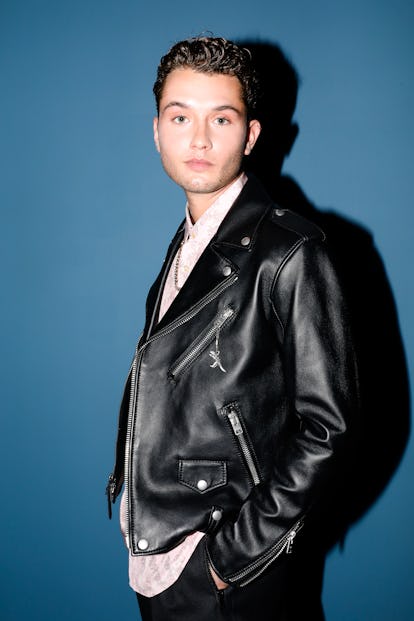 Rafferty Law, the son of the actors Jude Law and Sadie Frost, flew into New York City on Tuesday to attend Coach's New York Fashion Week runway show. Then he quickly boarded a plane to go back to his hometown of London.
While he was in Manhattan for 24 hours, though, he filled up his schedule—sitting front row at the presentation, where Debbie Harry appeared for a surprise performance (Raff, who is a musician and plays guitar in the band Outer Stella Overdrive, posted Harry on his Instagram stories with the caption "My kinda music"), and celebrating a series of firsts. Like any Hollywood scion who comes of a certain age and begins to show his or her own artistic talents—Lila Moss following in her model mother Kate Moss's footsteps, Maude Apatow, the daughter of Judd Apatow and Leslie Mann, making her "Euphoria" debut—23-year-old Raff is in the midst of his personal creative capitalization. He just wrapped filming the movie Twist, a modern-day interpretation of Charles Dickens's Oliver Twist. Raff stars as Oliver, alongside Rita Ora (whom he's rumored to be dating), and Michael Caine. He's actively recording music and releasing videos with his band. And this week, he experienced New York Fashion Week for "the first proper time," Raff said, standing backstage at Coach. But he isn't a stranger to the world of fashion, necessarily—his mother ran the label Frost French, and Raff himself has modeled since he was 17, appearing in DKNY Men and Hugo Boss shows.
For now, his focus is on acting. Raff was initially approached by Twist director Martin Owen with an idea: tell the classic Dickens story, but make it 2020. At first, Raff wasn't sure what part he'd play, but after reading the script, he settled into the starring role of Oliver, who's been reconceived as a Parkour and graffiti enthusiast who runs around the streets of London.
"I was training for that everyday," Raff said. In person, he's polite, reserved, and has a raspy voice. He's a near–spitting image of his father, but with a rounder, more boyish face. "So I was getting up, I reckon, 4:30 in the morning, in the [hair and makeup] chair for 6 a.m, on set for 7:30 a.m. Then we filmed all around London, different locations on rooftops, little back alleyways, and I got to see parts of the city I'd never seen before. Some days, it would be up on a rooftop, freezing cold, hardcore. Other days, it would be in Fagin's Lair."
While he was working on Twist, Raff remained relatively focused on the task at hand, given that it was his first movie set and he didn't "want to muddle my mind too much." But on days off, he'd rehearse with his band. "I was still constantly in conversation with the band on our WhatsApp chat," he said, noting that modeling, acting, and making music each scratch a different creative itch, and fulfill independent artistic needs within him. "Right now, I love doing all three: modeling, acting, and music. I don't want to be greedy, but I do love doing all three so much. Now, because I've had some time while Twist is in the edit, I've been back in the studio recording. Music, for me, has always been really relaxed, and I do it because I really enjoy doing it. I don't do it for anyone else. But working on such a big set and the pressure being on, if you come on set and you're not prepared, or you're not taking it seriously, you're wasting everyone's time. I think I've taken that kind of pressure into my music and into the fashion world—when it's showtime, that's time to focus. I learned a lot about myself, like when the pressure calls, I can step up."
When Raff first told his parents he'd decided to take on the Twist project, he said they supported him heartily.
"When work's work, they let me do my own thing," he said.
But a few days before he was scheduled to go on set, the weight of the job and what was to come hit him like a Mack Truck.
"I was like, Oh my God, this is actually happening. I went to my dad, and the only advice he gave me was just to stay relaxed. He was like, 'Look, make sure you're comfortable, and then also make sure you get on with everyone on set, and are polite and friendly.'"
It helped that Raff's costar Caine was fairly laid-back, surely a product of being a seasoned player in the game.
"Michael's so funny and witty, he's always up for telling a one-liner or having a laugh," Raff said. "What I mainly picked up from working with such experienced and talented people was how relaxed they are when it's not 'action.' Making an effort to get on with everyone, and make yourself known and know everyone's names, and being a fun person to be around. It was really nice for me, coming into my first film to feel comfortable and feel like part of a team straight away. I never really got the other end of it. But I can imagine if it's quite a hostile environment, then when it's time to work, you can't give your best performance. You need to feel like everyone's in it for you, rather than everyone's judging you. If that's the case, then you're really under pressure."