Twitter's Favorite New Astrologers Are Here to Guide You Through Dark Times Ahead
Meet Alex Dimitrov and Dorothea Lasky, the mystical minds behind @AstroPoets — a Twitter account that's gained 15,000 followers (and counting) in just a few weeks.
---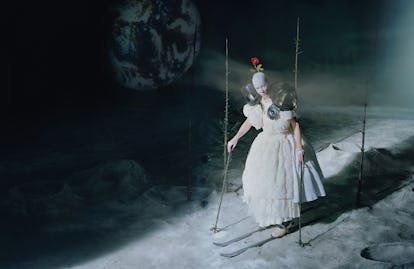 Photography by Tim Walker, styled by Jacob K; W magazine December 2015.
In 2016, we all needed a little guidance from higher powers — far, far beyond politicians and celebrities. Some turned to meditation, while others channeled witchcraft. Alex Dimitrov, 32, and Dorothea Lasky, 38, however, turned to the stars. In late November, the longtime friends and English buffs decided to start Astro Poets together, an astrology-based Twitter account with a modern and humorous approach to horoscopes. For example, they tackle topics like DM'ing and emojis, which has allowed the account to go instantly viral. In just a few weeks, they've gained approximately 15,000 followers, and growing.
"We'd talked about starting this account for a long time," said Dimitrov. "But now finally felt like the right time — the political climate was awful and everyone was sad and terrified. Really, we just wanted to help people and also make them laugh. You know, guide them through the mystical dark. And truly, has it ever been darker than now?"
What are both of your signs? Alex: I'm a Sagittarius (Pisces moon, Taurus rising)! We actually work together really well. We text constantly and run ideas by each other. Sometimes, I'm honestly just trying to impress Dottie or make her laugh with a tweet. Or sometimes I'm sub-tweeting some ex I had. But mostly, I'm drawing on a long history of friendships, relationships, and connections with all the signs, and there's also the element of prophecy in there as well. I mean we're poets after all. Poets are prophets.
Dorothea: I'm an Aries (Scorpio moon and Sagittarius rising)! Aries-Sagittarius is a fantastic match! I think we'd both agree that it's one of the best matches out there. We are both fire signs and we both crave independence and optimism. Aries-Sagittarius are also natural cheerleaders for each other. Plus, Alex has a Pisces moon, so we sympathize with one another, as we both know what a burden it is to be fire signs with water moons.
When did you get into astrology? Alex: I've always been into astrology because my parents were born on the same day, and then they had me, another Sagittarius. Those coincidences, or rather those realities (I don't believe in coincidences), initially got me into it when I was maybe 9 or 10-years-old. I've also dated two Cancers long-term and two Pisces (those boyfriends were even more of a mess than the Cancers but the sex was hotter), and one Leo (I needed god's help to deal with that relationship). So, men got me into astrology, I guess! The problem of men…
Dorothea: When my parents first met, my dad said to my mom (a Libra): "I'm a Gemini, what are your hang-ups?" It wasn't until I was a young adult, though, and obsessed with some insane Gemini (story of my life) that I began to really take astrology seriously. Around that time, I had a best friend (a Scorpio) who started teaching me things, and then I started reading books. Once I saw the real patterns out there, I was hooked. At this point, astrology is a bit of a way of life for me — a kind of very real science.
You've gained a huge following very quickly. Do you think people are seeking astrological guidance now more than ever because of this moment in our culture? Dorothea: I think that this moment in our culture has bred a greater interest in astrology because more and more people are having to seek out spirituality and guidance. I feel that there is a distrust in organized religion and its leaders, so people are seeking out the occult as part of their path to living ethically, a path that will breed tolerance, love, and freedom.
This account makes astrology more accessible to a modern audience. And it's also very humorous. How would you describe your approach? Dorothea: I think our take on astrology is unique, especially in relation to lots of the other Twitter accounts out there because it's not afraid to let astrology engage with real life, like first dates, the weather, and celebrities. A lot of astrology Twitters engage with the signs in a sort of a vacuum, like as if you are reading the DSM of psychological disorders. Instead, our Twitter shows a way of being, a way of being for each sign that is not the cliché of what you have heard about them (like that all Virgos are neat, for example), but that is multifaceted and as distinct as each person who is that sign.
Why is it important to bring all the signs together in conversation, as you do with this account? Dorothea: It's not about choosing the team or side of your sign, but instead about seeing that we are all in this life together and we all have a lot to like about each other.
Alex: Like I tweeted, all signs want you to take them home and undress them in the dark.
What kind of year was 2016, astrologically speaking? Is there a sign that had the worst year? The best year? Alex: Obviously, 2016 was an awful year. I think the signs that had it better than others are Aries, Taurus and Libra, but with many ups and down. It just hasn't been a smooth year in the stars, let alone the political climate.
Dorothea: I attribute some of what has happened this past year (especially the horrible events) as part of a larger wave of forces that have been building for a very long time and that might go beyond yearly astrological interpretation. In terms of individual signs, I think Geminis have had a lot of ups and downs this year and I feel bad for the ones I know and less bad for the ones in power who have the resources to buffer this wild roller coaster ride. Geminis have had seemingly good things happen this year, but in combination with the bad, it's been a lot to take [Ed. note: Donald Trump is a Gemini]. Most people don't know this, but Geminis actually crave boredom because they are so chaotic inside, and this all has taken its toll on their psyches. I think for a lot of the other signs, 2016 has been a time to go under the soil and grow, and that 2017 will be a time to come out into the sun and express ourselves and live.
Watch W magazine's most popular videos below.