Tyra Banks Loves Instagram Brows, Contouring and Discovering New Models
supermodel, entrepreneur, and new mom can also apply her makeup in under three minutes.
---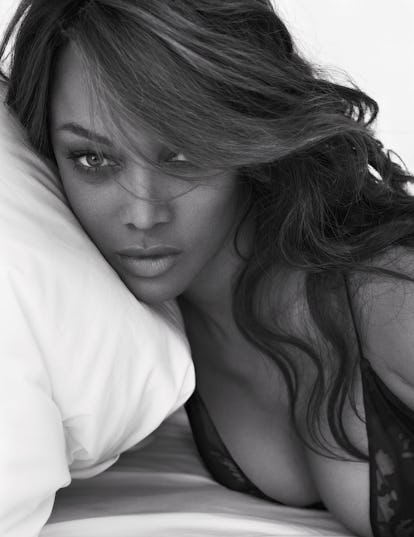 Photo by Mert Alas and Marcus Piggott, styled by Edward Enninful.
After 22 cycles as the host and executive producer of America's Next Top Model, Tyra Banks is ready for a new modeling search. This time, she's hosting a three-day event called Fierce Up which is looking for new faces for her makeup brand Tyra Beauty. In advance of the competition, which kicks off August 22nd, Banks opens up about how motherhood has changed her love of lipstick, how Kevyn Aucoin taught her how to give herself a facelift, and more.
So, you are no stranger to discovering talent, but this time it's for your own brand, Tyra Beauty. Tell us about the competition. We launched the site last year, but it was still kind of beta and this is the first annual convention. On day one [of Fierce Up], we're opening it up to the general public. They can join, or not, spread the word… It doesn't matter, it's all positive. I wanted to expand the definition of beauty through models; Unlike "Top Model," where the age cap was 27, Tyra Beauty's talent search encompasses all ages, all sizes, all shapes, all heights. It's just about being photogenic and being able to take a great picture. Widening those constraints. At "Top Model," we pushed, pushed, pushed, but there were still some constraints. Here, it's like, "Honey, you take a good picture, you have that bone structure where the light hits it in a way that makes somebody want to buy a lipstick, so I want you to model for me."
Will there be just one winner? I'm hoping we find more than one. My staff kills me when I'm like, "I want ten!" But they're like, "Ok, one lives in Des Moines, Iowaone lives in Florida. This is getting expensive!" But no, there's no quota.
And L.A. Models is involved, too? They gave me my start when no one else would sign my ass. There were only six agencies I went to: Elite, Ford, Wilhemina, It Models, all the top modeling agencies in L.A. They all said no, but L.A. Models said "Yes." So I thought I could honor that by having them be our agency sponsor.
That's very cool! And this isn't promoting just modeling. I want these models to be bad-ass businesswomen in control of their futures, not waiting for the phone to ring. What's your A hustle, what's your B hustle, what's your C hustle? With the model search, I want to encourage these people to really think about being their own bosses, starting their own businesses, being entrepreneurial, and thinking outside of the box.
Let's talk about your line: Do you have a favorite product? I have a couple. I love the 5-minute Tyover in Fierce. I've been doing my face for so long, I can actually do in 3 minutes. We have a new brow product, Brows that Match, a double-sided one that has the angled tip pencil and the other side is a fixer that sets the brows. I don't know what it's doing, but it's making me have these Instagram brows.
Instagram brows? You know that brow that looks overdone but it looks damn good? I used to not like that, as a model in high fashion days, but I'm still being influenced by that Instagram makeup!
I'm glad you brought that up. Do you have opinions about the fact that we see so much contouring, shine, and strobing? I feel like these looks set such high unrealistic goals. I find it really interesting. I have an eye–and a very keen eye– for what is makeup and what is retouching. So I can see it. And 90 percent of that look is retouched to high holy hell! It's like there are no pores, no nothing! I always tell women, "That stuff is retouched." But I also tell them everything is retouched. The drum set in that catalog is retouched, the grandmommy in that AARP ad? She's probably retouched. The baby in the baby food ad, everything is retouched. You have to remember that with everything you look at. And I'm not saying this from a hazing standpoint; it's just kind of a fact. It's also a fact that on my selfie I'm taking off dark circles under my eyes and I'm making my cellulite smooth on my booty. We all have that at our fingertips now, so at least it's a little more democratic.
You should come out with a product called Retouch. I'd buy it. Ok, if you could pick only one product from Tyra Beauty, what would it be? I think it would be… sculpt. You just lambasted contouring, but I like it! It gives me Christy Turlington's cheekbones, and, as I get older, underneath my chin is not as sharp, so I do sharpen it with my contour.
Ok, you're not 25 anymore. Has your makeup routine changed over the years? Day to day, it's just faster. If I used to have a big pitch meeting to NBC or something, I would spend 30 minutes doing my face. Now I can do it in five and look great. So I've learned what can be cut that and I can do it in five minutes with Tyover. The only thing I use that we don't offer, but are going to offer later, is concealer. I do have to use concealer.
Future product alert! It won't be introduced for a while though.
Oh, okay. Has motherhood affected your beauty routine? Hell yeah! The other day, I beat my face so good. I did my sculpt, I did my contour, I did my eyebrows, I did my mascara, I did my smoky eye, I did everything except lipstick because I kiss my son all the time. If I have lipstick on, I can't kiss him. So, mommy's not going to wear lipstick anymore. I probably wear it 50 percent of the time less because of him.
How old is your son now? He's five months.
What are the most important messages you want to instill in him? I really want him to not feel pressure from mama. I don't want him to feel he doesn't have to go into any type of industries that I've gone into, I want him to feel free to be himself but also be disciplined. It's like a disciplined freedom. Go for it. Fail forward. It's ok to fail, but learn something from that and continue. Or continue and pivot. I look at him all the time and I'm like, "Yorkie, what are you going to be? Are you going to be an architect? An artist? A musician? Are you going to be an accountant? A dentist?" I just want him to be whatever he wants to be. And if he wants to be the CEO of Tyra Beauty, that would make mama happy, too.
Speaking of childhood, what's your first beauty memory? Sitting on the bathtub ledge in our tiny apt and watching my mom beat her face. My mom was a makeup junkie. She had every product and she loved makeup. This was the '80s, so you know that Kevyn Aucoin trick where the blush went up to the temples? I had to tell my mom, "Mom, blush doesn't go to the temples anymore. Contour does." She was my first makeup artist teacher and then later, she was a photographer, but at home she had a business after work where people would come to her and she would do their makeup, totally beat face, their hair, then she would photograph them. New models would come for her headshot or their beauty shot, and I was her assistant and I would hand her the brushes, hand her the pencils and all that while she was doing her makeup. Then when she was photographing them, I'd hold the light meter for her strobe check. We laugh about it all the time now. She says, "I had no idea my little baby assistant was going to be a supermodel when she grew up!" We had our darkroom on our back porch. It was washer and dryer by day and at night, she would develop film by hand.
Was meeting legendary makeup artist Kevyn Aucoin one of the highlights of your career? Yep. You know what I loved about him? I didn't understand how someone could be so country, so down home, so warm, so loving and be the number one makeup artist in the world. It's an oxymoron. He should have had a fake European accent even though he was from the South.
Who taught you how to do your own makeup? Four people: Kevyn Aucoin, Francois Nars, Fran Cooper and Sam Fine. With Kevyn, I didn't know about how to lift your features up and make your face feel like you have a facelift, so he taught me about taping the face backwards. He also said you can do it without having to actually pull it up. He showed me how all of the makeup angles go into the temples. The contour, the shadows, the eyebrow.
And Francois? I just loved the smoky eye that he did, and I learned that messy is also beautiful. There's a deliberate messyiness that he'd take time with to create that absolutely gorgeous eye. Sam Fine taught me precision and that look, I think he was so ahead of his time because now everyone's doing that on Instagram. But he was the precision king.
And Fran? Fran Cooper taught me to blend. "Blend it, baby. Girl, you gotta blend it, baby."
Was she talking foundation? Shadow? Everything. Like kind of melting into each other. She wasn't about harsh lines, so she didn't want to see that contoured cheek. She wanted that cheek to blend into the foundation so it felt like your skin. When I was at the top of my modeling career, on a plane every other day, I'd be so sleepy and she'd put my head in her lap and she'd do my face while I slept. And I'd wake up not knowing who the hell I was. I was like, "Oh, I'm a mermaid today!"
What was your worst beauty blunder? You can find the picture. I went to the Moth Ball and I told my makeup artist to make me me edgy. I had this gold bronzy dress, so I wanted edge. He did my face absolutely beautifully, but there are certain things that don't translate on the red carpet. On top of that, because of my personality, there are pictures of me making crazy faces with this crazy makeup on. So I learned that artistic makeup is for editorial spreads or selfies, not for red carpet. And that the red carpet is not meant to be edgy if the world doesn't see you that way. So, Rihanna could wear a certain eye, Gwen Stefani could wear a certain eye. I do the exact same eye and they're like, "Tyra, you're that girl next door who's kinda fierce but kinda Americana, but kinda whacky, but kinda crazy, kinda safe, so what the hell is that eye doing on you?" So, I've learned that lesson.
Well, that's a good one, but also humbling. I'd definitely say humbling!
Is there a beauty professional you can't live without? Valente Frazer is my main makeup artist.
What's your beauty peeve? Sperm brows! I hate sperm brows. Women don't understand them, so they leave that big head then tweeze the rest and make it look so skinny and I'm like, "Ugh!" I just want to fill in their brow.
What are you currently obsessed with? My son, York. You know what reminds me of him? Animals. I just saw the secret life of pets and so many of the mannerisms of the cute little animals, I'm like, "Oh, that's like Yorkie! Look at the puppy dog eyes!" I'm kind of obsessed there.