Tyra Banks Wouldn't Have Made It If Her Mom Didn't Support Her Booty in "Any Shape or Form"
How Tyra's mama helped turn her daughter into a supermodel, even when her agency criticized her weight.
---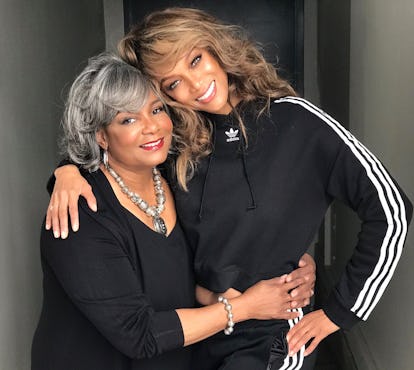 Courtesy of Tyra Banks
"My mom raised me in a kind of atypical way," Tyra Banks said earlier this week. The disclaimer was unnecessary—she was at that moment waiting for her mom, Carolyn London, to join her on the phone to discuss their new book together, Perfect Is Boring: 10 Things My Crazy, Fierce Mama Taught Me About Beauty, Booty, and Being a Boss, which tells story after story of how there were "never any taboo topics" in the Banks household. London was a medical photographer, and Banks a severely underweight and over-teased teen with a broken nose that (sort of) needed fixing when mom and daughter teamed up in the '90s to turn Banks, eventually, into a pioneering supermodel—one who made a series of firsts for black models. Now, of course, Banks has built something of an empire after more than 20 seasons of her competition show America's Next Top Model (not to mention her ever-growing real estate takeover of the Pacific Palisades).
Perfect Is Boring is not a novel; instead, it's a back-and-forth conversation between "Tyra and her Mama," as the cover puts it, that reads like a text or e-mail chain—and happens to be something of a guidebook for the many fans and friends who've come up to them and said how envious they are of their relationship. (For example, there was the time when Banks's modeling agency informed her that she'd put on too much weight—and London promptly took her hurt daughter out for pizza.) Here, the pair share a bit more about their life over the years, as well as a glimpse of how things are now, in their culture diet.
Was putting "Booty" in the book's title a mutual decision? Tyra: Yeah, my mom always taught me to love my booty, even when it was very difficult to when it was very, very skinny and there was nothing I could do to gain weight—and then also when I got bigger and was having difficulty losing weight. She was always there for me. Carolyn: Yes, I've always supported it—in any shape or form. [Laughs.]
What was the process of writing together like? Carolyn: I'm kind of long-winded, so I'd spend hours writing things that would pop into my mind, like, in the middle of the night. So I'd write it in the moment and I get a little flowery and very descriptive, and I'm so proud of it. And then I say, "Tyra, look what I wrote last night!" And she goes, "Let me look at that. Hmm, you could say that in one sentence," and she'd just cross it all out! Tyra: I crossed out pages! There's a part in the book about how I call my mom and I'm like, "Mom, I'm having my period, don't tell daddy! Please don't!" I sent her that part, and said, "Now, Ma, write your response and say what you did." So she's like—this is her writing—Tyra got on that phone and she called me and I heard those words and I remember back in the day when my mom didn't tell me about my period but I didn't want her to be ashamed, and I thought about her father, and how she shouldn't be ashamed with her father, and I contemplated, Should I tell him? Should I not? I'm not sure. She wrote, like, five pages, and then she ended it with, So I told him—that was the last line. I scratched out five pages and kept that one line—it gets to the point, and it's very clear. And she got so mad at me! I was like, "Mama, I edit a show called America's Next Top Model, and film our girls practically 24 hours a day, and every episode is made up of four days, so do the math of 24 times four: I have to edit that down to 40-something minutes for people to watch it. And we have to do that for this book, too." [Laughs.] It's funny now, but she'd sort of storm off in the moment.
You also start off the book with another incident that's much easier to look back on now—the infamous "Be quiet, Tiffany" scene in America's Next Top Model. Tyra: I remember people not being able to look in my eye after it happened, and going to my mom, as I talk about in the book. Then my mom came and we talked to Tiffany together, no cameras, one-on-one, and her saying, "That was mean and over-the-top, but this girl believes in you." And I did try to do some mentoring with her after the show. I wasn't as successful as I would have liked to be, which was possibly my fault. I'm not sure if her passion was modeling, to be honest, but if it had been, she'd have been a super-successful model. And recently, BuzzFeed actually did a story with her, and I was so proud of it. I thought it was very honest journalism; they didn't try to sugarcoat me or sugarcoat her. I'm paraphrasing, but she was like, "Tyra had a point, but it was frickin' crazy." I thought it was very fair, and she seems to be so at ease right now, which is great. Even though I really wanted her to win back then. [Laughs.]
The story from the book that's made the most news is definitely when you talk about getting a nose job. What did your mom think about that at the time? Carolyn: Well, the story is that when she was about three years old, she was playing in our concrete driveway, and she fell flat on her face. There was some bleeding and swelling and she was crying, and I looked at it like a boo-boo, not realizing how serious it really was. My sister was there, and told me she thought she broke her nose, and I was like, "Come on, please, I put ice on it and she's hardly even crying anymore." Fast forward to 15 years later, and Tyra has this problem of itching her nose, between her eyes. She was scratching it constantly—so much so that the kids at school made fun of her, and would scratch their nose when they said hi to her. So we ended up going to—oh, Tyra's cutting me off. I'm long-winded! Tyra: [Laughs.] So I was modeling years later, and was working with this makeup artist who was like, "Tyra, I've been doing your face for about a year and a half, and I have to tell you: Your nose is growing, and the rest of your face isn't, and I feel these shards of bones by your eyes underneath your skin—I think there's something up." So she connected me to a doctor, and he examined me with my mom in the room, and I'll never forget: He was like, "Oh my god, your nose is a mangled mess. You indeed broke it, and you have breathing problems, and I need to do surgery and do your nose, because it probably would have looked like this." So he started doing sketches of me and showing us pictures, but I was like, "First of all, I can breathe, and also, those noses don't look right—they're very Caucasian, and I'm African-American." My mom and I ran away from him, but my makeup artist was still like, "Girl, something's wrong." And then about a year and a half later, we were introduced to a doctor my mom felt more comfortable with because he specialized in ethnic features when doing reconstructive surgeries so that you would still reflect your background. He looked at me and was like," Yes, your nose definitely broke a long time ago and it's healed in the wrong direction; yes, you can breathe, but you're scratching because the skin is stretching."
In the end, it was kind of medical and kind of cosmetic, and I was so happy with the work, because I'm so proud of my culture and I don't want to erase my African American heritage. And the itching stopped! But I just wanted to be real, because although the procedure was in part medical, I just feel like celebrities do so much work and they just kind of say they woke up like this. People don't need to tell every damn secret, but I just feel like when it comes to young girls, there are some things we need to talk about and share. So I want to lead the charge of people now saying, okay, I did my nose, I did this. That's what I like about Kylie Jenner—she was like, "Yeah, I did [get lip fillers]."
You definitely led the charge of getting brands and publications to open up to models who weren't white back in the day. What do you think of how diversity stands in the industry today? Tyra: I think it's twofold: I see such diversity in girls that are very known, from Jourdan Dunn to Joan Smalls to Duckie Thot to a lot of girls whose names I don't even know but I just follow on Instagram, but there's still a long way to go, particularly on the runway. During my day, I remember, there was Naomi Campbell, Veronica Webb, Karen Alexander, Beverly Johnson, Brandi Quinones—the list goes on and on and on of the black girls who were all over the runways in Milan, Paris, New York, and London, and we still thought it wasn't enough back then. So now to see no black girls in tons of fashion shows is crazy; there was still a lot of discrimination back in my day, but now I think, damn, maybe we didn't have it as bad as we thought we did. But the great thing the girls have today is social media, so they don't always have to suffer in silence. We didn't have that—we had to create the Black Girls Coalition and do a press conference to get our voices out, and now you can pick up a phone and say, "I'm so tired of going to jobs and then not having my foundation and makeup color or hairdressers who don't know how to do my hair and I'm looking crazy."
Right. Hair in particular is something you write about initially being an issue in your career. Tyra: I had to figure out how to make sure I looked good at work, because I almost lost my opportunity at Victoria's Secret. I was sent home the first day because the hairdresser didn't know what to do with my African American hair, so it looked crazy. Then a year later, I finally begged my agent to get them to give me another chance, and I had my hairdresser come to my apartment in Union Square and wash, blow-dry, and flat-iron my hair. And then I wrapped it and put a scarf on until the next day, when I was on my way to Victoria's Secret and stepped out of a cab and whooshed it off my head, walked in, got my makeup done, didn't let the hair people touch me, went to the bathroom, redid my face, put on extra lip gloss, and walked on that set. Cut to a 10-year contract. I'm the first black woman on the cover of their catalog; I'm the first black woman to have a contract, to be an Angel, to wear a Fantasy Bra—all of these different things, because I stopped silently suffering. And I do have to take my hat off to Victoria's Secret, because that was the last time I ever had to do that—I talked to them and said, "Look, my hair is different, I need somebody who can do my hair." After that, they hired people who could do my hair for 10 years.
Getting into the culture questions, since you just mentioned social media, what are some of your favorite Instagram accounts to follow? Tyra: I love Duckie Thot. I think she looks like the new mannequin of today. Of course I love my Winnie Harlow from America's Next Top Model—I'm so proud of her, she's killin' it. I just started following Shangela from RuPaul's Drag Race. I love Jenifer Lewis, the actress—she calls herself the Mother of Black Hollywood, and she's hilarious. She just acts like a damn fool. And then I'm obsessed with interior design and architecture and I buy a lot of houses, either to sell or flip or live in, so I follow Luxe Interiors + Design and the Kips Bay Decorator Show House. My mom and I will get on an airplane to see a showcase house, which is when a designer takes a room and decorates it their way, and how I hire some of them.
What about your mom? Is she on social media? Tyra: She used to be. She was on Facebook but she got confused and started talking to people that, um, weren't necessarily the right people to talk to. [Laughs.] So she freaked out and got off all of it.
What books are on your bedside tables right now? Tyra: I go online and read samples of books, and then if I like them, I go buy the physical copy. The last one I bought was A State of Freedom by Neel Mukherjee, which takes place all throughout India. It's shortlisted for the Man Booker Prize. Carolyn: I'm reading The Memory Keeper's Daughter [by Kim Edwards]. Tyra gave it to me. Tyra: I started giving her novels when I was a kid, so I'm always telling her what to read. But now my mom is the one telling me what to watch on Netflix and network TV. She told me about This Is Us. Carolyn: Yes. Oh god, I love that—and The Marvelous Mrs. Maisel. I got her hooked on both of those.
What's the last song you had on repeat? Tyra: Well, she's also the one telling me about the new Drake or whatever to listen to. I'm like, "Isn't it supposed to be the opposite?" Carolyn: "Finesse" [by Bruno Mars, featuring Cardi B]. My grandson loves it—he tells me, "Nana, play 'Finesse!'" [Laughs.]
Carolyn, is America's Next Top Model also on your watch list? Carolyn: Oh, absolutely.
Have you seen every cycle? Carolyn: Just about. Things have been so crazy with the book that I'm behind with this one, so I tape it and I do a marathon and catch up. And I really have some catching up to do—I have to tell you, this book tour is quite overwhelming. [Laughs.] I had no idea we'd be doing so much traveling.
What's the last thing that you googled? Tyra: I looked up the word "commodity" on Dictionary.com. I know what it means, but my mom's been using it a lot so I was like, let me just make sure she's using it right. Carolyn: The Stinky & Dirty Show. It's one of her son's favorite cartoons.
Last thing: What's the last thing you do before you go to bed? Tyra: I put my retainers in. [Laughs.] What about you, Mama? Carolyn: I turn the TV to a good movie to fall asleep to.
Related: Here are 6 Foolproof Business Tips From Tyra Banks, Stanford's Newest Professor