Rachel Brosnahan Says Elle Fanning Kept Her Miu Miu Runway Debut a Total Secret, Even From Her
Midge Maisel is having a marvelous time at her first Paris Fashion Week.
---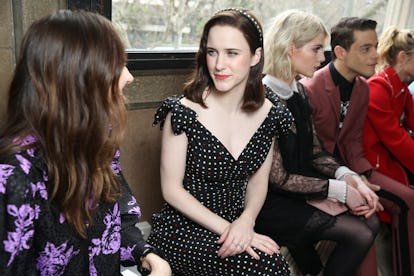 Miu Miu
Rachel Brosnahan's first trip to Paris has turned out to be just as marvelous as she expected.
Although she did go for a ride on the Roue de Paris—the giant ferris wheel situated at Place de la Concorde—to get a romantic view of the Eiffel Tower at sunset, the actress admitted that she did not have the time to do as much sightseeing as she hoped for her first trip to the City of Lights. She's been a little preoccupied with Paris Fashion Week events, like sitting front row at Miu Miu's Fall 2018 show to witness the label's throng of fierce teens take over the runway.
At Miu Miu, the actress was just as surprised as the rest of the world to see Elle Fanning make her runway debut. "She didn't tell any of us," Brosnahan said over the phone from Paris. After Fanning both opened and closed the show, a huge cheer erupted from Brosnahan and her Miu Miu front row seatmates Rowan Blanchard and Zoe Kazan. "She wanted to keep it a secret at dinner last night so we were surprised and shocked and excited. She was fantastic!"
For the show, Brosnahan opted for a navy dress with yellow and red polka dots that "jumped off the rack" to her; and as far as her personal style goes, she admitted that while she typically opts for comfort in jeans and t-shirts, lately she's been taking more fashion risks. "I think I'm really exploring my fashion sense right now. I enjoy—for events like this and events generally—pushing my own limits," Brosnahan explained.
Of course, on The Marvelous Mrs. Maisel Brosnahan is all boundless energy and whimsy. From Jean Carroll to Moms Mabley, and Joan Rivers to Phyllis Diller, Brosnahan diligently took notes from the animated, unfiltered comedians of the 1950s before playing Midge Maisel, an uptown housewife-turned-comedian. Even Bob Newhart and Don Rickles served as inspiration for Brosnahan when preparing for the role that won her the Golden Globe for Best Actress in A Musical or Comedy earlier this year.
The performance would not be complete, either, without her mid-century wardrobe of mock turtlenecks, tea dresses, and bright outerwear. Asked which of the colorful costumes on the award-winning show was her favorite, she admitted that while she had trouble choosing just one there was something she holds close to her heart: Midge Maisel's "first day of work" ensemble. And it certainly does stand out in comparison to the rest of Midge's wardrobe—she walks through the doors in a gray, silk blend dress with a big red, white, and blue bow. It demands she be taken seriously as she enters the workforce for the first time.
The character's many identities—the housewife-mother-daughter hybrid, the working woman, and the budding comedienne—begin to converge and overlap in unpredictable ways once Midge Maisel begins her first job at a department store after separating from her husband. "That's the thing about Midge, she's very performative," Brosnahan explained. "She enjoys the performative element of being a woman. She enjoys performing all of these different identities independently, and clothing and hair and makeup is a huge part of that for her. She expresses herself through her looks."
How Midge Maisel presents herself to the world is as crucial for her onstage success at the underground comedy clubs in Greenwich Village as it is to her acceptance by her Upper West Side milieu. On The Marvelous Mrs. Maisel, the costume designer Donna Zakowska custom builds most of Midge's playful and theatrical looks, but the upcoming season's costumes have been kept tightly under wraps, so as to not ruin the surprise. "I haven't seen anything finished," Brosnahan confessed. "But I will say this tiny thing, which is that Midge has a travel ensemble in season two that's pretty epic."
Before she heads back to New York to start shooting, the actress just has one more Parisian specialty item on her list: baguettes. "I'm trying to figure out how to smuggle a hundred into my suitcase," Brosnahan joked. "I've only got 20 so far!"
Related: Elle Fanning Made Her Runway Debut at Miu Miu's Paris Fashion Week Show