Upstairs from W's offices… an Octomom moment
Yesterday, while chaos continued to reign elsewhere in the world, it was business as usual in the TMZ. Television crews and reporters were gathered in a conference room high above LA's Wilshire Blvd at the...
---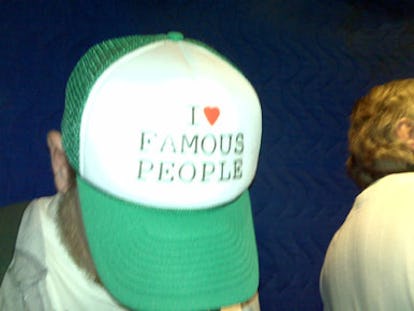 Why were we there, you may ask? As it happens Ms. Allred's office is in the same building as W magazine's LA bureau. And well, we couldn't resist.
Initially, everything went according to press conference plan, and details of the goings-on inside the Suliman household were appropriately unsettling. (For instance, a number of non-AIW nurses were allowed to work in the nursery even though they had tested positive for TB.) Unbeknownst to Gloria, however, there was one attendee sitting directly behind her who had a slightly different agenda.
To anyone familiar with the Jimmy Kimmel show, the man was no stranger. It was "Jake Byrd, Celebrity Avenger," who has a regular segment on the talk show where he injects himself into the crosshairs of celebrity media frenzies. (His antics at the trials of Paris Hilton, Michael Jackson and OJ Simpson are up on YouTube.)
Wearing shorts, a baseball cap that read "I heart famous people" and a t-shirt with Nadya Suliman's picture and the words "#1 MOM," the Avenger sat impassively at first. But his wildly expressive face soon caught the reporters' eyes. He shook his head disapprovingly when Gloria talked about the nursery's unsanitary conditions caused by the media and their "dirty camera and light equipment…reporters, camera men, producers." He cowered when Gloria reported that she was told to "get the f—- out of here" by Suliman's attorney. His eyes bulged when one of the nurses talked of the large Jacuzzi being installed in Suliman's master bedroom just moments after she'd claimed poverty. And he beamed with pride when the nurses talked of their good intentions when it came to caring for the babies.
Allred finally became aware of him when he asked a couple of questions, one of them being, "Is that aqua or aquamarine?" referring to the color of Allred's suit. He also attempted to high five one of the nurses.
Gloria was not amused. When asked for his ID at the end of the conference, he produced a deeply suspicious, ABC credential with no photo and held up a poster that read "Mama-razzi."