U.S.–Mexico Border Now Home to Art Installation Featuring a Little Boy
The multi-story portrait has added another voice to the immigration conversation.
---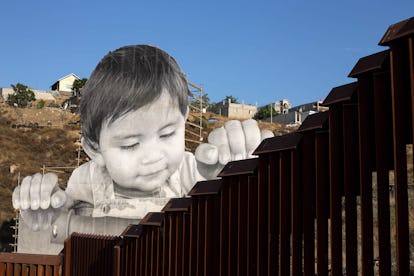 GUILLERMO ARIAS
Despite the current tumultuous political debate over the border between Mexico and the United States, one international artist has his sights on unifying the countries with a simple work of art.
French street artist JR has created a large-scale portrait to rest on the border between the U.S. and Mexico in Tecate (about an hour southeast of San Diego), according to the New York Times. Located on the Mexican side of the border, the artwork showcases a young boy who's seemingly trying to reach down and open the border as though he's in a crib or enclosed play area.
In a statement issued via a representative, JR suggested that the boy could be "looking over the border worried that if things get crazier on the other side, people will massively cross the border in his direction." He also said that the idea came to him in a dream, and he doesn't know "exactly what it means." JR's art comes at a time when the immigration status of 800,000 so-called "Dreamers" is in limbo, after President Donald Trump called for an end to the U.S.'s DACA program, which protects from deportation those undocumented immigrants who came to the States as children
In an additional video posted to Twitter earlier this week, JR showcased the work's impressive scale as his crew worked on stories of scaffolding to finish pasting sections of the portrait on plywood. The piece stands at a whopping 70 feet in all.
Nicknamed the "French Banksy," JR rose to fame after he pasted super-sized portraits of his neighbors on the walls of the Paris suburb Clichy-sous-Bois in 2005. He's pasted thousands more on walls around the world since. While JR is purposely choosing not to reveal the significance behind the work, the Huffington Post notes that he said it was "a continuation" of the global InsideOut 11M project he helped create a few years ago. Specifically, the project honors the "power and dignity" of the more than 11 million undocumented immigrants in the U.S. by "displaying their portraits in public spaces around the world."
Related: Mexican Artist Bosco Sodi On the Wall He Built to be Torn Down By New Yorkers
Watch: "I Am An Immigrant":