Mexican Artist Bosco Sodi On the Wall He Built to be Torn Down By New Yorkers
"Muro," which was made in Mexico, is up for today only in Washington Square Park. "I wanted to show how ephemeral a wall is," says the artist.
---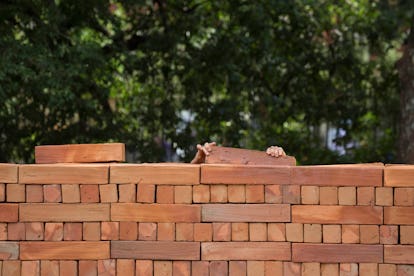 Courtesy of Paul Kasmin Gallery. Photo by Chris Stach/Diego Flores.
Just when we'd thought we'd seen it all from the Trump administration, this week, the president announced his plan to end Obama's Deferred Action for Childhood Arrivals program, which has protected youth brought to the United States illegally for the past five years. Suddenly, though, Trump made the hundreds of thousands of those under 18 who've made a home in the States eligible for deportation—and, predictably, prompted one of the biggest backlashes to his administration yet.
Obama himself spoke out, coolly declaring that "to target these young people is wrong—because they have done nothing wrong." Mark Ruffalo called the move "a cowardly act by a cruel, vindictive and heartless administration," and Cher issued an epic clap back when a Twitter user dared to defy her promise to take in any Dreamers, aka DACA recipients, to her home to "protect them."
No matter how restrained or unleashed, however, the overall reaction across the board has been outrage, which is why the Mexican-born, New York-based artist Bosco Sodi's first-ever public installation, Muro, which is up for one day only in New York's Washington Square Park, comes at the perfect time. "Muro" translates to "wall" in Spanish, which is exactly what Sodi built with the help of Mexicans living in the city this very morning—and plans to let anyone who happens upon it between the hours of 3 p.m. and 8 p.m. to relieve their frustrations by tearing it down.
The idea first came all the way back in January, when Sodi was working at his studio in Oaxaca with the local craftsmen who were constructing the bricks that he calls "clay timbers" for an upcoming project of his in Japan. He listened to their worries that their dreams of immigrating to America to make a living were in peril due to Trump's promise of a border wall. It was at that point that Sodi realized the stack of timbers they'd produced had begun to resemble a wall—one that, being made out of completely Mexican materials and by Mexicans, had the capacity to "make people make analogies, like to the famous wall of Donald Trump," should he place it a bit further up north.
Fast forward a few weeks later, and Sodi was taking "exactly the same route that illegal immigrants follow to get to New York"—except not to immigrate, but to transport the 1,600 timbers his team had produced via truck. Unsurprisingly, Sodi had much less trouble making the trip than those without documentation: "I mean, it was a little bit strange for the people at the border—it made no sense to them," he recalled. "They said, why are you sending these from Mexico when you can buy them from Home Depot? So we had to explain it was art, and then it was not difficult at all."
Sodi is not the only artist bringing politics to the park this fall: The Chinese artist and noted dissident Ai Weiwei is set to install a sculpture addressing immigration and borders titled "Good Fences Make Good Neighbors" in October, though he's recently been met with calls for cancellation from a local community group, which is particularly concerned that his sculpture will be up for underneath the park's famed arch through February, potentially interfering with its annual Christmas tree ceremony.
Sodi thinks Ai's "Good Fences Make Good Neighbors" sounds like an "amazing piece," and much to his surprise hasn't come across any roadblocks or even criticism in the process of planning his installation—perhaps because he only plans to put Muro on display for a single day, another decision that's symbolic.
"I wanted to show how ephemeral a wall is," Sodi said, taking care to clarify that that includes Trump's, should it ever go up. "When he finishes, the next person could destroy it. It went down in Berlin."
Sodi, who lives in New York with his wife and three children, all of whom depend on the artist visa he renews every three years, is as outraged as anyone about DACA—but also of course a bit pleased with Muro's even more pronounced timeliness. "I did it to encourage people that with civic and social action, we're able to dismantle any kind of wall, whether physical or mental, and remind them that it's the people who make these kind of decisions—it's the people, not the government, who rule."
This time around, however, it'll be both who'll be dismantling things: After vowing to defend Dreamers in the wake of Trump's announcement, mayor Bill de Blasio is sending someone from his office to take down one of the first bricks, much to Sodi's delight: "When I heard that, I felt really proud of living in New York."
Related: What Looks Like Soho's Newest Clothing Destination Is Actually a Chilling Ai Weiwei Installation
"I Am an Immigrant": Fashion's Biggest Names Issue a United Statement: