What I Learned About Love From My 80-Year-Old Dad
A hopeless bachelor found love late in life thanks to wise advice from his octogenarian, matchmaking father: "Love doesn't just happen," he said. "It's a decision."
---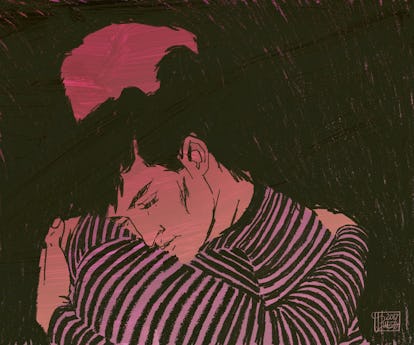 Illustration by Jonny Ruzzo, Visual Editor: Biel Parklee.
The other day, a man I had not seen in years told me by email that he would not be bringing his wife to our get together because he divorced her a few years ago. It didn't take a second for me to start checking off all the single women I know who might be into him.
When it comes to trying to get people together, Austen's Emma, Silverstone's Cher and Thornton Wilder's Dolly Levi have nothing on this Yenta. It's not just that I live in New York, from what I can tell, one of the worst places for women to be single after about the age of 25. It's my survivor guilt from being single for so long. I grow uncomfortable around people having a hard time finding love, even when I eschewed it for decades, telling myself over and over that solitude was positive and solo was fine.
It's no wonder that up until my mid-forties, I was unable to partner successfully with anyone. I'd sabotage any relationship that got started by being either overly critical or inflexible. Maybe I thought I was too smart for anyone dumb enough to want to be with me?
Meanwhile, when my mother died, my father (a romantic who loved to make matches, sing to waitresses and dance in elevators) began nagging me to help him find love after a 50-year marriage. "It worked so beautifully with your mother that I want to do it again," he told me.
She'd only been gone a few months. But appalled as I was, how could I say no? This was just before internet dating took off. So I found myself answering personals ads on my dad's behalf in a Jewish newspaper. I also put the word out to friends that he was on the market. And every single time a woman of a certain age with good shoes and hair passed my way, I tried to get her number. It was important that he find someone who met my standards, too. That's how I found myself both pimping and screening for my father. Did it end well? Yes, but no thanks to me.
Matchmaking, it turns out, is not for the unskilled or uncouth. Any of the professionals who charge top dollar for their services are quick to warn that it must be approached with care. For one thing, friends can be insulted if you set them up with someone they feel is unworthy. And it can come back to haunt you as well, like when a date you've suggested behaves badly by texting over drinks or ghosting your friend in lieu of a second date.
In addition, while people might be willing to spell out their real desires online or with a professional matchmaker, they're more likely to be embarrassed about them when talking to a friend.
I had to hand it to my dad, though. He was so open (I used to call him the world's most democratic Republican) that he got into the dating swing and started telling me that he felt "like a kid again with nothing but the future ahead." Then he'd always ask me how I was doing in the romance department myself and I told him there'd only been imperfect dates. "Are you so perfect yourself?" he asked. I told him I wasn't but that I expected it in others.
Eventually he found someone to make him happy. Around that time, I met someone alluring named Ira who wasn't exactly what I was looking for— he resembles me too much and I am not my type. He was also smart, funny, a man about town. And rather than play it cool and detached like so many New York men, he was persistent and demonstrative, and without being anything but lovely, let me know he wanted to try. So I did what any neurotic narcissist would do, I jerked him around, became uncomfortable when he sent flowers and ignored his emails even as I half suspected I was ruining the only real chance I would ever have for true love.
The day before New Year's Eve, my father knew he'd have a date he adored on his arm. And I knew I'd be alone. He told me to send Ira flowers, to give him a real chance.
"You have to stop looking for perfection," he said. "That's the only way you'll find it."
For once, I took his advice and pushed myself with a phone call that led to a surprisingly romantic New Year's Eve that eased into a sweet New Year's Day. And that's how our 14 years together began. It turned out that the man I didn't think I wanted was exactly what I needed.
"Love doesn't just happen, it's a decision," my father told me.
Well, when you're ready to listen, everyone can be your guru, even your own hapless dad, I guess. I think about his words each time my marriage gets tough. But I also think about them when my friends complain about people they're dating who sound if not perfect to me, then at least good enough if only they could lower their expectations to a reasonable level.
I try to remind them that they have to look for the good, and that the idea of settling is highly underrated because it can lead to the loveliest thing in life—partnership. And if I set them up and nothing goes terribly wrong on the first date, I tell them they have to have at least three dates and that they can't just sleep together once because sex is often anxiety ridden the first time. Sometimes they listen, other times they tell me to back off.
Well, Jane Austen had it right when she wrote that you must be the best judge of your own happiness. But she also wrote, "It's such a happiness when good people get together."
So, I hope my friends will forgive me if I keep trying to make matches even if it's more with a cattle prod than a tiny bow and arrow. Love isn't only about falling. It's also about straining, pushing and committing.
It is, as my dear departed Casanova dad said, a decision.
Bob Morris is the author of Assisted Loving: True Tales of Dating With My Dad, which he adapted as a comedy currently running at the Capital Repertory Theater.
Male Models Are Taking Their Girlfriends to see "Fifty Shades Darker" On Valentine's Day, Too
"I'm going to take my girlfriend Madison to see the new Fifty Shades of Grey movie and have some Nutella afterwards." — Trevor Photo by Biel Parklee.
"I'm taking my lady out for a nice dinner." — Cole Photo by Biel Parklee.
"Girl, I'm not doing anything! I'm just gonna cook something for myself." — Joel Photo by Biel Parklee.
"I'm going to have a great meal and some cake with my girlfriend." – Woojin Photo by Biel Parklee.
"Pizza and Netflix by myself." — Harry Photo by Biel Parklee.
"I'll just get some take out… But hopefully that might change." — Conor Photo by Biel Parklee.
"I'm going to get some full roses for my girlfriend." — Jack Photo by Biel Parklee.
"I don't know, I just started talking to this girl. We'll see…" — Joseph Photo by Biel Parklee.
"I'm spending Valentine's Day by myself because my girlfriend is in Australia. But maybe I'll treat myself with some roses or chocolates." — Jacob Photo by Biel Parklee.
"I'm going to suit up, take the lady a nice dinner in the city, and then watch Fifty Shades of Grey movie." — Jesse Photo by Biel Parklee.
"I'm going to spend the whole day with my girlfriend and then watch some movies in my apartment." — Inde Photo by Biel Parklee.
Bradley Cooper & Seth Rogen Audition for the Role of Cher in "Clueless"
Bradley Cooper & Seth Rogen Audition for the Role of Cher in "Clueless"