Valentino on the Go
Now that Valentino has retired from the fashion house he founded, he's spending more and more time in New York. The city that never sleeps seems to be agreeing with the legendary designer, who is...
---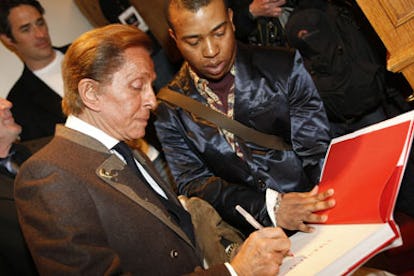 Aside from the social scene, it may be the designer's new Jacques Grange-designed apartment that has made the Big Apple so alluring to Val. Unlike his more over-the-top residences in Capri, Rome, Gstaad and London (not to mention his Louis XIII-era chateau outside Paris) his Manhattan apartment is much more understated, according to Grange. "He wanted it to be more modern and light. He wanted a change," Grange told me recently. One impetus for the shift is Valentino's extensive collection of contemporary and modern art, for which he wanted a more neutral background.Â
One star of the collection is actually a Warhol portrait of Valentino himself, which he had to buy for megabucks after initially passing when Warhol offered it to him decades ago. When I asked Valentino about it at Bob Colacello's party, he explained with a chuckle, "$15,000 or $20,000 was still a lot of money then." Above left: Valentino and Claudia Schiffer at the Met gala. Photo: Stephen Lovekin/ Getty Images. Above right: Jennifer Garner and Valentino. Photo: Peter Kramer/ Getty Images.