Designer Genes
Vanessa Seward is bringing her casually chic aesthetic to a denim collection for A.P.C. Karin Nelson delves into her world.
---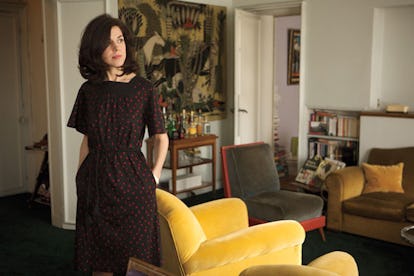 ALL IN THE FAMILY Vanessa Seward, the ever elegant designer currently lending a little glamour to the French label A.P.C., wasn't the first clotheshorse in her family. "My mother lived for fashion," she says, recalling all the Ossie Clark and Jean Muir she wore in the '70s in London, where Seward's father, an Argentinian diplomat, was posted. "Appearance counted a lot—perhaps too much." In Paris, where they moved when Seward was 12 (and where she has lived ever since), her mother, newly divorced, took a job as a saleswoman at the tiny couture house Azzaro. "We lived around the corner, so I would pass by after school to see her." It was by chance that two decades later, after Seward had graduated from Studio Berçot and designed accessories for both Chanel and Yves Saint Laurent under Tom Ford, she became Loris Azzaro's second-in-command. And while, as she notes, "he only vaguely remembered me from when I was a kid," Seward, now 43, managed to transform the slumbering house into a hit among Hollywood stars (Anne Hathaway, Natalie Portman, Kate Winslet) by reworking signature designs from the '70s. After Azzaro's death, in 2003, Seward became the label's creative director and remained there until 2011. After the birth of her first child, Jacqueline, Seward decided it was time for a change. »
Vintage Azzaro shoes
BLUE PERIOD When it comes to personal style, Seward admits that hers hasn't always been practical. "Up until the age of 40, I wore cocktail dresses and high heels everywhere," she says. "I didn't know how to dress casually." Having a child changed that—for both her and her husband, the besuited retro-futuristic pop crooner and producer Bertrand Burgalat. "Usually people start to dress up when they get older," she notes. "We're the contrary—wearing blue jeans in our 40s." Her spring capsule collection for A.P.C., which includes trim dark-denim jackets ("to throw over printed dresses") and matching high-waisted trousers, is a reflection of her evolving style. "It's casual—but still very chic. I'm not a jeans-and-sneakers girl quite yet."
A wall of art in Seward's home.
A FINE MESS Without counting the two studio apartments Seward keeps for her expansive collection of vintage clothes and accessories (a cache replete with Yves Saint Laurent dresses, '90s Chanel jewels, and "way too many" shoes), she and Burgalat have two homes—a midcentury-modern apartment in the 17th arron­dissement and a single-story chartreuse in the Pyrenees that Burgalat bought 12 years ago and spent seven years restoring. Both are decorated with an eclectic mix of family heirlooms, musical instruments, and kitschy flea market finds, like the carved palm tree that stands in their Paris living room. "Our places are the opposite of all those white interiors with the orchid on the table," Seward says. "They're a bit of a mess, but I like that." The one sacrosanct rule: "Even if it's the most practical object, it has to be special."