Vanessa Trump Files for Divorce From Donald Trump Jr.
She just filed for divorce from Donald Trump Jr.
---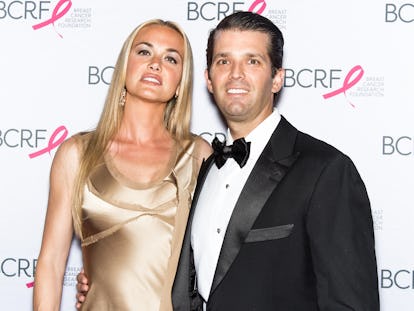 Gilbert Carrasquillo
Donald Trump Jr. is large, adult, and soon to be single. Wife Vanessa Trump filed for divorce this afternoon in Manhattan Supreme Court according to Page Six. The development follows a report from the same outlet yesterday that the couple were living apart, and that Trump Jr.'s frequent travel schedule and, perhaps, a change in personality had driven a wedge in the marriage.
Page Six adds that Vanessa, a former actress and model, had filed for "an uncontested proceeding," meaning she expects to avoid any drawn-out legal battles.
The couple had been married for 13 years and have five children together. A recounting of their original meeting that had been making the rounds this week revealed that Vanessa was never quite impressed with her father-in-law. She said Trump Sr. introduced the two at a fashion show twice within five minutes, seemingly forgetting the first time he had introduced them. When the pair met again at a different event, she asked if he was "the one with the r-tarded dad."
Trump Jr. is not officially an advisor to his father, and along with brother Eric has been running the Trump Organization since their dad took office. Reportedly, Trump Jr.'s frequent (and often ethically questionable) travel schedule caused problems, but those trips aren't always for business. He's also an avid hunter and has left the family for several hunting trips across the globe.
Trump Jr. has not stayed out of politics completely. Though none of the Trump children were registered Republicans before their father's run, Trump Jr. seems to be the one who has really taken to conservative talking points and Twitter trolling. A Tweet using his daughter's Halloween candy to warn against the purported evils of socialism was particularly roasted online. A meeting with a Russian lawyer during the campaign has also put Trump Jr. right in the middle of the FBI investigation as to whether or not the Trump campaign colluded with Russia to influence the election results.
As for the divorce filing, sources told Page Six, "This has nothing to do with politics, this is a personal matter between two people."
Related: Did Melania Trump's State of the Union Suit and Ivanka Trump's Dress Mean Anything