Scent Down the Runway
As her clothing empire expands, Vera Wang adds a new fragrance with a strong fashion bent.
---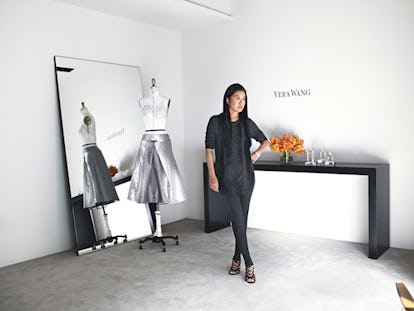 Everyone has those smells that immediately transport her to the comfort of childhood: cookies fresh from the oven, say, or a newly mowed lawn. For Vera Wang, that nostalgia comes courtesy of French perfumer Jean Desprez, whose popular scent occupied a permanent spot in her mother's bedroom. "When I went to my first dance in New York," she recalls, "my mother handed me a bottle of Bal à Versailles. Whenever I smell it, it takes me right back to my mom, and I feel like that young girl."
Wang's new fragrance, Look.
Of the hundreds of possessions that Wang inherited from her couture-devotee mother, who passed away four years ago, a collection of perfume vials is among her most prized. "We were cleaning out my parents' apartment, and in my mother's bedroom I found this tray that had all these little bottles of the real thing—Joy, Balmain, Bal à Versailles," Wang remembers, the "real thing" a reference to the potent perfume formulas of days gone by. "They still have their scents! That's the amazing thing about essential oils—they're heavy. They're there.
"Fragrance is very emotional for me," Wang continues. "It's as emotional as clothing is visual."
Over the past few years, Wang has conquered that visual realm. After dominating the bridal market, she crossed into mainstream fashion in 2004. Her fall 2008 collection was highly acclaimed, for both the clothing and the vintage-inspired chunky cuffs and necklaces on which Wang collaborated with jewelry designer Philip Crangi. Now she's debuting an accessory of a more ethereal variety: a scent called Look.
It's not the first time that Wang has stepped into the fragrance arena—Look is her eighth scent since she unveiled her eponymous one in 2002. But this one is different: Her previous scents have all been either tied to her bridal line or, in the case of her Princess perfumes, aimed at a younger set. Look, by contrast, is the first intended to encapsulate the sophisticated aura of her fashion line.
"I'd waited a long time to do this one," says Wang, while holding Look's glass prism bottle. "We never had a real ready-to-wear fragrance that was specifically geared toward what we do in fashion. We wanted to convey a modern confidence."
Sprightly and toned, her long raven mane cascading over her shoulders, Wang sits in her New York showroom describing the scent, which leads with a mandarin note, followed by lychee, apple, oakmoss, patchouli and something her perfume manufacturer calls a "watery green note." Look's subtle backbone is a trio of flowers: freesia, lily and jasmine. The result is a clean, easy-to-wear light floral with a slight ozonic edge.
"White flowers are in all of our fragrances, but what we do with them and how we blend and twist them is what makes the difference," says Wang, who, in the fringe-laden top that opened her fall 2008 runway show, her signature black leggings and a seriously sexy pair of four-inch-high, strappy Azze­-dine Alaïa sandals, appears only about three quarters of her 59 years. "That's the hardest thing we strive for with all of the juices—to create a mood but one that doesn't overtake, so no one says, 'That's a tuberose' or 'That's a lily of the valley.' It's about the mixes."
And as for the name of her newest mix, it's a reference to creating one's own look, which for Wang is paramount in both her personal life and her work. "It's about how you look from every angle," she says. "Being a woman designer for other women—we all share the same worries. Do we appear thin enough, tall enough, as good as we possibly can? It's a central concern for every female designer I know, whether it's Rei [Kawakubo] or Miuccia Prada or Consuela Castiglioni." That a woman's look is how she presents her best self to the world is a concept Wang gleaned from her mother years ago. "She taught me," Wang says, "that how you dress is an integral part of what you give off."