How Supermodel Veronica Webb Ended Up On Stage at Yeezy Season 3
"I was in the opening of the Olympics in Barcelona and that didn't feel as big as this."
---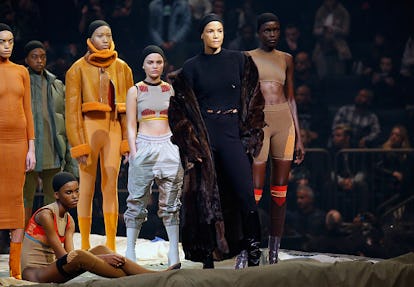 It's pretty hard to steal the show when the spectacle in question is Kanye West's combined album release (for "The Life of Pablo") and season three presentation of his Yeezy line with Adidas Originals in a full-to-the-rafters Madison Square Garden. But if she didn't quite hog the figurative spotlight from the 700-plus other models and extras, Veronica Webb certainly turned heads when she appeared on the stage Thursday afternoon, alongside fellow supermodels Naomi Campbell, Alek Wek and Liya Kebede. We caught up with the 50 year-old model and independent skin consultant for Rodan + Fields on Friday afternoon, just before she was about to take to the runway for Sophie Theallet's Fall 2016 show (she also walked her Spring 2016 catwalk and stars in the designer's current print campaign).
How did your casting in Yeezy Season 3 come about? It happened on Wednesday. Kanye is a family friend I've known since the beginning of his career. And his major organization reached out to my agency and said, "Veronica, we want to have you in this show—it's going to be epic." I'm really grateful to Kanye for the opportunity and I congratulate him on his collection because no matter who you are, what you do, it's always a feat to get clothes on a runway.
Especially that many! You found out you were cast on Wednesday, what happened after you found out? Did you have any kind of rehearsal or fitting? I went to the fitting and met the designer, who is absolutely delightful. It's one outfit, pretty simple. And then the only thing that was sort of unusual was that before I could enter the building I had to sign a nine-page NDA. But when you have a family that famous, I guess that's what you have to do.
I guess so. Have you ever signed an NDA before a fashion show at any point in your career? No, that was a new one. But then also, what was really interesting and very intriguing is that Kanye took complete advantage of every facet of technology that's available to us now in order to market clothes.
When you got that call Wednesday morning, how much detail did you get about the scale of the production and Vanessa Beecroft's involvement? None.
What were the words said to you? We just want you to be in the show.
Did you know Naomi Campbell, Liya Kebede, and Alek Wek were also going to be in it, too? I just heard it was going to be [other] supermodels. I had no idea who else was going to be in it. And that was that.
How early did you show up on Thursday? Was there any kind of rehearsal process? Me, Naomi, Alek and Liya all showed up at about 3 p.m. When I got there it was like a who's who of fashion history in terms of all the wonderful people from all the years have worked backstage to make it all happen: the ground crew, three or four different organizations of lighting people who I've known forever, and every dresser I've ever worked with in my career in America was there. That was really cool. I was also really curious: how the heck do you get 975 outfits into one show? But there was a really clever bit of staging. A lot of people who were extras really helped to make the tableau—it was a presentation, it wasn't a literal fashion show in the old sense. But I loved the idea of, if my world was populated with people who wore my clothes, this is what it would look like. So [the extras] brought their own clothes in the color palette and turned them inside out. And I think that it's not purist fashion, but when you marry Vanessa Beecroft into that, then it becomes very clever staging and that I liked a lot.
What were your stage directions? 'You are a real person. Just be yourself. Stay on the stage as long as you want. Do what you would like.' And then we had instructions for walking onto the stage but no instructions for getting off the stage. But luckily, between the four of us (me, Naomi, Alek, and Liya), we've done enough shows that we were able to figure it out. And then I think my favorite direction was, 'If at any point you feel unsafe on the edge of the stage, you can walk wherever you would like to.'
Did you at any point feel unsafe on the edge of the stage? No. Because the stage is very bright, so you can see the complete edge of the stage, it's not like a normal black box where you can't see the stage. And there was no spotlight so you weren't blinded at any point.
Were these directions from Vanessa Beecroft or from Kanye? I never saw her and I never saw Kanye, but the entire time we could hear them. It also reminded me of the old Versace shows. When we used to do rehearsals, Gianni and Donatella [Versace] would sit in the audience and we could hear them talking, but we could never see them.
The directions to be yourself, how did you interpret that on stage? I felt like I was going to go with the crowd. Because this show, more than any other show I've been in, was directed by the feeling of the crowd. You have Madison Square Garden, sold out in ten minutes, full to the rafters. You have the world deciding to look on, because everyone's logging on and looking that way. And then Kanye's got the music going. So it just felt like, I'll feel what people want to see and I'll give it to them. There wasn't much direction from either Kanye or the designer. And then I felt like people wanted to see modeling, so I'm gonna give the people what they want. People want to see strong poses, they want to see the clothes in motion, they want to feel like, 'If I was up here in my fur coat on stage in Madison Square Garden with my five inch heels on, how would I feel and what would I be doing?' And you know what? I think everyone was feeling like, 'I would be doing some modeling!'
What did you feel when you were on stage? What were the emotions going through you? There was a kind of nervousness because it's just a situation and environment I had never been in before, in terms of a show. I was in the opening of the Olympics in Barcelona and that didn't feel as big as this.
Is it just a coincidence that this happened and you walked in Sophie Theallet's Spring 2016 show, you're in her campaign, and you're about to walk in her Fall 2016 show? My kids are bigger. We've spent a couple of years working on social media rules and the playground hours have kind of passed now, the kids are more independent. So it was time to go back to work. I've been wanting to work with the people I love and admire and respect. And I'm lucky enough to have the chance to do that. And I've also been wanting to build a business I can pass onto my kids and also work with my sisters—one of my sisters is a doctor and the other is a retired educator. And so we started to do the Rodan + Fields [skincare] business together. And it's just a riot, it's so much fun. And it harnesses the same amount of power of the Internet that is going on in fashion right now. Everybody wants to put their stuff out directly in real time, when it's ready, and communicate and sell directly to the customer. I think that what Kanye did yesterday is really a harbinger of things to come.
Speaking of fashion today, among many other accomplishments, you're known for really breaking racial barriers of cosmetic contracts in 1992 with your signing with Revlon. What are your thoughts about the ongoing conversation about diversity in fashion? Seventy percent of the content on the Internet is recommendations of people raving and recommending things. I think we're going to see the people are going to vote for what they want. What's been happening is the establishment no longer goes the way it did before. So in other words, when people start saying, 'I like this designer. This designer shows women of different heights, of different weights, of different ages, of different races…' consumers have the power to change it. I know working with Sophie [Theallet], she's already started to make the change.
Photos: How Supermodel Veronica Webb Ended Up On Stage at Yeezy Season 3
Yeezy Season 3 Fall 2016 Collection. Photo by Isabel Martinez.
Courtesy of Sophie Theallet
Photo by Fernanda Calfat/Getty Images
Photo by Thomas Iannaccone
Courtesy of Sophie Theallet
Photo by Thomas Iannaccone