Vetements Outdoes Vetememes, Produces "Official Fake" Collection for South Korea
The cult French brand held a "garage sale" on the outskirts of the Korean capital on Monday to sell a collection of knockoffs of the knockoffs, only, this time, the Gvasalias controlled the product.
---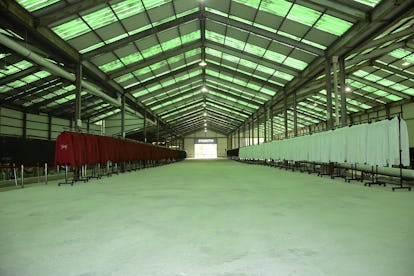 Kang YunSuck
For Vetements creative director Demna Gvasalia and his younger brother, Guram, who runs the business-side of things, imitation really is the greatest form of flattery. But in order to be one step ahead of the pervasive (and oftentimes cheaper) knockoffs of their products, they've decided to get in the game as well.
On Monday morning before Seoul Fashion Week kicked off, the label threw a "garage sale" in an industrial warehouse on the outskirts of the Korean capital, where they sold an exclusive, one-time-only "Official Fake" collection, produced in partnership with MatchesFashion.com.
South Korea is not only the second largest market for Vetements after the United States, but is also home to the most knockoffs, with entire stores dedicated to selling one-offs of luxury styles just doors down from fashion week venues.
"It's flattering," said Guram Gvasalia, who is normally press-shy, but flew to Seoul on Monday for the garage sale. "I think it's good to see, because it means that you're relevant and that people want it. I just don't like when people try to sell fakes saying it's real. That's not right."
Vetements was also drawn to Seoul for its booming pop culture and bold sense of style. Among the crowd outside Zaha Hadid's Dongdaemun building, where fashion week shows take place, the brand's "Justin 4ever" sweatshirt actually blends in.
"Korea is now what Japan used to be in the '90s," declared Gvasalia. "It has incredible popular culture. Politically, it's separated from the world because of North Korea. And I feel like everything they do is about saying, 'Look at us. We're still here.' It's a shoutout and attention-grabbing in a way that's very interesting."
The Vetements Official Fake collection was received with the intense pop fandom Koreans are known for. Some eager customers camped out overnight, and most items were sold out within an hour, despite the fact that the sale ran all day. The Definition Raincoat, which is one of the more affordable items copied, most notably by 'Vetememes,' reportedly sold out in 12 minutes flat. The craze was also heightened by the fact that the enormously popular Korean rapper G-Dragon posted an Instagram of himself visiting the warehouse with Guram the evening prior. It received half a million likes.
The Original Fake collection consisted of the brand's most popular pieces, which were altered ever so slightly for the "fake" look. For example, their signature hoodie was done in red, rock 'n' roll t-shirt prints were overlaid, and the ubiquitous patch jeans were turned inside-out.
"The jeans were the most difficult," said Gvasalia. Because they were an item so widely copied, his brother really had to think outside of the box in order to fake them even further, hence turning them inside-out. "Every single brand copied our jeans," said Gvasalia. "I've heard stories where creative directors will walk in with our jeans and go, 'Do the same for us.'" He shrugged and smirked: "It's cute."
Having only launched in 2014, for Vetements to already have brands worldwide copying their looks is more than just flattery; it's the definition of success. Despite the overwhelming demand for both real and Official Fake Vetements, however, the collection with MatchesFashion.com will not be sold online or produced again in larger quantities. Because, at the end of the day, this is what keeps us coming back for more and not turning to knockoffs.
"Luxury isn't about price anymore," said Gvasalia. "It's about scarcity."