Thanks to Vetements, Saks Fifth Avenue's Windows Now Resemble Your Bedroom Floor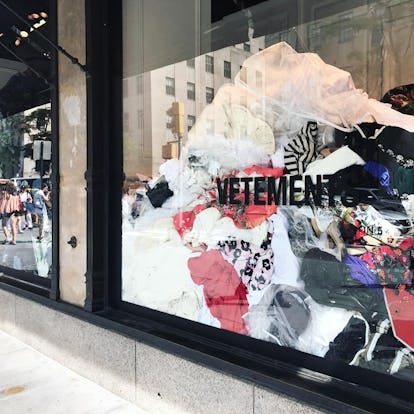 Courtesy of @camelliafaye
From its days as an anonymous collective Vetements has long played in and outside the fashion industry's rules. Recently, head designer Demna Gvasalia recently dreamed up a $1,000 shopping bag and a $2,145 take on the Ikea tote, and renounced everything from subcultures to the city of Paris to eastern Europe at large.
As of this June, actual fashion shows are now also among that laundry list of things Vetements is over, meaning that come fall, we're definitely in for some sort of performative treat. But this week, the brand unveiled a new collaboration with Saks Fifth Avenue that may offer a preview of what's to come.
Last year, Vetements hosted an "art installation" at Saks Fifth Avenue's new downtown location designed by Gvasalia and his stylist-muse Lotta Volkova that was pretty much just a rack of Vetements clothes. This time, the team has opted for a more traditional window display, though it doesn't seem likely it'll haven to be cleaned four times a day from those pressing their noses up on the glass, à la Yayoi Kusama's takeovers for Louis Vuitton. That's because the Gvasalia-created scene is also one you could find at home in your own bedroom: a pile of assorted, mismatched, questionably clean clothes that, wish as hard as you may, definitely aren't Vetements.
Surprisingly, the label isn't trolling everyone as hard as you may think. The clothes are actually donations from Saks Fifth Avenue employees, plus out-of-stock merchandise, that'll eventually be passed on to RewearABLE, a clothing recycling program that also supports adults with developmental disabilities. In other words, they're for a good cause—and also great material for Instagram.
Related: Things Vetements Is Over: Fashion Shows, Oversized Sleeves, Paris, Eastern Europe, Subcultures
How Street Style Stars Do Paris Fashion Week: