Beauty Secrets of a Geisha
Three years ago, Vicky Tsai (above) was sitting in her dining room surrounded by 10,000 Japanese blotting papers, wondering whether she had lost her mind. Five months pregnant and having sold her engagement ring to...
---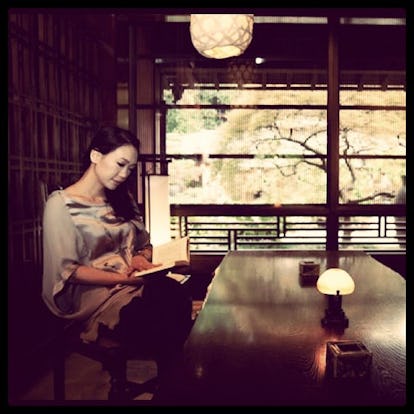 Tsai's latest debut is, a four-product skincare line based around rice bran oil, red algae, and camellia, traditional ingredients featured in a 200-year-old Japanese book which Tsai purchased after a year-long quest and a complete draining of her own life savings. The book is the only known source to document the highly secretive beauty rituals of ancient geishas. Among the remedies she read about were the reparative properties of the camellia flower. Petals would be steamed overnight with a piece of kimono draped over the kettle. In the morning, the newly saturated silk would be gently placed on the skin. "It was the original face mask!" says Tsai. Tatcha's One Step Camellia Cleansing Oil is loaded with the nourishing benefits of the flower, the ones in this blend are harvested solely by Oishima Island women (called Anko girls), who are famous for their camellia-treated, glowing skin and ankle-length hair. The Rice Enzyme Powders—whose rice is sourced from volcanic soil and cured by sake brewers—is a nutrient-rich, gentle exfoliant, while the Moisture Rich Silk Cream includes red algae cultivated in Okinawa, whose inhabitants just happen to have the longest life-span in the world. Fingers crossed, Tsai's next discovery will be of the pill-popping variety.