Victoria Beckham's Daughter Harper Just Got Her Hair Cut Like Posh's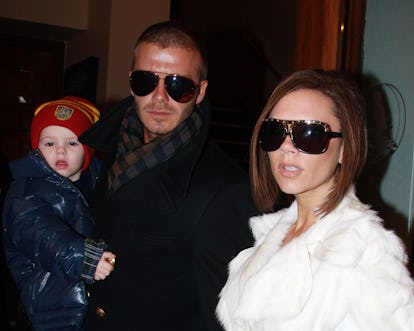 Bruce Glikas
Harper Beckham, daughter of Spice Girl Victoria Beckham and footballer David Beckham, and younger sister of erstwhile 19-year-old photographer Brooklyn Beckham, just got a haircut, and it looks, well, quite posh.
Victoria Beckham posted pictures of Harper's new hairstyle on Instagram with the caption, "Hair cut for our baby girl x kisses from Harper x #howchic." In addition to the sloped bob, Harper is also sporting a white blouse, riding pants, boots, and a… walking stick. Wait, is she trying to imitate her mother or a Lord of the Manor?
In another picture from the same outing, Harper poses with her dad, also dressed for a day of hunting or shooting, or some other activity they might do on The Crown while talking about politics and repressing their feelings. Father and daughter are next to what can only be described as a pram, although who it's for is a mystery. At 7, Harper is the youngest Beckham child (there are also her brothers Romeo, 15, and Cruz, 13) . So, is there a baby in there—and whose baby is it, or what's happening, exactly? "Family time is everything @davidbeckham kisses from us all x VB," writes Victoria. Well, whatever you say!
This is actually Harper's second haircut of the summer. At the end of July, her dad trimmed her hair from princess length to regular length, though it was an understandably difficult moment. Like many dads, he liked his little girl's baby hairs! That moment, too, was shared on Instagram, when Beckham wrote, "Someone's happy ? & someone's not so happy ✂️ but I didn't think it was possible for this little one to look anymore beautiful but ♥️"
Honestly, though, we're with you, Harper. School is about to start. This is the best back-to-school shopping you can do.
Related: Victoria and David Beckham's Third Family Vacation of the Summer Is at Bali's Nihi Sumba Resort
John Legend, David Beckham, and More of the Most Social Media-Savvy Fathers on Instagram