Victoria Beckham Re-created an Iconic 2008 Ad Starring Herself Trapped in a Shopping Bag
You know, the one where she's trapped in a giant shopping bag.
---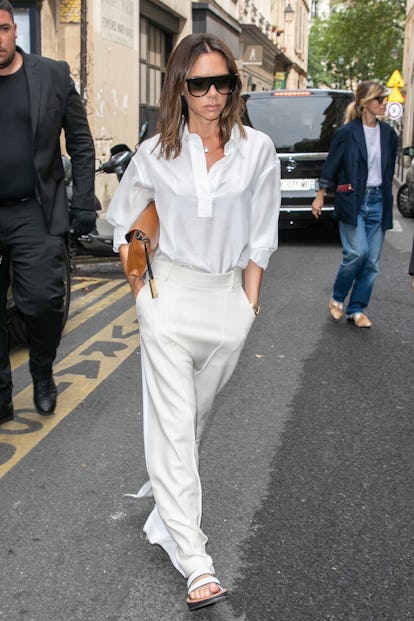 Getty
How does one celebrate a decade in the fashion industry? For Victoria Beckham, the answer lies in re-creating an iconic campaign from 10 years prior, with her signature dry sense of humor, of course.
It's hard to believe it's already been a decade since Posh Spice fully evolved into Victoria Beckham the designer, and she plans to celebrate her tenth year in the business this week, with her spring/summer 2019 collection showing at London Fashion Week. To commemorate her anniversary, Victoria Beckham posed in an ad for her own brand for this time, emerging from a shopping bag as abstracted doll-like body parts, just as she did 10 years ago for Marc Jacobs in a 2008 campaign, shot by Juergen Teller.
In one image from the campaign, Beckham's legs poke out of the shopping bags at the knees, her feet in high heels. In another, the bag is placed over her head, with just her legs showing again, as if she has become the product inside of the shopping carrier herself. Shooting with Teller once again, Beckham also made it a point to include the photographer in one image of the campaign. "Juergen appearing in one of the images was really important to me—collaborating with him again was incredibly special and I wanted to be sure to document it," she wrote on Instagram, where she shared the nostalgic anniversary campaign images on Monday morning.
This time, however, she's got her own name on the bag, and no one else's. "When Marc Jacobs featured me coming out of a shopping bag a decade ago it really was just the beginning of my journey into the fashion industry," Beckham explained. "So what better way to illustrate the story of the past ten years than by revisiting the creative? So excited to share this campaign with you shot by the brilliant Juergen Teller."
Related: David and Victoria Beckham Walked Their First Red Carpet Together Since 2015