Victoria Beckham Just Announced Her Next Career as a YouTube Vlogger
Here's the story from A to Z.
---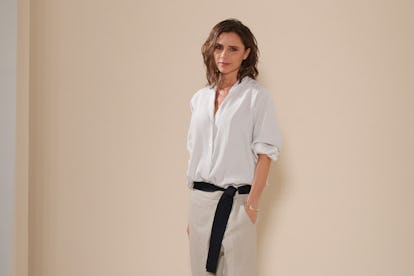 Antonio de Moraes Barros Filho/FilmMagic
The reason that Victoria Beckham decided to sit out the impending Spice Girls reunion has just become more apparent. The fashion designer formerly known as Posh has her own upcoming plans: becoming a YouTube vlogger.
Today, Beckham announced that she will be launching a YouTube channel, where she will be imparting the same wisdom she's lent her friend Meghan Markle, from styling tips to beauty advice. "Today I have special news to share," she says in a video message. "I will be launching my own YouTube channel with beauty tutorials, styling tips, and lots of stuff from me. Stay tuned!"
Apparently, the shift to vlogger is one that Beckham has been patiently waiting to make for a while. "This is a new chapter right now," she explains. "I can put my foot on the gas and do everything that I've wanted to do for a long, long time."
When questioned "Foot on the gas? Are you a good driver?" in the clip by YouTube's Derek Blasberg, who will be a part of the new venture, Beckham brought out her signature dry humor. "Have you not seen Spice World?," she shoots back, adding, "Did you see how bad I [was]?" Hopefully there will be more exchanges like that in the upcoming channel.
As of now, her channel is mostly filled with footage relating to her fashion brand. But there are a few teasers of what's to come, with Beckham sharing how she perfects her eye makeup and skin.
As for her fellow Spice Girls, they've recently shared a video as well: a Spice World–indebted fake news segment announcing when ticket sales were going live (answer: November 10). "We're going on tour. People need to see it to believe it," Geri Halliwell, aka Ginger Spice, says in the clip. The only thing missing from it? Posh's iconic pout. With Beckham's new YouTube channel, though, maybe the future will hold a crossover.
After all, she hasn't totally ruled out a reunion—as she said last fall, "You never know what might happen!" Who knows, maybe Beckham's next beauty tutorial will be backstage from the tour. We can dream, right?