Violet Chachki and Sarah Paulson Do Marilyn Monroe Drag for Prada Campaign
Category is: Night of 1,000 Marilyns.
---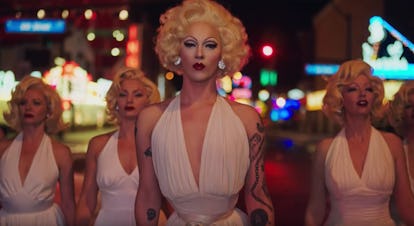 If you'd have made us guess who would be the one to bring the unique talents of Sarah Paulson and RuPaul's Drag Race Season 7 winner Violet Chachki together, we would have just assumed the answer would be Ryan Murphy, in a season of American Horror Story or something. Instead, the answer turned out to be none other than Miuccia Prada. The Emmy winner and the reality TV winner pop up in multiple iterations in Neon Dream, the Willy Vanderperre–directed film for the brand's fall 2018 campaign.
At first, the four-minute clip seems to be merely a moving-image extension of the print campaign. There's the campaign star, Amanda Murphy, moving though a bunch of neon lights signifying Las Vegas (where the clip was filmed, though many of the sets were constructed specially for the video). She drives a vintage convertible down into the heart of the city, where she encounters a group of roving Marilyn Monroe impersonators led by none other than Chachki. A few seconds later, Paulson is there to dutifully valet Murphy's car. Chachki continues to lead her band of Monroe-ettes, while Paulson shows up again as a theater usher. If you haven't caught on by now, shifting notions of identity are a major theme here. So, naturally, Chachki pops up again, this time in full Vegas showgirl regalia (peep those glitter bangs), and her performance apparently entrances Murphy so much that suddenly she's a showgirl too. A few beats later, we get another glimpse of someone in a Monroe dress, except, it turns out, this time it's Paulson. The actress makes one final appearance as a menacing cocktail waitress on roller skates who only makes eye contact with Murphy on her own terms.
In addition to the theme of permeable identifies, the clip also serves as a send up of various Las Vegas tropes and iconography. "This Las Vegas is nevertheless a fiction, composed of archetypes – red velvet drapes, glittering lights, glowing Technicolor, billboards and convertibles," reads the press release. "Reality, reimagined. A neon dream."
While Prada generally prefers to reserve starring roles in its print campaigns for models, the Italian house is no stranger to casting a wide assortment of celebrity performers and actors in its videos (remember the David O. Russell short film that features everyone from Connie Britton to John Krasinksi?).
Still, it's perhaps Paulson's biggest fashion moment so far, to say nothing of Chacki. Since winning the Drag Race crown in 2015, she's been no stranger to the fashion community. She's become a semi-regular front-row and street-style figure at fashion weeks around the world (memorably, the late street-style photographer Bill Cunningham flipped out over her in the documentary Bill Cunningham New York), and has appeared in numerous fashion magazines. She's also walked for Moschino twice, and previously fronted a lingerie campaign. Still, this is unquestionably her highest fashion peak so far.
In general, Drag Race is still hot on the mind of fashion folks: The latest cover of Love magazine features the young transgender model Ariel Nicholson in the unmistakable eye makeup of the All Stars 3 winner, Trixie Mattel.
Related: Aquaria Explains the Secrets of Her Lip Sync Reveals and Promises More Melania