Vionnet: Chic, cruelty-free & 20% off for Wmag.com readers!
A favorite haunt of style-obsessed Angelenos, Vionnet Boutique on North Robertson Boulevard is where clothes horses like Ashlee Simpson and Kim Kardashian get their chic fixes of designers from Vena Cava to Vera Wang. But...
---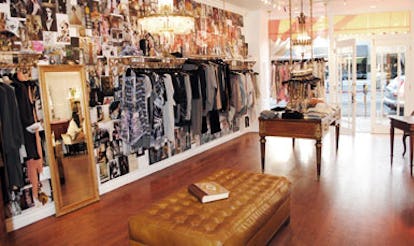 So what's left after all the leather and such was sent packing? Plenty, says Seaman, a staunch vegetarian. (You can read her heartfelt mission statement on the store's newly revamped website.) In addition to commissioning custom bags from Santi and belts from Raina (above), Seaman's excited about new shoes from Cri de Couer for fall. "The problem with vegetarian stuff is that it can be a little dodgy, a little hemp-y, a little grain-y." she says. "But the Cri de Couer quality is really nice. It looks kind of real and they haven't sacrificed style." Also looking fine and animal-friendly: The Mercer hobo bags, available online in a rainbow of luxe colors.
SPECIAL OFFER FOR WMAG.COM READERS: Vionnet's online store is offering a site-wide discount of 20% off for W readers now through August 1. The code to enter at checkout is WCARES. Plus, when you click on the bunny ears at the top of the page, you'll be signed up for a drawing to win a cute vegan bag! VionnetBoutique.com
Previously on the blog: Trials of a fashion-loving vegan-in-training