Virgil Abloh Is Louis Vuitton's New Menswear Director—and One of the Only Black Designers Ever Appointed to the Helm of a Heritage Fashion House
The Off-White designer, DJ, and former Kanye protégé has officially replaced Kim Jones.
---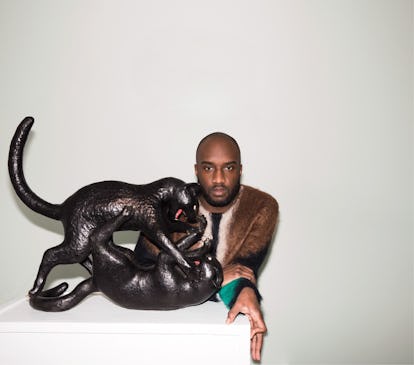 Photographed by Walter Pfeiffer. Sittings editor: Hannes Hetta. Set design by Jean Michel Bertin at Streeters London.photography assistants: Torvioll Jashari, Aline Blocman; fashion assistant: Evens Jean-Pierre
In the early hours of Monday morning, Virgil Abloh was announced as the new menswear director of Louis Vuitton—effectively shutting down everyone who's ever shut him down since he dared to collaborate with and then follow Kanye West, his former fellow intern at Fendi, in making a name for himself. In doing so, he's also pretty much immediately succeeded, becoming not just the king of social media influencers, but also a DJ (who recently landed so many gigs at Art Basel Miami that he said he literally "lost count") and the founder of the streetwear label Off-White, whose concepts like a show dedicated to Princess Diana has alternately won him both criticism and accolades.
Abloh's appointment may once again point to the few number of women now heading up major fashion houses, but it's in fact a remarkable step forward in terms of diversity nonetheless: He's not only Louis Vuitton's first African American creative director, but one of an extremely small handful of black designers who major heritage fashion houses have appointed to their helm. (The New York Times in fact notes that just two black designers have preceded him: Ozwald Boateng, who headed up Givenchy's menswear from 2003 to 2007, and Olivier Rousteing, who's currently the creative director of Balmain.)
Though he's now at the helm of part of the powerhouse conglomerate LVMH's largest brand, Abloh, on the other hand, has long only found inspiration in designers who've challenged the mainstream, like Martin Margiela, for his own designs at Off-White. The label has lately won him major accolades and industry cred: the CFDA nominated him for menswear designer of the year for 2018, just a year after he was nominated for best emerging talent, and he was even recently rumored to take over Givenchy. On the other hand, Off-White has also earned Abloh criticism from some of those he most admires. Raf Simons, whom Abloh has cited as one of his heroes (and who was in fact his fellow CFDA nominee), notably gave an interview last year in which he dismissed Abloh as unoriginal.
Similarly to Simons, Abloh, a 38-year-old first-generation Ghanaian-American who grew up in Chicago, holds degrees in non-fashion fields like engineering and architecture. He's also been one of the first to acknowledge he doesn't "come where I'm supposed to come from," which in turn means he's had to try even harder. "I have to prove that this is design, that this is art, that this is valid," he told W late last year.
What's more, he took Simons' criticism in stride, considering it an example of "the line in the sand" between today's youth culture and its forebears, a generation that may appreciate streetwear, but doesn't consider streetwear designers as being at the level of their peers. Abloh has repeatedly made it a point to be part of that newer wave, surrounding himself with teens and 20-somethings whose influence he's had a knack for predicting, like the model Luka Sabbat. Identifying with them—and himself at that age—has long been one of his top priorities: "I'm always ­trying to prove to my 17-year-old self that I can do creative things I thought weren't possible," he continued. (Such an attitude, it seems, is destined to bring if not increased success, then certainly relevance to LVMH.)
Now that he's moving on to Louis Vuitton, which he told the Times he's "elated" about, Abloh is planning to relocate his family to Paris, officially replacing Kim Jones, whose influential tenure at the house ended in January (with a showstopper that saw Kate Moss and Naomi Campbell reunite on the runway). He plans to cut back on DJing, but continue working with Kanye, as well as heading up Off-White—the latter of which he told the Times is "for the 17-year-old version of myself, whereas Vuitton is for the 37-year-old I am today."
Related: Virgil Abloh and His Army of Disruptors: How He Became the King of Social Media Superinfluencers