Virgil Abloh is Everywhere: An Interview with Fashion's Über-Connector
As the creative director of his own acclaimed label, Off-White, and Kanye West's right-hand man, Virgil Abloh may be better positioned than most to know exactly where fashion is headed. A few days before his show today in Paris, he took part in a wide-ranging interview that touched on everything from the show system to Julia Roberts.
---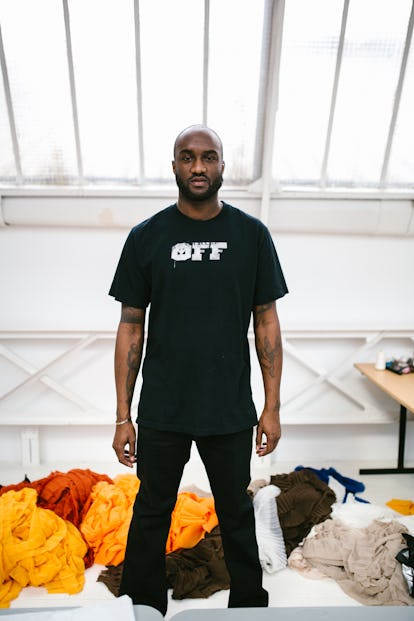 Virgil Abloh is currently unavailable.
It was Friday, five days before his Off-White fall runway show at Paris Fashion Week and his iPhone was dead. The night before, he was out with Kanye West and Demna Gvasalia after attending the Balmain and Vetements shows, and he has just returned from friend Jun Takahashi's show for Undercover. When he finally resurrected his phone at around 8 p.m., he had 24,805 unread emails, 458 unread text messages, and he still had to prepare for a DJ set later that evening, not to mention participate in an interview with a reporter.
This is a typical day for Abloh, a modern day jack-of-all-trades who might just be the busiest man in fashion but still manages to somehow be widely available (most of the time). He's notorious for giving out his phone number to fans and acolytes without hesitation. Just ask the motley crew of teenagers he texts with on a regular basis, like Luka Sabbat, who was live-tweeting from Abloh's Paris studio that day, or Ian Connor, who ran down the runway with him at his Off-White men's show in January in Paris.
"I oftentimes say that I design my collections off my phone," said Abloh from Paris. "I'm in a group chat with my team in Milan; I copy and paste; I draw; I look at trends. I don't really have an assistant. It's a modern way of working. I don't know if it's sustainable, but it's how I do it."
So, what is it exactly that Abloh does? More importantly, what doesn't he do?
"I suck at sleeping," he said.
Abloh, 35, hasn't taken a vacation in over three years and doesn't smoke, despite the company he keeps. He's been working steadily since the '90s, when he discovered skateboarding, Ralph Lauren, ("the best streetwear designer of all time"), and all things Supreme as a teenager in Chicago.
He went on to get an undergraduate degree in civil engineering at the University of Wisconsin in Madison, followed by a masters in architecture, ("the creative side of engineering"), from the Illinois Institute of Technology. It was there that Abloh was exposed to Mies van der Rohe and his favorite artist, Caravagio, whom he describes as "punk." Later, while also working at a firm, he would open RSVP Gallery, his own store in Chicago's West Town, and collaborate with Alyx designer Matthew Williams on #BEENTRILL, a lifestyle collective, both of which are still in operation today.
It was in 2002 when Abloh started working with Kanye West, who hadn't even released his first studio album, College Dropout.
The two would spend the next decade collaborating on tour merchandise, album covers, and stage designs. In 2012 West founded his own creative agency, DONDA, which was named after his late mother and, as he declared in a series of tweets, would "pick up where Steve Jobs left off." Lest we forget that there were two people in that Apple garage: West also revealed that Abloh would be DONDA's creative director, a post he's held onto despite the chaos of the musician's orbit. In many respects, he's the calm at the center of the Kanye storm. In 2014, Kanye, who was not available to comment for this story, offered the New York Times this endorsement of Abloh's skills: "Virgil is one of the smartest, fastest, most innovative people I've created with." The operative word here being "fastest."
"I think 'creative director' is a misused term of our modern times," Abloh said. "It's en vogue, like the term 'stylist,' which is also often not used correctly. 'Creative director' is a catchall phrase for giving ideas. To me, it obviously means more than that. It's like being a counselor."
At New York Fashion Week this past season, Abloh was again a very busy man. On February 11, he was one of the judges at the VFiles show, but he couldn't even make the presentation because he was double-booked to DJ just a few blocks away in an empty SoHo parking garage for Kanye West's zine launch party, the address to which Abloh posted on Instagram.
The next day, Abloh had a prime seat at Madison Square Garden for the Yeezy Season 3 show, standing next to West himself as the singer lorded over a remarkable display of his celebrity and influence. (Naturally, Abloh also DJ'ed West's after party at Up & Down that night). I even encountered him at the Dazed 100 party in Brooklyn that Friday, when he pulled out his XL iPhone and gave me his email address on the spot. "It's just another week," he said of the series of events with a smile and a shrug.
When Abloh isn't counseling West or his mini-me's, he's nurturing his own creation: Off-White, the streetwear fashion label he started in 2014 and that will show its fall collection tonight. In 2015, Off-White was the only American finalist for the prestigious LVMH prize, which Abloh was nominated for along with now-friend Demna Gvasalia​.
Despite this validation from the fashion industry, "Off-White isn't just about the clothing," he said. "Clothing interests me, but it's not the endpoint of my interest. My interest is to build a brand that means something of value, with a creative vocabulary that is off-white. I'm making a new language. I'm defining a grey area between two things; not necessarily opposites. For example: street and high fashion; kitsch and credible; men and women."
If you were to distill that aesthetic into a tangible object it would be the label's flagship store in Hong Kong, a white-walled structure filled with Abloh's own furniture designs. "It's one of my favorite things I've ever made in life," he said.
Each season, Abloh picks a catch-all phrase or word that encapsulates the "vibe" of the collection, a word he also particularly likes.
For fall, the title is: "You're obviously in the wrong place," which is a line from the film Pretty Woman, when Julia Roberts' character struts into a designer store in Beverly Hills wearing knee-high stripper boots. "It is my manifesto on how the modern girl doesn't really work on convention," he said. "Being feminine and empowered – there's a change in the tide. It's not typical or traditional."
In other words, Abloh has constructed a woman who lives without constructs, in every geo-tag. The phrase also becomes an ironic one when printed above the his show's address in invitations, but Abloh is confident he's in the right place. And if you have any doubts, just let him show you the way.
"Everyone is looking for some new thing in fashion," he said. "Everyone is trying to invent the iPhone 7, but [fashion] moves at the pace of culture. I think radical moves can be pulled and there are good ideas to be had, but at the end of the day, it's about mindshare. Fashion shows are waving to grab peoples' attention, but now there are new ways to do that."
If you want to know more, just call: 1-855-633-9483. You'll hear a heady voicemail Abloh recorded himself to explain his Spring 2016 collection: "Even if I do a fashion show, or something of that nature, this is a way for me to add color to the clothes, pun intended." And just when you're getting familiar with the sound of his voice, a noise: BEEP. "To review the voicemail, press one."
Abloh hasn't recorded a voicemail for his fall collection. He wants to, he just hasn't gotten around to it.
Photos: Virgil Abloh is Everywhere: An Interview with Fashion's Über-Connector
Virgil Abloh at his studio in Paris. Photo by Corey Tenold.
Off-White Fall 2016. Photo courtesy the brand.
Off-White Fall 2016. Photo courtesy the brand.
Off-White Fall 2016. Photo courtesy the brand.
Off-White Fall 2016. Photo courtesy the brand.
Off-White Fall 2016. Photo courtesy the brand.
Off-White Fall 2016. Photo courtesy the brand.
Off-White Fall 2016. Photo courtesy the brand.