Covering Vitalii Sediuk's Attacks on Gigi Hadid and Kim Kardashian Only Encourages Him
The man responsible for harassing celebrities like Bradley Cooper, Brad Pitt, and Ciara has created something of a celebrity journalism paradox.
---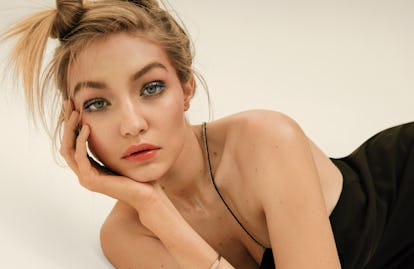 Photography by Inez and Vinoodh, styled by Edward Enninful
Never mind "bought and paid for" influencers or entitled millennial scions, it's pretty clear that the fashion industry's biggest menace at the moment is a sad, attention-seeking "prankster" from Ukraine. After attacking Gigi Hadid while she left the Fendi show in Milan, the man struck again today, this time assaulting Kim Kardashian after she exited her SUV at Paris Fashion Week.
The incidents are just the latest on the growing rap sheet of Vitalii Sediuk, a man who has somehow succeeded in turning literal assault and harassment into highly bloggable viral content. Given the situation, perhaps it's time the media, both traditional and social, starts to take a long hard look at how whether or not we're enabling Sediuk in his quest for notoriety.
That pathetic quest started when Sediuk, working as a quirky entertainment journalist for a Ukrainian morning talk show, came to international attention for something that could actually be classified as an actual prank. Knowing that Madonna had publicly expressed the fact that she's allergic to hydrangeas, Sediuk presented the pop star with a bouquet of the flowers. She responded by placing the flowers underneath a table, and whispering, "I absolutely loathe hydrangeas."
It was Madonna, not the prankster, who caught the public criticism. Most thought that the flowers were a gift from a well-meaning fan, not someone looking to provoke a deliberate reaction. As far as celebrity pranks go, we guess you can give Sediuk credit for being at least half clever with this one.
Of course, the armchair psychologist's reading of the situation would be that Sediuk seemed to like the infamy and attention the incident attracted and was thirsty for more. Unfortunately for his ego and, as a result, countless celebrities' sense of actual safety, he wasn't clever enough to pull off anything quite like hydrangea-gate again.
Sediuk soon turned to actual harassment and assault to garner attention. Nine months after the Madonna incident he again courted controversy by trying to kiss Will Smith on the mouth at the premiere of Men in Black III. Smith responded by smacking him on the face. He followed it up by grabbing Bradley Cooper's legs on one red carpet, and burying his head into Leonard DiCaprio's crouch on another. He then attacked Brad Pitt in an incident that left the star's sunglasses broken. After that, the law intervened. A judge banned Sediuk not only from every red carpet in Hollywood, but any event having to do with the entertainment industry anywhere in Los Angeles. An incident on the Cannes red carpet in 2014 involving America Ferrera eventually got Sediuk fired from his gig on Ukrainian television, as well.
Banned from Hollywood and without an actual job, Sediuk has since turned his sites to the fashion industry. He rubbed up against Ciara at a Valentino event, kissed Miranda Kerr at a Louis Vuitton show, and crashed Prabal Gurung's runway shows while wearing a thong (perhaps it's a nod to the man's possible narcissism that several of his "pranks" involve him baring his body before the public). He did once confront Anna Wintour at an event, but even he knows better than to actually touch her. He did, however, plead to be considered for the cover of Vogue before being escorted off by security.
Now it's gotten to the point where he's literally assaulting women on the street to feed his notoriety, as he's done twice now in the past two weeks.
After most incidents, he'll explain on social media or to anyone who listens that his pranks had some noble purpose behind it. Even though those noble purposes often seem to contradict. He attacked Hadid because he didn't think her looks were refined enough to be a high fashion model, and then conversely claimed he provoked Kardashian today because she was promoting unnatural beauty goals. How do those two square? Say what you will about PETA's previous attempts to provoke fashion shows, at least they had a concrete message.
Yet, every time Sediuk strikes, hundreds of outlets write about it. In a sense, you can't blame them. We're guilty, too. He's targeting the types of women who already have hundreds of outlets chronicling what they eat in the morning.
There's also the fact that Sediuk's pranks happen at times when actual journalists are present, and journalists are hardwired to report on strange events that happen literally right in front of them.
Yet, it seems pretty clear at this point that the coverage only encourages Sediuk to harass and assault more women. He knows exactly what he's doing, and he's created something of a celebrity journalism paradox. So what can be done?
Perhaps the best way to handle it is to remember that at the end of the deal we're dealing with actual harassment, and maybe its best to let the victim decide how the narrative is handled. If the celebrity chooses to publicize their assault to bring attention to the wider problem of harassment of women to the forefront, as Hadid did after her incident, that's great. If the victim would rather not discuss it, then maybe it's best for the media to ignore it all together.
That won't solve the problem of these incidents being disseminated on social media (though perhaps it could inspire social media to police itself, as social media so often does), but it's pretty clear a stance has to be taken. Because at this point, by covering these incidents all we're doing is disseminating footage of a woman's humiliations while also feeding into the ego of an increasingly deranged and potentially dangerous menace while perhaps encouraging others, perhaps even more threatening, who might be tempted to garner attention for themselves.
Watch Gigi Hadid reveal the secrets to her runway walk: