Like You, Model Vittoria Ceretti Loves Drake and Thai Food
The Italian model breaks down her style do's and don'ts.
---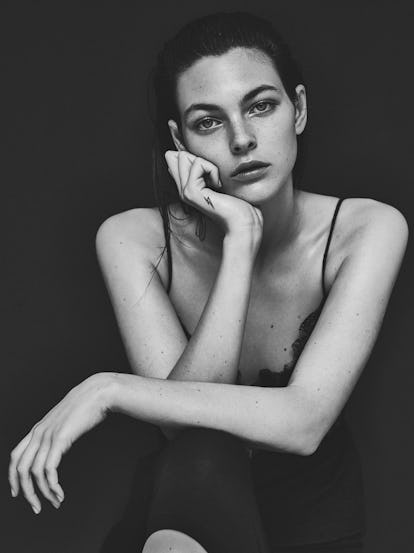 Vittoria Ceretti is a rare breed: a top model in 2017 without a famous last name. Ceretti began her modeling career at age 14, after being named a finalist of Elite Model Look Italy, the international model contest. Since then, the young Italian has quickly become one of the most ubiquitous faces on the runway–this season saw her walk Miu Miu, Louis Vuitton, Chanel, Givenchy, Valentino, and Versace, among other–as well as the face for major brands, including Alberta Ferretti, Alexander McQueen, Bottega Veneta, Fendi, Givenchy, and Zara. Off the runway, she's become known for his free spirit and edgy style, mixing lesser known brands with classic pieces. Here, Ceretti breaks down her style, as well as her future aspirations ("After modeling I would love to keep working in this world, maybe as an actress, and have a family," she said. "Another dream I have is to be a psychologist.") and more.
Three words to describe your style:
Comfortable, clean, and simple.
How many shows did you walk this season?
I walked 36 shows total!
What is your favorite moment of fashion month?
When it ends!
What is your style pet peeve?
When people don't wear socks with sneakers.
What has been your best recent discovery?
Amsterdam!
What was your last purchase?
A tattoo
What are you looking forward to purchasing next?
Another Chanel bag.
What is something you would never wear?
Skirts
What are your favorite things in your closet?
A Fendi coat and Louis Vuitton boots.
Music you're listening to right now:
Where are your go-to spots to hang out?
Central Park in New York, Santa Monica in Los Angeles, and any Thai restaurant in Paris.
What inspires your outfit when going out at night?
I think I get inspired by what I did and what happened to me on the actual day.
What makes you feel most confident?
Being around my friends and enjoying life together.
What is your favorite accessory of the moment?:
GCDS boots
Heels or flats?
Flats
What are you currently reading?
Google Maps
Favorite sneakers
Right now I am loving Puma.
What inspires you more: streetwear or high fashion?
Street fashion forever.
High or low waisted jeans?:
Low waist.
Long or short dress?:
Short.
Make-up or bare-faced?
Make up–but just enough.
What are you most looking forward to right now?
Going back to Jaipur, India.
Check out W's Most Popular Videos Below: