Vivienne Westwood, 79, Staged a Protest 10 Feet in the Air
The designer showed her support for WikiLeaks founder Julian Assange by embodying a canary.
---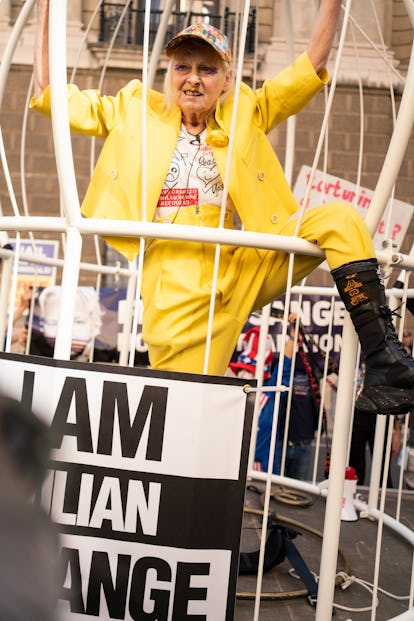 Ki Price
At 8 a.m. on Tuesday morning, Dame Vivienne Westwood arrived to the Old Bailey Criminal Court in London, wearing a bright yellow suit and black combat boots. About 15 minutes later, she took flight: The 79-year-old designer climbed inside a giant bird cage, suspended herself 10 feet into the air, and grabbed a megaphone. "I am the canary in the coal mine," Westwood told the crowd between squawks. "If I die down the coal mine from poisonous gas, that's the signal for all the miners to leave."
This wasn't exactly performance art. It was the latest instance of Westwood expressing her support for the the WikiLeaks founder Julian Assange, whom she's stood by since the beginning of his nearly seven-year stint in London's Ecuadorean embassy. This time, she did so with mounting urgency, emerging from 16 weeks in isolation to protest outside of the court where Assange's trial is set to continue in September. (He's currently fighting extradition from Britain to the U.S., where authorities want him to stand trial for 18 charges, including espionage.)
"This is the trial of Julian Assange's life. So far, in this case, the US prosecutors have gamed the British legal system and corrupted the law," Westwood said ahead of the protest. "This is a full-frontal attack on the central pillar of our democracy concerning the ability for journalists to hold the powerful to account through the media."
Westwood has turned to the slogan "I am Julian Assange" since at least 2012, when she distributed t-shirts emblazoned with it to attendees of her spring 2013 runway show inside the Ecuadorean embassy. (Assange later described the move as "a kind of epic trolling of the state.") On Tuesday morning, Westwood expanded her identity as Assange to include a canary. "I am half poisoned already from government corruption and gaming of the system and legal system by governments," she said. "I am still whistling away, but 7 billion people don't know what the fuck is going on."
Support for Assange runs in the Westwood family. Both of the designer's sons have taken up the cause, though in quite different ways: Joe Corré organized Tuesday's demonstration, while in 2014, Ben Westwood orchestrated Assange's runway debut. Still, even at 79, their mother remains the most inventive with her activism: Since becoming a septuagenarian, Vivienne's antics have ranged from driving a tank to David Cameron's home in protest of fracking to rapping about consumerism.
Related: Vivienne Westwood's Son Burns $6 Million of Punk Memorabilia, But Is That Very Punk?