Walt Cassidy on Jet-Setting Like a Former New York City Club Kid
Best or worst person to sit next to on a plane? The Brooklyn jewelry designer says, "Best: A lover. Worst: A child."
---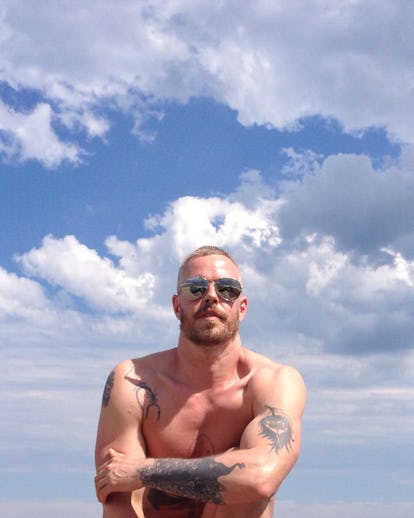 Once a New York City club kid, always a New York City club kid? Well, Walt Cassidy (aka Waltpaper) has made good for all the former club kids out there. Today he is better known for his jewelry designs and multimedia art, which has been exhibited at some of the world's top art institutions like Mass MOCA, Paul Kasmin Gallery, Deitch Projects, and the Watermill Center. Cassidy, based in Brooklyn, has also collaborated with the likes of Derek Lam (he designed the jewelry for Lam's Spring 2016 collection) and Brazilian brand Melissa. For all of his art endeavors, he spends time globetrotting in search of inspiration for his work. Here, Cassidy talks about some of his most beloved destinations (both near and far), packing hacks, and the best travel advice he's ever received.
What's your summer vacation destination? I always love hiking up the waterfalls of Platte Clove in the Catskills with my collectors Paul and Heidi Nute, and eating at Phoenicia Diner.
Favorite mode of travel? Ships and mopeds.
What's your favorite hotel in the world? Hotel Chelsea, room 215. I lived there for many years in the 90's during the club kid era, and had the grand balcony with the neon hotel sign just above. I installed a giant white fiberglass lion that was given to me from Tunnel, and spent many nights atop that lion, watching the city bustle around me.
Go-to travel outfit: White T-shirt, Carhartt jeans, backpack, and Converse Chuck Taylor high-tops.
What's something you would never wear on a plane? Never wear too much fragrance.
Best or worst person you have ever been seated next to on a plane? Best: A lover. Worst: A child.
Best freebie you've stolen off a plane? A good night's sleep.
Best beauty products for travel? Shea Moisture Baby Healing Lotion with frankincense and myrrh and Vanicream Sunscreen.
Name five essential pieces of clothing/accessories you can't travel without: Sunga, sterling silver three-strand chain and bangle by Walt Cassidy Studio, Cuir Ottoman/Parfum D'Empire, vintage Yashica T-4 film camera, and my sketchbook.
Name something that always saves you when you are traveling:Valium.
Best souvenir you have ever picked up on a trip? Karana Mudra wooden hand sculpture from a trip to Thailand.
Most luxurious hotel bathroom you've ever seen? I prefer to stay with friends when I travel, if at all possible, instead of hotels. When I am in London, I often stay with the actress Anita Pallenberg, and she has the most incredible bathroom….beautiful floor to ceiling tiles and mirrors, filled with her barbarian jewelry from all over the world. It's right out of the movie Performance.
Favorite off-season destination? Paris.
Favorite piece of travel advice you have ever received? Learn to get lost.
Watch W's most popular videos here: