Designer Johanna Senyk, the Quintessential Chic Parisian, Loves Her Local Wine Store
Wanda Nylon's creative director shares her favorite Paris haunts.
---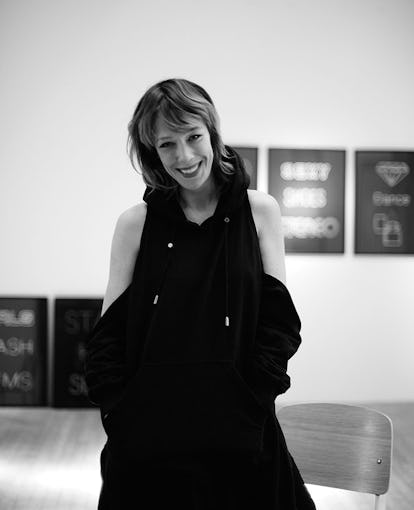 © Frank Perrin
Wanda Nylon's creative director Johanna Senyk is in the midst of a social media detox. She's gone dark in order to focus on her Spring 2017 collection, which she'll show Wednesday at Paris's Cité de la Mode et du Design — her first collection since she claimed the grand prize at the ANDAM Awards over the summer. The season promises to be a big one for the Parisian label: Within days of the ANDAM prize, Wanda Nylon also debuted a collection with French online retailer La Redoute, and the brand's Spring 2017 show, just its third ready-to-wear show ever, earned a spot on the official calendar of the notoriously exclusive Fédération Française de la Couture.
When we caught up over the summer, just before the ANDAM prize was announced, Senyk was already in the throes of preparation for this collection. Though she's experimented with a variety of techniques and textures, from printing on leather to engineering her own vinyl to knitwear produced on antique machines, her eye for the real French woman threads together each new collection. For the 34-year-old designer is, herself, something of a quintessential Parisian; her favorite store, after all, is her local wine shop.
While taking a break from technology, Senyk still made the time to share more of her favorite Parisian haunts and fashion dos and don'ts, answering our style questionnaire the old-fashioned way: by hand.
Name: Johanna Senyk.
Age: It depends on the makeup.
Describe your style: Parisian during the day and folk the night.
Favorite store in Paris: "Caves Bardou," 124 Rue du Faubourg Saint-Denis (the wine shop in my neighborhood).
Favorite vintage store in Paris: Iglaïne, 12 Rue de la Grande Truanderie, 75001.
Nighttime look: Too much is never enough.
Style icon: Grace Jones.
Best recent discovery: Psychoanalysis.
Style pet peeve: French pedicure. Why French?
Last purchase: An additional sewing machine.
Lusting after: Sleep.
Something you always carry in your bag: I'm not wearing a bag, just a keyholder around my neck.
Travel essential: A credit card.
Something you would never wear: A trikini.
Most prized possession in your closet: A vintage Alaïa couture dress.
Favorite accessory you own: My panther ring Cartier.
Fashion week go-to: Play with accessories and mix styles.
Street style winner: Yasmin Sewell.
Something you can't wait to wear when it gets cold out: My vintage fur coat.
Music you're listening to right now: Electronicat.
5 Instagram accounts you like to follow: I'm a runner not a follower! I'm in a digital detox before my show, focus on my work.
See W's most popular videos: