The Best Beauty Moments in Cardi B and Megan Thee Stallion's "WAP" Video
From Megan Thee Stallion's carefully placed rhinestones to Cardi B's Rapunzel-like chain of hair.
---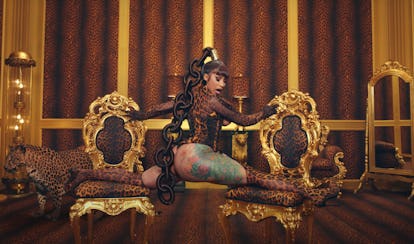 Screenshot courtesy of WAP music video by Megan Thee Stallion and Cardi B.
In the hours before Megan Thee Stallion and Cardi B dropped the video for their new single "WAP," the latter took care to clarify that it would feature the "clean" version, meaning YouTube only approved phrases like "wet and gushy" in place of the titular "wet ass pussy." But that didn't stop the visuals from delivering just as much as the instantly iconic cover art promised, from the moment the camera enters the WAP mansion's gates.
Yes, there was a Kylie Jenner cameo—not to mention leopards, snow tigers, wall decals of perfectly bronzed butts, and a latex-covered Rosalía. But don't let all that distract you from the fact that the Colin Tilley-directed video, which is unsurprisingly trending no. 1 on YouTube, features a plethora of beauty moments, too. Naturally, Megan did her own makeup, and once again did so expertly. As for Cardi, her looks were just as perfectly extra as the Louis Vuitton monogram-printed ponytail she casually Instagrammed last week.
The video begins with each rapper wearing a semi-subdued version of the intertwined updos on the single's cover. There's also a closer look at Megan's carefully placed rhinestones and gold eye shadow, complementing Cardi's pink look with exaggerated lashes and wingtip eyeliner. While Megan keeps it relatively simple with a pair of yellow gloves, Cardi has slits in her pink gloves to allow for her pointy bedazzled talons by the nail artist Jenny Bui.
They soon cozy up on a room filled with sand, this time with hair nearly as long as the surrounding snakes.
Suddenly, everything is green and purple, including Megan and Cardi. Megan, who tapped Kellon Deryck and Coca Michelle for her hair and nails, has added some blue eyeshadow to match her hair. Cardi, who worked with makeup artist Erika Roman and tan artist Isabel Alysa, sports more rhinestones and pale green roots.
In her first solo moment, Cardi joins a leopard in a gilded room. Behold her magnificent chain of hair, courtesy of Mo Length and Tokyo Stylez (a look that may have been inspired by one worn by Leiomy Maldonado on HBO Max's Legendary):
Meanwhile, Megan is paying homage to Kiki Kannibal with printed hair to match the snow tigers prowling around the room.
Enter Kylie Jenner, dramatically flouncing her glossy chestnut brown hair as if she were in a Pantene ad.
And then there's Normani, with Rosalía, who's in red latex with a crown of horizontal braids. And despite Cardi's many efforts, the latter unsurprisingly has the best nails of the entire video.
Related: Rosalía's Most Instagram-Worthy Manicures, and the Nail Artists Behind Them