Party Animals
From Georgetown's ultraexclusive conservative bars to U Street's liberal haunts, socializing in D.C. is more politically polarized than ever.
---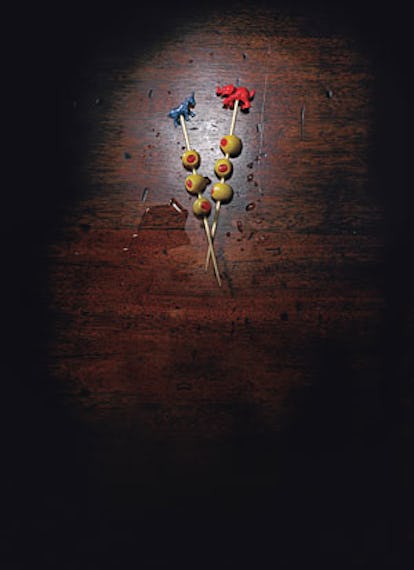 In the spring of 2007, after the Democrats gained control of the House of Representatives, Dem staffers audaciously started to frequent Republican hangout Capitol Lounge. Soon fights began to break out, often over the bar's jukebox (Democrats chose Top 40 hits; Republicans wanted Southern rock and country). E-mails circulated among Republican staffers, rallying them with a battle cry: "Take back Cap Lounge!" And so, every Thursday night for weeks, Republicans dutifully arrived at 6 p.m. and crammed into the bar, smugly shutting out the Democratic hordes and their penchant for Beyoncé singles.
"Partying here is divided along party lines," says Grant Ginder, 25, a former Congressional intern whose novel about twentysomething life in Washington, D.C., will be published next spring. "It's this hyper-educated version of West Side Story: the Republicans versus the Democrats, the prepsters versus the hipsters."
A segregated Capitol Hill happy hour is only the beginning—the social fault line between Washington's young politicos runs deep. There's even a geographical divide: Young Republicans tend to live and party in the Georgetown and Glover Park neighborhoods, while young Democrats inhabit Dupont Circle, Adams Morgan and the U Street corridor—though lately the atmosphere surrounding their turf has been a bit subdued. "The status quo in this town for the last eight years has been decidedly conservative and preppy," says Christina Wilkie, deputy editor at Washington Life, the city's glossy society magazine. But November's election has the potential to upset the Republican reign—and the cocktail culture that sprang up around it.
"I remember sitting in the Oval Room [a restaurant near the White House] in January of 2001—everyone was miserable," recalls political analyst Jamal Simmons, who worked in the Clinton White House and was a spokesman for Al Gore. "We watched the limousines pull up with people with cowboy boots on and big cowboy hats and big hair. The Texans had arrived."
Indeed, that year young Republicans—many of them of the Texan bouffant-hairdo variety—flocked to Washington to fill the glut of internships and junior staff positions. Bo Blair, 35, a Washington native and budding nightlife impresario (he cut his teeth as social chair of his Villanova fraternity), was ready for them. A year and a half earlier, he had opened a bar-restaurant called Smith Point on a prime corner in Georgetown. It's a hole-in-the-wall shielded by a velvet rope, beyond which lies a patio with a dilapidated shed in one corner, flanked by two windowless bars. It had the only defining feature it needed, however: a list.
The list started with 600 names and has grown to more than 3,500, becoming a who's who of young, social Republicans. Jenna and Barbara Bush are fixtures at Smith Point when they are in town, and a 2005 inauguration after-party was thrown there. Tech billionaire Michael Saylor, Republican power-hostess Juleanna Glover and socialite Ashley Taylor, granddaughter of former chief of protocol Lloyd Hand, make pilgrimages nearly every weekend. The bar is the site of Republican functions and countless theme parties—think Tennis Hos and Golf Pros.
One regular is Rebecca Canan, a 26-year-old member of the Madison, an all-female, largely conservative club that frequently holds themed fundraisers—like MadiSCENE and Mad in Madras—at Smith Point. She tells of more lists: Smith Point's list within a list, called the Side Door list, whose members avoid the main entrance and may bring a plus-one; the Young and the Guest list, Washington Life magazine's roster of D.C.'s chic set, to which she was named this year (the main perk is the annual party); and the Madison's membership roster, for which only unmarried women (no divorcées, please) are eligible to apply. A similar male organization, the Capital Club, a 100-member, mostly conservative group boasts various "sons of," including Reeves Barbour, son of Mississippi Governor Haley Barbour, and Moore Capito, son of West Virginia Representative Shelley Capito.
Access to such groups is possible, if rare, for those without GOP ties. On a Saturday night at Smith Point, Jennie Kim, 25, a member of the Madison and a Democrat, has just returned from a lavish wine-tasting charity dinner on a Virginia estate. "I think the social scene mirrors the political scene," she says. "Republicans are more disciplined—they have lists, there seems to be more order to it—whereas Democrats are more open." This organized fun is often learned in the Greek system that many Cap Club and Madison members were a part of in college.
"The Republicans come from the same towns, schools and country clubs," says Blair. "They just want to continue the fun. I'm not saying anything bad about the kids who are Democrats, but it's just different." Bespectacled and slightly rotund, Blair cuts a figure that is simultaneously paternal and imposing. He is gearing up for another Saturday night, relaxing in a booth at his new members-only bar-restaurant, the Rookery, which he opened this past spring, just across the Georgetown border in the West End. Blair invited 200 of his bachelor friends to join; 185 married couples and 500 eligible women are on a "permanent guest list."
Blair's lists have inspired copycats. The Gryphon Room, a Georgetown bar, recently enforced a list on Thursday nights, drawing on much of the same young Republican crowd. The social exclusivity even goes virtual. In 2006 University of Virginia graduates Reed Landry and Neel Patel started an invite-only social networking Web site called LateNightShots.com, which quickly gained ground with the Capitol Hill preppy set. The site is now so popular that the White House blocks its staffers from accessing it at work. Users can review their favorite watering holes and anonymously debate everything from prenuptial agreements to who has the "best legs on the scene." A reality-TV show based on the Web site and the Georgetown milieu begins filming in September; two Madison members, Katherine Kennedy and Krista Johnson, are being considered for starring roles.
Despite the social dominance of Republicans for nearly a decade, a liberal network also exists. Oddly, it's referred to as the "hipster scene"—in D.C. the term is synonymous with non-Republicans, not artsy types in tight pants and Converse sneakers—and predictably it's much more low-key. Being conservative won't get you banned from hipster hangouts, though they do have their own brand of exclusivity. On a Friday night, Marvin, a nightclub on U Street, is packed with a diverse group of characters, but the tattooed bouncer denies a guy in khaki shorts and a pink polo shirt entry, saying shorts aren't allowed. A few minutes later a patron wearing artfully distressed shorts exits the bar.
On the same drag, Saint Ex and Local 16 are unofficial liberal hangouts, where Congressional interns gape at Democratic "celebrities" like Bill Clinton press secretary Joe Lockhart and senior Gore adviser Michael Feldman. The Center for American Progress holds happy hours atop Local 16's roof deck, and Terry McAuliffe and Congressman Artur Davis hosted a Unite for Change party for Hillary Clinton and Barack Obama supporters there.
During the Clinton administration, some U Street spots were decidedly Democratic. Simmons, the political analyst, remembers one Bush twin entering Stetsons in 2001—prompting his friend, who also worked in the Clinton White House, to declare, "They can have the Congress, they can have the White House, but they can never take Stetsons."
Should Obama win the 2008 election, the party atmosphere among young Washingtonians is destined for—to borrow the candidate's favorite word—change. "Washington gets its lifeblood from the people that come in with each new administration," says Simmons. Meghan Gaffney, a fundraiser for Democratic organizations, speculates, "[Obama's] staff is young and diverse, so you would definitely have a more stylish and interesting community." (They've already staked out Lounge 201, right across from Obama's Senate offices.) Even now, some Republicans say the president's dismal poll numbers have clipped their social wings. "There's a lot of animosity," says one White House staffer. "You just want to go out with people who are like you, so you don't end up debating."
From his Georgetown fiefdom, Blair isn't too worried. In spite of—or perhaps because of—the political climate, last year was his most successful yet. "The Bush administration…it's funny, because we started at the same time. So many [of our] clients have come here over the last eight years to work for this administration, so it's definitely been a great ride," he says. "I don't know what'll happen if Obama wins—I'm sure it will affect business somewhat." Then he grins: "But there'll always be a lot of preppy grads in D.C., no matter what."