Watch: Charlize Theron's Epic Training Sessions For Her Brutal Atomic Blonde Fight Scenes
The fight scenes in Atomic Blonde were originally supposed to be much more tame, until the crew realized what Charlize Theron could do.
---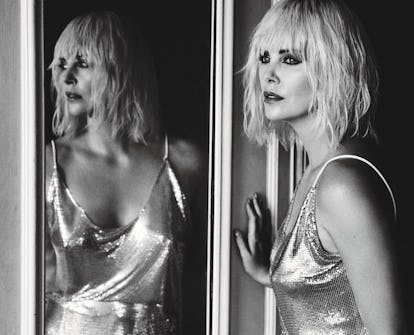 Photographs by Alasdair McLellan, Styled by Edward Enninful
Every since we saw the first trailer of Charlize Theron's upcoming Atomic Blonde back in March, we knew the film would be heavy on action. She managed to kick the rumps of what seemed like dozen upon dozens of men in the three-minute sneak peek alone.
Turns out however, that the film didn't originally call for such intense action. Trainers and stunt coordinators originally planned on far less complicated fight scenes, but once they got Theron in the gym and realized what she could do and how dedicated she was to the part they decided to push her abilities as far as they could go.
"It's like dance, and I grew up taking ballet," Theron already told W about what is was like to stage the film's intense fight scene. "I love discipline. I function really well within the parameters of discipline and knowing what to do."
Now, thanks to a behind the scenes video, we get a chance to see Theron actually preparing for those fight scene, and "like dance" wouldn't quite be the first way one would describe it. This looks brutal.
"At first, not knowing her skill level, we were going to break things down, do three or four moves, then cut, move the camera over here, a couple moves, cut," says stunt coordinator Sam Hargrave. "But then when we saw her abilities that really hit the lightbulb for us. We've got something special here. Lets try to push this."
"So I changed the directives to the choreography team to like go big, and build it out," adds director David Leitch. "We'll do longer takes, and we'll do more complex moves because she can do twenty moves without cutting."
Theron also noted how the team tried to make the fight scenes as realistic as possible.
"Right from the beginning, it was very clear the way I was going to fight," she says. "How a woman would really be able to fight and not break every bone in her fist."
So the fight choreography takes into account how a woman, albeit a highly trained spy with a gift for hand-to-hand combat, might actually be able to take down entire gangs of men: with multiple moves, using both hands, and often using objects around her for a tactical advantage.
"These stunt guys took so many hits. I had to buy a lot of alcohol to be forgiven," says Theron in the video. "But there were no injuries. There was absolutely nothing …or so they told me."
Which is more than Theron can say about one of her first fight scenes.
Theron recently told us that during filming of a legendary fight scene opposite Teri Hatcher in 2 Days in the Valley early in her career, she did accidentally give the future Desperate Housewife a black eye.
"Because it was Teri Hatcher, who was a star, and I was this bleached-blonde-Amazonian, catsuit-wearing nobody who was punching her in the face, I was like a wild animal," she said. "Back then I didn't know how to hone in my energy and I was knocking over lights. I had no concept of a set. I connected right with Teri Hatcher's face. I felt terrible about it. I had no money and sent her some cheap beer the next day. Sorry, Teri."
Well, at least, Theron had kept up her tradition of buying people she beats up on set booze afterwards.
Atomic Blonde, in which Theron plays a super spy tasked with taking down an espionage ring in 1980s Berlin, hits theaters July 28th.
Related: Charlize Theron's Atomic Blonde Serves Up Some Plot With That Sex and Violence in Second Trailer
Charlize Theron Still Feels Bad About the Time She Punched Teri Hatcher In the Face:
Charlize Theron, Dior Darling, Is All About Edgy Glamour on the Red Carpet
Charlize Theron in Givenchy at the 24th annual American Cinematheque awards in Beverly Hills, California, March 2010. Photo by Steve Granitz/WireImage.

Getty Images
Charlize Theron in a Balenciaga blazer with Alexander McQueen clutch and Stella McCartney heels at the launch party for Rage in Los Angeles, California, September 2011. Photo by Getty Images.

Getty Images
Charlize Theron in Alexander McQueen at W magazine's Golden Globes party in Los Angeles, California, January 2012. Photo by Jeffrey Mayer/WireImage.

Getty Images
Charlize Theron in Dior at the world premiere of Prometheus in London, England, May 2012. Photo by Stuart Wilson/Getty Images.

Getty Images
Charlize Theron in Stella McCartney at the 5th annual Variety Power of Women party in Beverly Hills, California, October 2013. Photo by Getty Images.

Getty Images
Charlize Theron in Givenchy at the Help Haiti Home gala in Beverly Hills, California, January 2014. Photo by Getty Images.

Getty Images
Charlize Theron in Dior at the 86th annual Academy Awards in Los Angeles, California, March 2014. Photo by Getty Images.

Getty Images
Charlize Theron in Dior at the Christian Dior Fall 2014 couture presentation in Paris, France, July 2014. Photo by Foc Kan/WireImage.

Getty Images
Charlize Theron in Dior at the premiere of Mad Max: Fury Road at the Cannes Film Festival in Cannes, France, May 2015. Photo by Daniele Venturelli.

Daniele Venturelli/Getty Images
Charlize Theron in Cushnie et Ochs at the Critics' Choice Television Awards in Beverly Hills, California, May 2015. Photo by Getty Images.

Getty Images
Charlize Theron in Dior at the premier of Mad Max: Fury Road in Los Angeles, California, May 2015. Photo by Getty Images.

Getty Images
Charlize Theron in Valentino at a photocall for Mad Max: Fury Road at the Cannes Film Festival in Cannes, France, May 2015. Photo by Getty Images.

Getty Images
Charlize Theron in Givenchy at Life Ball 2015 in Vienna, Austria, May 2015. Photo by Getty Images.

Getty Images
Charlize Theron in Tom Ford in Hong Kong, China, October 2015. Photo by ChinaFotoPress/ChinaFotoPress via Getty Images.

Getty Images
Charlize Theron in custom Dior at the 88th Academy Awards in Los Angeles, California, February 2016. Photo by Jeffrey Mayer/WireImage.

Getty Images
Charlize Theron in Altuzarra in Milan, March 2016. Photo by Getty Images.

Getty Images
Charlize Theron in a Stella McCartney blouse and The Reformation skirt at a photocall for The Huntsman: Winter's War in Hamburg, Germany, March 2016. Photo by Getty Images.

Getty Images
Charlize Theron in a Saint Laurent blouse, Chloé skirt, and Alexandre Vauthier heels at a photocall for The Huntsman: Winter's War in Milan, Italy, March 2016. Photo by Getty Images.

Getty Images
Charlize Theron in Dior at the Asia premiere of The Huntsman: Winter's War in Singapore, April 2016. Photo by Getty Images.

Getty Images
Charlize Theron in Dior at the premiere of The Huntsman: Winter's War in Westwood, California, April 2016. Photo by Getty Images.

Getty Images
Charlize Theron in Givenchy at the photocall for The Last Face at the annual 69th Cannes Film Festival in Cannes, May 2016. Photo by Getty Images.

Mike Marsland/Getty Images
Charlize Theron in Dior couture at the premiere of The Last Face during the 69th annual Cannes Film Festival in Cannes, May 2016. Photo by Getty Images.

Laurent Viteur/Getty Images
Charlize Theron in Dior couture at the 89th Annual Academy Awards in Hollywood, February 2017. Photo by Getty Images.

Dan MacMedan/Getty Images
Charlize Theron in Dior at the premiere of Fast & Furious 8 in Paris, April 2017. Photo by Getty Images.

Pascal Le Segretain/Getty Images
Charlize Theron in Gucci at the premiere of Fast & Furious 8 in Madrid, April 2017. Photo by Getty Images.

Carlos Alvarez/Getty Images
Charlize Theron in Dior couture at the Berlin premiere of Fast & Furious 8 in Berlin, April 2017. Photo by Getty Images.

Franziska Krug/Getty Images
Charlize Theron in Saint Laurent at the amfAR Hong Kong Gala in Hong Kong, May 2017.

Ulet Ifansasti/Getty Images
Charlize Theron in Dior at the 70th anniversary celebration during the Cannes Film Festival in Cannes, France, May 2017. Photo by Getty Images.

Barcroft Media/Getty Images
Charlize Theron in Prada with Chopard jewelry at the Chopard Trophy during the Cannes Film Festival in Cannes, France, May 2017. Photo by Getty Images.

Pascal Le Segretain/Getty Images
Charlize Theron in Dior at the cruise 2018 Dior show in Calabasas, California, May 2017. Photo by Getty Images.

Chris Delmas/Getty Images