See Jesse Jo Stark's Glam and Ghoulish "Deadly Doll" Music Video at the Chrome Hearts Factory (Exclusive)
Jesse Jo Stark, the daughter of the founders of Chrome Hearts, returns to familiar territory for her latest video.
---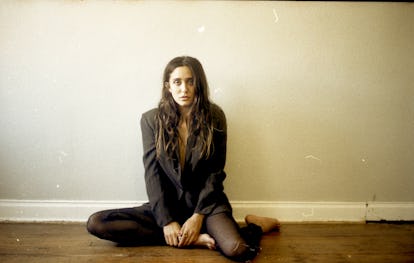 Courtesy Jesse Jo Stark
Towards the end of October, the musician Jesse Jo Stark, having recently wrapped up a residency at the Echo in Los Angeles, opted to take her set to a more familiar venue: the Chrome Hearts factory, where she's been playing since she was 13 years old. Stark, the daughter of Chrome Hearts founders Laurie Lynn and Richard Stark, set up a stage "for what I like to call 'Live at the Chrome Hearts Factory,'" she said on the phone from L.A. on a recent afternoon. She invited a bunch of friends and family members, and filmed what she guessed was six hours of live footage from the event. The result was a series of music videos she has been releasing over the past few weeks, the latest of which, "Deadly Doll," premieres exclusively here on W.
"Deadly Doll" finds Stark presiding over a stage like a seance, backed by a phalanx of band members dressed as skeletons, surrounded by candelabras, and bathed in the glow of a few spotlights. This, and the live video for "Monster Man" that preceded it, have been a marked departure from more conceptual efforts like "Down Your Drain," which features Stark's close friend Bella Hadid. In "Deadly Doll," as Stark raises the microphone to her lips, her nails filed to white points, a light hits the blue streaked through her hair—an homage, she explained, to the white-streaked hair of the Bride of Frankenstein. (She's something of a horror aficionada, citing The Bride of Frankenstein, Creature From the Black Lagoon, and the original It among her favorites.)
It's all in the service of what Stark described as "glam-ghoul vibes"—when she filmed "Deadly Doll," it wasn't yet Halloween, but on stage, Stark conjures a musical persona that combines vintage horror and rockabilly. "That's my alter-ego, in a way," she explained. "It's just about love," she continued, "the darker side of love, and making it a spooky, soft, eerie tune."
For the most part, Stark croons directly into the camera: "Deadly she walks, young little girl," she begins. "Falling in love, led by a fool." (She wrote the song three years ago, but "it doesn't feel like it was that long ago," she said—it was released earlier in the fall, the latest in a string of singles leading up to an album next fall.) The camera swivels vertiginously around her, zooming in on her face and back out again and revealing her full look: a sheer, spiderweb-patterned dress knotted at one side that a friend of hers designed based on a vintage pattern, and Saint Laurent heels.
As the song crests over its climax and the band plucks out its final chords, Stark turns her back to the camera, her nearly bare butt briefly illuminated—an "ode," she explained, to Cher's "Turn Back Time" video. The iconoclastic pop singer is also, incidentally, her godmother—so I had to ask, does she text like she tweets? "Yeah, cryptic as hell," Stark assured me. "I really love that she sends emojis because I'm kind of an emoji whore." (Among Stark's most-used, as one might imagine, are the bat, the coffin, and the zombie.) But as much as it might be Cher-inspired, it's also Stark's own thing, too: "I always love a good ass moment," she said.
Exclusive: Inside the Chrome Hearts "Family Dinner" with Bella Hadid, Benjamin Millepied, and the Starks
Jesse Jo Stark and Bella Hadid attend the Chrome Hearts "family dinner" on Monday, June 13 2017 at the brand's store in New York City.

David X Prutting/BFA.com
Richard Stark and Laurie Lynn Stark attend the Chrome Hearts "family dinner" on Monday, June 13 2017 at the brand's store in New York City.

David X Prutting/BFA.com
Benjamin Millepied watches the LA Dance Project perform at the Chrome Hearts "family dinner" on Monday, June 13 2017 at the brand's store in New York City.

David X Prutting/BFA.com
Members of the LA Dance Project perform at the Chrome Hearts "family dinner" on Monday, June 13 2017 at the brand's store in New York City.

David X Prutting/BFA.com
Laurie Lynn Stark, Gilles Bensimon, and Jean Georges attend the Chrome Hearts "family dinner" on Monday, June 13 2017 at the brand's store in New York City.

David X Prutting/BFA.com
Jordan Barrett and Alana Oherlihy attend the Chrome Hearts "family dinner" on Monday, June 13 2017 at the brand's store in New York City.

David X Prutting/BFA.com
Bella Hadid attends the Chrome Hearts "family dinner" on Monday, June 13 2017 at the brand's store in New York City.

David X Prutting/BFA.com
Jacquelyn Jablonski attends the Chrome Hearts "family dinner" on Monday, June 13 2017 at the brand's store in New York City.

David X Prutting/BFA.com
Members of the LA Dance Project perform at the Chrome Hearts "family dinner" on Monday, June 13 2017 at the brand's store in New York City.

David X Prutting/BFA.com
The scene inside the Chrome Hearts "family dinner" on Monday, June 13 2017 at the brand's store in New York City.

David X Prutting/BFA.com
Benjamin Millepied and Laurie Lynn Stark attend the Chrome Hearts "family dinner" on Monday, June 13 2017 in New York City.

David X Prutting/BFA.com
Members of the LA Dance Project perform at the Chrome Hearts "family dinner" on Monday, June 13 2017 at the brand's store in New York City.

David X Prutting/BFA.com
Members of the LA Dance Project perform at the Chrome Hearts "family dinner" on Monday, June 13 2017 at the brand's store in New York City.

David X Prutting/BFA.com
Bella Hadid and Richard Stark attend the Chrome Hearts "family dinner" on Monday, June 13 2017 at the brand's store in New York City.

David X Prutting/BFA.com
Laurie Lynn Stark and Vera Wang attend the Chrome Hearts "family dinner" on Monday, June 13 2017 at the brand's store in New York City.

David X Prutting/BFA.com
Jesse Jo Stark attends the Chrome Hearts "family dinner" on Monday, June 13 2017 at the brand's store in New York City.

David X Prutting/BFA.com
Gareth Pugh and Lynn Yaeger attend the Chrome Hearts "family dinner" on Monday, June 13 2017 at the brand's store in New York City.

David X Prutting/BFA.com
Members of the LA Dance Project perform at the Chrome Hearts "family dinner" on Monday, June 13 2017 at the brand's store in New York City.

David X Prutting/BFA.com
Bella Hadid attends the Chrome Hearts "family dinner" on Monday, June 13 2017 at the brand's store in New York City.

David X Prutting/BFA.com
Gareth Pugh attends the Chrome Hearts "family dinner" on Monday, June 13 2017 at the brand's store in New York City.

David X Prutting/BFA.com
Benjamin Millepied gives a speech at the Chrome Hearts "family dinner" on Monday, June 13 2017 at the brand's store in New York City.

David X Prutting/BFA.com
Mary Anne Huntsman plays at the Chrome Hearts "family dinner" on Monday, June 13 2017 at the brand's store in New York City.

David X Prutting/BFA.com
Laurie Lynn Stark and Danny Glover attend the Chrome Hearts "family dinner" on Monday, June 13 2017 at the brand's store in New York City.

David X Prutting/BFA.com
Chelsea Leyland DJs the Chrome Hearts "family dinner" on Monday, June 13 2017 at the brand's store in New York City.

David X Prutting/BFA.com
Sante D'Orazio and John McEnroe attend the Chrome Hearts "family dinner" on Monday, June 13 2017 at the brand's store in New York City.

David X Prutting/BFA.com
The scene inside the Chrome Hearts "family dinner" on Monday, June 13 2017 at the brand's store in New York City.

David X Prutting/BFA.com
The scene inside the Chrome Hearts "family dinner" on Monday, June 13 2017 at the brand's store in New York City.

David X Prutting/BFA.com