We heart jewelry designer Pamela Love
... and we're not alone. Zac Posen, Yigal Azrouël, and the costume designers at HBO's True Blood are among those taken by Love's edgy, at times feral, jewelry. Before the New York-based designer started casting...
---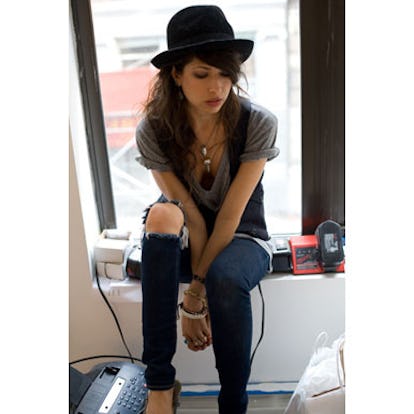 You use a lot of claws and bones and bird skulls in your jewelry. What's the appeal? I never liked jewelry growing up. My mom was a very feminine woman and she wore hearts and pink stones, but I was always sort of a tomboy. For me, the appeal is being able to wear jewelry but not having it be prissy.
Why do you think that other people are so into it right now? I think fashion is definitely going through a very tough phase. The popularity of Alexander Wang and Rodarte really show that there's a more gothic or rock and roll, more morbid sort of curiosity in fashion right now. I think that translates into jewelry as well.
From left: Alexander Skarsgård in HBO's True Blood; Love's piece on HBO.com.
Speaking of tough, one of your pieces has been a regular on HBO's "True Blood," this season. Yeah. One of the costume designers bought it at retail and put it on one of the vampires [Eric Northman, played by Alexander Skarsgård]. I guess it became a really focal thing. When I finally saw season two, I was like, "Wow, he's always wearing it!" And he's always in that weird track outfit wearing the claw, which is totally strange. I think he's the hottest guy ever.
And you've since been working with HBO? The costume designer contacted us and was like, "We want more jewelry for next season." Then the marketing department contacted us and said, "The necklace is really focal. We want to sell it [on HBO.com]." They've sold out, like, three times. Now we're getting a lot of interest from different vampire type things. This vampire trend is really weird, but "True Blood" is the only one that I actually think is cool.
From left: Zac Posen's fall '09 runway show; Frank Tell's fall '09 presentation.
Last season you had a big presence on the runways with Zac Posen, Yigal, Frank Tell. Tell us about those projects. Frank is my studio mate so that was easy. He used the daggers from the dagger rosaries and created a whole vest out of it. Yigal came to us with selected pieces from my collection and used those [for his runway show]. And Zac contacted me to develop pieces based on his ideas and my ideas. We know each other through mutual friends.
You have a history with Francesco Clemente. I'm his painting assistant. The first guy I was seeing when I moved to New York was very close to his kids. At the time I was working a job I was unhappy with, so I was like, "Hey, do you need a painting assistant?" And [Clemente] was like, "Actually, I do. Can you start tomorrow?" I quit my job without giving any notice, which was probably dumb because it was for Barneys. I wonder if they'll ever pick up my line. But I just was like, "I'm never coming in anymore." I started working for Francesco and that was almost three years ago.
You share an office with Frank Tell, Julia Restoin Roitfeld and casting director Natalie Joos. How did that work out? We're all friends. Frank found a space that was big enough to be good for four people and none of us could afford it if it wasn't four people. So we all just decided to go in together and split it. I'm actually in the process right now of trying to find a new space because we've sort of outgrown it. And we're messier than everyone else. I think they're all going to kill me because I have more interns than anybody now.
So you seem to know a lot of the right people. How? I have no idea. You meet one friend and then you meet another friend and then you meet another friend. I went to NYU. So you meet a lot of people in college, and a lot of people who grew up in the city.
Do you hang out with all those people outside of work? Sometimes. I try not to really leave Brooklyn if I don't have to. I've been really working as much as humanly possible. Then when I come home, I have band practice and then I pass out.
Right. You play drums in a band. Yeah, [it's called] Scorpio Rising. I think we're going to have to change it now.
Why? Because I think Chrissie Miller [who designs Sophomore] did a line for Urban Outfitters called Scorpio Rising. I don't know if it's out in stores yet. I was like, "We have to change the name," because Urban Outfitters could be, like, selling T-shirts that say Scorpio Rising! Also, there's like a really weird techno band in Texas called Scorpio Rising. One of my bandmates got really upset because we were playing a show and the venue linked to their MySpace page instead of our MySpace page. And she was like, "Oh my God, all these people think we're a weird techno band from Texas!"