The Weinstein Company's First Post-Scandal Release, Amityville: The Awakening, Grossed $742
There are handbags more expensive than that.
---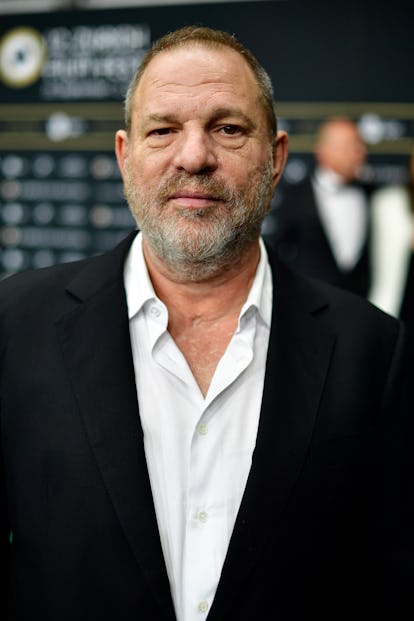 Alexander Koerner/Getty Images
The Weinstein Company's stability and future has been in question ever since Ashley Judd opened the floodgates for women to come forward with their own rape, sexual assault, and sexual harassment allegations against co-head Harvey Weinstein. Last week, it was denied its anticipated financial support from Colony Capital, as The New York Times reported, and, this past weekend, it released one of the year's biggest flops, Amityville: The Awakening. The film — a sequel to 1979's The Amityville Horror, which brutally detailed Ronald DeFeo Jr.'s murdering of his six family members — grossed just $742 dollars on Saturday, as Variety notes. And, no, that sum isn't missing any zeros.
The film's failure — which also includes a 20% rating on Rotten Tomatoes as of this moment — could be taken as a sign of karmic retribution, considering the film executive who co-ran The Weinstein Company, alongside his brother Bob Weinstein, has amassed sexual misconduct allegations from more than 82 women, an extensive list compiled by one of his accusers, actress and director Asia Argento, as Vox points out. Notably, this isn't their only flop this year as the presitge film Tulip Fever, starring Alicia Vikander, currently holds a jaw-dropping 8% rating on Rotten Tomatoes. Of course, the flop can also be traced back to the film itself. Not only did Amityville: The Awakening not have a strong marketing campaign or a strong press tour from its stars Bella Thorne, Jennifer Jason Leigh, Jennifer Morrison and Cameron Monaghan, as E! notes, it also had little momentum. Originally filmed in 2014, the release date was pushed back multiple times before the Weinstein Co. settled on giving it a one-day theatrical release at 10 locations this past Saturday. Plus, the film was made available for free streaming on Google Play starting October 12 and spanning into November 8, as Variety reports.
It also may be that, given the current climate in Hollywood where sexual abuse allegations are increasingly amounting against everyone from powerful executives like Weinstein to directors like James Toback and, most recently, actor Kevin Spacey, the theaters are the last place people want to be. In fact, we're currently in a two-month run of historical lows in moviegoing, with this past October being the worst in a decade, as The Hollywood Reporter notes. It certainly doesn't help that Netflix just unloaded its second season of Stranger Things.
Related: https://www.wmagazine.com/story/rose-mcgowan-womens-convention-speech
"Women's Rights Are Human Rights":