Wendy Yu, the Woman Fast Becoming China's Unofficial Fashion Ambassador
The Chinese dynamo Wendy Yu is fashion's new fairy godmother.
---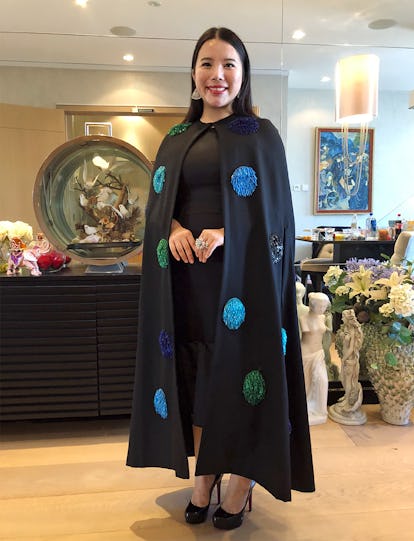 Photograph by Juergen Teller; Styled by Gianluca Longo.
"And there have been so many important times in my life when I found myself wearing Oscar…it's very sentimental to me," says the 28-year-old Wendy Yu, capping off a long stream of consciousness. She's in her London pied-à-terre, posing for this story next to a towering plush giraffe she bought at ­Harrods, dressed in the gown she wore earlier this year to the Met Gala—a white-tulle-and-jet-velvet Oscar de la Renta confection embellished with more than 5,000 scalloped flounces and a 32-foot-long train. It's a befittingly imposing look for one of the newest Met Gala committee members, and one that, on the night of the party, required handling by two high-profile ­volunteers: Natalia Vodianova and Antoine Arnault. The couple helped Yu maneuver the train "like bridesmaids," she says. "That was really nice of them."
Yu, who has been known to attend events trailed by her own camera crew, is fast becoming a social-and-philanthropic fixture in Shanghai, Hong Kong, London, and New York. As a self-appointed ambassador for fashion, she's helping designers navigate the labyrinthine ins and outs of the Chinese business world, at a time when the luxury industry increasingly prioritizes Asian markets. "The Chinese audience wants to see world-class fashion," Yu says energetically. She has invested an undisclosed sum in the London-based designer Mary Katrantzou's line; other style-related assets in her growing portfolio are Bottletop, a sustainable fashion company, and Fashion Concierge, a fashion-sourcing app. "Wendy understood that we needed to build a truly international lifestyle brand," says Katrantzou, fresh off a 48-hour Ibiza jaunt with Yu, during which they consolidated their partnership after a heady evening of merger discussions and electronic-music clubbing. "She has strengthened our position in China unequivocally."
Yu's Knightsbridge home is a testament to her London swan status. Her David Downton portrait (he's the artist in residence at Claridge's hotel) hangs imposingly over the stairwell, and more pictures of Yu—and her family, friends, and fashion legends like ­Valentino—sit atop an ebony baby grand in silver and gilded frames. Upstairs, Yu shows me two rooms dedicated to her wardrobe: one for eveningwear, both vintage and new; another for relatively more casual pieces. Each is organized by designer and punctuated with ­smatterings of fashion collectibles: Miu Miu crystal slippers, a rainbow of Valentino Rockstuds, Olympia Le-Tan book box clutches, trinkets from Cartier and Bulgari. Then there are the room's other occupants—Yu's 150-plus Barbie doll collection, which includes Diane von ­Furstenberg Barbie, Tommy x Gigi Barbie, and the Duke and ­Duchess of Cambridge bridal Barbie and Ken.
Though at first Yu might come across as just another privileged offspring of the yuan percent, those who know her well speak of a steely determination under the frilly exterior. She says her inspiration is her father, "a doer, a thinker, and a rebel," who turned his back on a diplomatic career when he was 27 to take a loan and start his business. He is the founder of Mengtian Group, Asia's biggest wooden-door manufacturer, which has more than 1,000 retail stores across China; her mother is a private investor. Yu is an only child, and there is the very real possibility that taking over the family empire will one day be another feather in her couture cap. "Yes, she loves the glamour and the attention, but I could always see that she also truly wanted to achieve something," says Angelica Cheung, the editor in chief of Vogue China, where Yu worked as an intern.
In the meantime, Yu's feet have barely touched the ground. She had a splashy coming out at the 2015 Queen Charlotte's Ball, and ever since then her 95,000 Instagram followers (as well as her million-plus fans across the Chinese social media platforms Weibo and WeChat) have continuously tracked her astutely styled jet-setting: a Dolce & Gabbana peapod print in ­Formentera!… a custom silk kira in Bhutan! For her 27th birthday celebration, at the Marie Antoinette Suite in London's Ritz hotel, the dress code was "black tie & pink"; guests enjoyed a Chinese Barbie–and–blossom cake, a macaron tower from Ladurée, and a multitiered unicorn cake. ("I was born in the year of the horse; maybe that's why I love unicorns so much!") An invitation to her annual Chinese New Year party is also in high demand. This year's took place in the red-damask-walled King's Gallery in Kensington Palace, which was outfitted with a large Chinese dragon.
That dinner also marked the launch of Yu Holdings, "a company that is connecting investments with innovation, philanthropy, and creativity," Yu says. Aside from her fashion endeavors, Yu has earmarked $20 million for emerging businesses this year (past investments include Didi Chuxing and Tujia, China's versions of Uber and Airbnb, respectively). On the philanthropic side, she supports the British Museum, London's Design Museum, the National Portrait Gallery, amfAR Hong Kong, the Naked Heart Foundation, and Teach for China, an initiative that provides education in poor rural communities in her homeland.
The next time I see Yu, it's early in the morning at the Ivy Kensington, her regular London hangout, and she's tucking into a full English breakfast. "That's my favorite English meal. I think happiness is the most important thing. More important than diet," she says. Her other favorite British staple is afternoon tea, but she says that lingering over scones "is more for ­Instagram." Yu's conversation whipsaws from Sun Tzu and The Art of War to Confucius ("The most valuable thing to me is to fulfill my ambitions") to accessories (she has four Birkin bags hand-painted by her favorite illustrator, Tanya Ling) to boys (there is rumored to be a potential suitor in China) to business ("E-commerce has become a challenge in China when shopping for luxury") to haute couture ("The reason why I love crazy dresses is that I love to dream and I love fantasies") to the trials of jumping on a plane every two or three days ("Sometimes, I just want to be hidden, to chill and just do my thing"). Yu is, in fact, flying someplace that afternoon, after a meeting with Bulgari, where she's a brand ambassador. But before that, she wants to catch the Azzedine Alaïa exhibition at the Design Museum.
There is good reason for this visit, and it's not just that Alaïa body-con separates are Wu's go-to travel staples. She believes that China needs its own fashion museum, and she is determined to be the one to open it. Andrew Bolton, the curator in charge of the Met Costume Institute, in New York, gave her a behind-the-scenes peek into how exhibitions are created, and how the institute's archives are arranged and stored. Yu set up an endowment in perpetuity for the institute and has hosted Bolton in China in order to establish a dialogue with Chinese fashion designers such as Yu's friend Huishan Zhang, as well as Guo Pei, who created the much-memed yellow embroidered fur-lined dress that Rihanna wore at the Met Gala in 2015.
"My mentor told me that you know an entrepreneur when you see one—that entrepreneurial ­success is actually 90 percent DNA," Yu says, referring to ­William Ding, the billionaire CEO of NetEase. "I asked him what his mission was, and he told me, 'To use innovation to change the world.' I visualize that, by the time I'm 80, I will have invested in more than 50 ­amazing brands, not just in fashion, but also in cosmetics and hotel chains." (One beauty investment is, in fact, already in the works, but Yu can't yet disclose details.)
For the time being, though, there are couture gowns with which to contend. Wandering through the exhibition, Yu observes that the strength of the Alaïa woman reminds her of the Tang dynasty, her favorite fashion epoch. It was the time of the first female emperor—"crazy silhouettes and beautiful embellishments." We pass a voluminous black velvet gown with panniers embroidered with crystals that float weightlessly around the hips. "It's hard to choose, but I think this one would be my favorite," Yu says offhandedly. Don't be surprised if one day, in the not too distant future, you spot it in Yu's fashion museum in Shanghai—or on her Instagram feed.