Westworld Season 2: Everything We Know
If season one was a "maze," season two is a "door."
---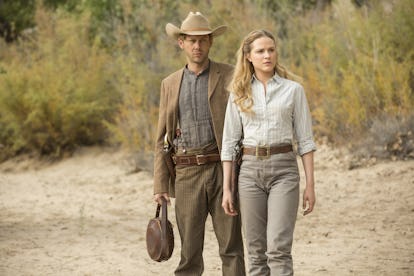 John P. Johnson/HBO
It's been a year and a half since Westworld premiered, and, in the meantime, the fandom surrounding the show has only intensified. That's in part because the first season left more questions in its wake than it answered, despite its generous finale. Now, though, we have a better sense of which answers will get airtime when the second season returns to HBO on April 22. According to the cast and show runners Jonathan Nolan and Lisa Joy, who recently revealed some spoilers to Entertainment Weekly, the second season will be less of a "maze" and more of a "door." As for what exactly that means, read on below.
Dr. Robert Ford Is Really Dead
Dolores may have truly killed him, but the character will appear in another way. We'll get a glimpse of his younger self in a flashback, and we'll also get to finally meet the founder of Delos, James Delos, who owns the park, played by Peter Mullan.
Dolores Is the New Dr. Ford
"She's playing the chess master," Dolores actress Evan Rachel Wood tells EW. "She has access to all of her memories, but now she's in control. There are some scenes where she's three different people in the span of a minute." Interestingly, in the teaser trailer, we also see Dolores has traded in her Wild West clothing for more modern outfits.
Season 2 Will Be All About the Uprising, and Viewers Will Be at the Mercy of the Robots, Too
Like in season one, what's fact and what's perception or memory will be up for debate. We will be seeing Dolores's robot revolution mostly through her and other robots' perspectives, leading us to question reality. "As the hosts learn more about their world—and other worlds, and the real world—the audience is doing the same thing," Nolan told EW.
Maeve Is on Her Own Mission, Looking for Her Daughter
"I was kind of freaked out at first because I had no idea where my character was going this season," Maeve actress Thandie Newton says. "Westworld stripped us bare of what we had and forces us and the audience to rethink what you've learned from that and what you know about these characters. It's not contrived, though. It's genuine to what they have mapped out."
There Will Also Be Flashbacks of the Man in Black
"He gets a bit of damage done to him, that's for sure," says M.I.B. actor Ed Harris. His younger self, played by Jimmi Simpson, will show us the dissolution of his marriage.
We Will Learn What Life Is Like Outside of the Park
"We don't like to endlessly build mystery; we like to settle our debts by the end of the season," Nolan says. "We want to feel like the show is rocketing ahead. The first season was a journey inward; this is a journey outward. It's a search for what else is in the park, and what else is beyond the park."
This Season Will Be a Bird's-Eye View of the Park
We may get a glimpse of the five other parks owned by Delos, like Shogun World. "This year is much more of a road show—Sweetwater isn't home anymore," says Nolan. Eagle-eyed fans have also located a promo website that claims that there are six separate parks in the facility. Medieval World, Roman World, Future World, and the much more relaxing, but less exciting-sounding, Spa World were featured in the original '70s movies the series is based on.
We Will Get Closer to Understanding When This Is
"These hosts don't live on the same time frame we do and don't have the four-year life span of replicants [like in Blade Runner]," says Nolan. "If left to their own devices, they could live forever. So our story has some real scope to it."
The Clues Are in the Pilot
Meanwhile, Wood has said that even she didn't realize that some of the things she said and did in season one had any significance until she read the scripts for the upcoming batch of episodes. Sounds like a re-watch may be in order.
Related: A Comprehensive "Westworld" User's Manual For the Season Finale