The First Westworld Season Two Trailer Shows Dolores, Bernard, and Maeve Invading the Real World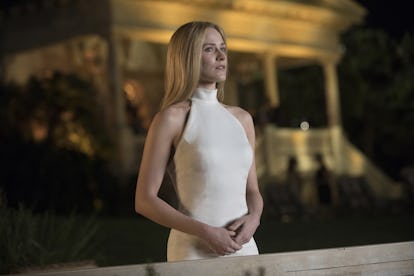 HBO
Nearly two years after the first season of Westworld premiered on HBO, fans of the sci-fi thriller finally have their first new look at Dolores, Bernard, Maeve, and the whole gang before the April 22 premiere of season two. Thus far, nary a clip of footage has leaked to insatiable watchers eager to take a deep dive into the most minute details of the futuristic world where robots, also known as "hosts," are on the edge of world domination. Last month, savvy fans discovered that a new website attributed to the fictional Westworld theme park and its fictional parent company Delos, which gave hints about the new season and confirmed the theory, based on the original movie, that there are more parks similar to the saloon-and-gun-slinging Westworld. Now, the new trailer shows glimpses of the show's characters leaving Westworld and visiting the real world (or at least, what appears to be the real world). There's also an excursion, it would seem, to a new feudal Japan-themed park.
The trailer, released on Thursday morning, opens with Bernard, played by Jeffrey Wright, literally washed up on a beach and, later, describing it to Dolores (Evan Rachel Wood) as a "dream," since, as Westworld fans are already aware, anything shown could be dream, reality, or some murky mixture of the two. We also get glimpses of Dolores riding her horse through the southwestern terrain with Teddy (James Marsden); Maeve (Thandie Newton) demanding to see her recently discovered daughter; and new characters like geishas and the people of Ghost Nation popping up throughout the two-minute clip.
Season one favorites like Tessa Thompson, who plays Charlotte Hale, "Man in Black" Ed Harris, and Clementine (Angela Sarafyan) also make appearances, though controversial character Dr. Ford (Anthony Hopkins), who had a shocking storyline in the first season's finale, does not. The entire trailer is almost too much to take in at once, as is the Westworld way, but, of course, theories are already a-brewing in fan forums like Reddit. And if you still can't keep up, refresh your memory of the events of the first season with W's comprehensive guide. The reckoning has already begun.
Watch the trailer, below.
Related: Westworld Season 2: Everything We Know