What Does It Take to Make a September Cover Featuring Rihanna?
Inside the W's September Issue: A rundown, by the numbers, of what goes into creating a look fit for a queen.
---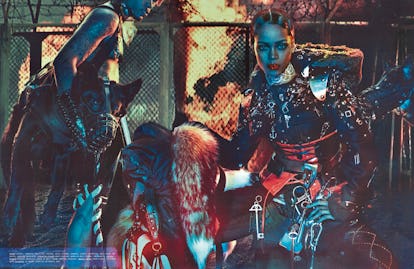 Photographs by Steven Klein, Styled by Edward Enninful
Shrouded in mystery, W's cover shoot featuring Rihanna took place at an undisclosed location over a full day and night — creative and fashion director Edward Enninful reported that the team worked on set from 9 a.m. to 9 a.m. on the shoot.
But what of the countless hours of preparation and research in advance of the shoot? The messengers sent, the pieces pulled, the garments and accessories customized? Dogs summoned to set to act as Rihanna's fierce companions at the end of the world? It was a massive undertaking even before Enninful and photographer Steven Klein arrived on set to capture the story in images — it turns out, it's pretty tough to create an apocalypse fit for Rihanna. Here, the team that brought Rihanna's post-apocalyptic tale to life offer an inside look at what it takes to conceptualize, style, and shoot a September cover featuring Queen Rih, by the numbers.
The preparation: The shoot was conceived in March, which means it was in the making for five months, from concept to publication. There were two binders of research, two days of fittings, and approximately 85 messengers used.
Accessories came from eight countries: United States, France, Canada, Spain, Poland, Germany, the United Kingdom, and Italy.
The fashion: To create Rihanna's end-of-the-world look, there were 18 racks of clothing and 13 tables of jewelry and accessories.
The garments and accessories were transported in 30 trunks with seven jewelry guards, plus an additional three pieces of luggage for delicate body armor — speaking of which, Rihanna wore 42 body pieces. Sixty-eight metal bits like washers, hooks, wire, nuts and bolts and 600 rhinestones customized accessories. Three tiaras adorned Queen Rih; four finger braces and 20 custom nail covers also made appearances.
The shoot: After the apocalypse, the only ones left standing were four male models, three dogs, and one Rihanna.