What the Hell Are the Kardashians Going to Do Now?
They're no longer bothering to keep up, but that doesn't mean they're all retiring.
---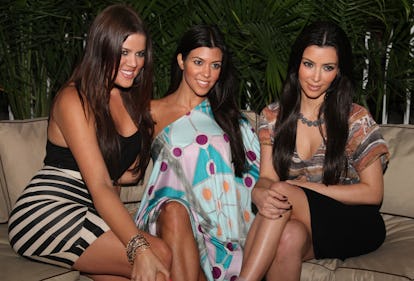 Not bad for a family with no talent. Despite initial predictions that their fame wouldn't stretch out for five minutes, let alone 15, the Kardashians have become America's de facto first family of pop culture. What started as a few small appearances by a single sister in tabloid magazines and gossip columns has grown into a lifestyle brand that reaches our makeup cabinets, haute couture runways, and social media timelines. All along, the sisters have used their E! reality show Keeping Up With The Kardashian to, at first, secure their fame and then control their own various narratives—so the announcement that it is ending after 20 seasons and 14 years came as something of a shock (although not a total surprise).
There were rumblings that Kanye West was upset about his family's commitment to filming the show, but other reports suggest that financially being tied to a basic cable reality show no longer made much sense (the show's ratings are still solid compared to similar programs, but have seen better days).
There are rumors that the Kardashian-Jenner industrial complex may decide to strike a deal with one of the streaming services instead, but even those come with the caveat that the resulting programs may bear little resemblance to the slice-of-life series of E! In other words, the main filming locations wouldn't be their various living rooms.
Detractors have heralded the end of KUWTK as an end to the Kardashian era altogether, but each and every member of the clan (well, with the exception of Rob) has already laid the groundwork for their post-show lives. After all, Paris Hilton still remains a matter of public interest (and not to mention the head of a fragrance empire) decades after the heydays of The Simple Life. There's no reason the Kardashians can't do the same.
Kourtney Kardashian's goop-ish Empire
Kourtney is the only sister with a college degree and was the most involved with running the family's pre-fame boutiques Smooch and D-A-S-H before E! came calling. In other words, she was the furthest along in establishing a somewhat traditional life (at least, by Calabasas standards) for herself before mega-fame hit. So it's no surprise, really, that she was the first sister to "quit" the show, and is already mapping out her more low-key (but potentially lucrative) next chapter. Her lifestyle portal Poosh seems modeled after Gwyneth Paltrow's goop, but it's telling that Poosh already has twice the number of Instagram followers as goop. It also seems like a savvy way to greet Kardashian fans as they enter new chapters of life. There comes a time when someone stops caring less about candy-colored lip kits and more about gluten-free charcuterie layouts and back-to-school must-haves for the kids. Kourtney's Poosh is there to guide them (and sell them things in the process).
Kylie's Makeup Emporium (and Slow Retreat Into Privacy)
Kylie is already proof that the sisters don't necessarily need a basic cable show to extend their fame. She's the most followed sister on Instagram, but her lone solo show, Life with Kylie, was a one season flop. Her fanbase is already most active on social media and YouTube, and at the age of 23 she's already received what may be the biggest payday of her life by selling a stake in her cosmetic company. Kylie is also the only sister to take a definitive hiatus from fame during her pregnancy. She seemed happy, and she's talked before about not wanting to be "famous forever."
Khloé Kardashian, Plug-and-Play TV Personality
Out of all the Kardashians, Khloé has always been the most eager to expand into other facets of television and traditional media. She briefly co-hosted the first season of the American version X-Factor, had a talk show called Kocktails with Khloé, hosted a radio show in Miami, and did three seasons of the show Revenge Body. She's also guest-hosted various programs, done some red carpet coverage for E!, and did a season of The Celebrity Apprentice.
According to various gossip sites, including Page Six, she's said to be the sister most upset at the ending of the show. "We're told that [Scott] Disick and Khloé both see the show as an easy and reliable payday."
We could see Khloé continuing on as something of a plug-and-play personality across various channels: a few seasons as a host on something like The Talk, a stint on Dancing With The Stars here, a Celebrity Big Brother run in the UK there, an episode of RuPaul's Super Secret Celebrity Drag Race for good measure, all alongside attempts at her own projects. Despite some Twitter gossip to the contrary (more on that later), perhaps it's Khloé who might be the best bet to someday wind up playing in Andy Cohen's Real Housewives world.
Though, there's one avenue we're surprised Khloé hasn't pursued: podcasts. Various networks are shelling out tens of millions to sign up celeb podcast hosts (Kim just signed one with Spotify for a criminal justice-themed series), and if Khloé wants an easy payday, it seems like a natural avenue for her.
Kendall, Model Mogul
Kendall promptly followed up news of KUWTK's end by proudly announcing that she's a stoner on Kate Hudson's podcast. What? It was more exciting than that time she announced she sometimes get pimples. In a certain sense, it also served to further differentiate Kendall from the rest of the clan. She's already the sister with the least amount of airtime on the show, but the most success in a completely unrelated field; she's one of the highest paid models in the world. Her progression to runway regular was certainly helped by her family's fame, but her continued employment on the catwalks of Paris isn't particularly reliant on the ratings of an American E! reality show at this point.
Still, should Kendall decide she needs to pivot, she always has the model-turned-mogul career path pioneered by Heidi Klum and Tyra Banks to follow. If the family signs a deal with Netflix, perhaps they'd be open to their own Kendall-hosted model competition show?
Failing that, she could always start an alt-lit publishing imprint.
Kim, Old School Socialite
Kim and her '00s "celebutaunte" cohorts helped upend the old notions of what makes a socialite, but in a weird way, she may be returning (or at least updating) the traditional path. The socialites of the 1960s, 1970s and 1980s (the type W used to chronicle incessantly) were all famed for their fashion sense, beauty, wealth, and (not always, but often) marriages to powerful men. They ostensibly carried on under the guise of charity by attending fundraising galas, bringing attention to various pet causes, and in some cases, inhibiting the notion of "radical chic." Though, you could argue at least some of those women only did so because the concept of being famous for nothing was considered a bit tacky at the time. Kardashian's class certainly never had any issues with that.
With her purported quest to become a lawyer and increasing public interest in criminal justice reform, Kim seems to be reworking the paradigm, this time with a more hands-on approach to the issues. It's almost a full-circle moment for the concept of "famous for being famous."
Of course, that doesn't mean Kim's business empire is ending anytime soon. KKW and Skims continue on strong, and there's word Kim may be interested in starting a home decor line as well. Still, it seems like she is slowly becoming the kind of woman who would care more about having her name on a college's Center for Criminal Justice Reform building than on a tube of lip gloss.
The Kris Jenner TikTok House
Immediately upon news that KUWTK was ending, Twitter demanded that Kris pivot to Real Housewives of Beverly Hills cast member instead. She has appeared as a guest on the series, but Andy Cohen pointed out that Jenner may not be the best fit: KUWTK is under her full control. RHOBH would not be. Kris may have been the surprising breakout character on the show, but it's also well known she pulls a lot of the strings behind the scenes as well. Financially, she still receives a 10 percent cut as her daughter's managers, but there's always room for improvement.
Perhaps she can look to Simon Fuller for inspiration. Fuller managed the Spice Girls during their heyday, and then turned around to create both the worldwide Idol franchise and remaining the man behind the scenes of David and Victoria Beckham's various empires.
So imagine a world where Kris not only continues to shepherd her daughter's careers, but also finds a way to find the next class of "famous for no discernible reason" personalities. Something like America's Next Top Influencer might be a little too on the nose, but imagine Kris starting one of those bizarre TikTok houses that keep popping up in LA, stopping by every once in a while to make sure they'remaximizing their personal brands to the greatest extent? It could be a successful business venture, or at least an entertaining spin-off show.
Related: Kourtney Kardashian Calls Out "Kylie Billionaire Jenner" for Her Entitlement