What to Read While Self-Isolating, According to Your Zodiac Sign
The Astro Poets are here to keep you from going stir-crazy.
---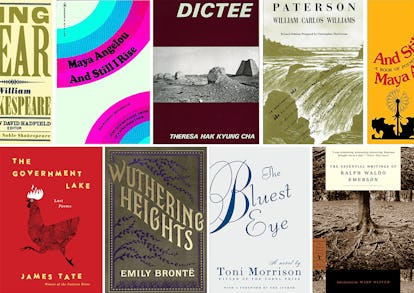 While we're all going a little stir-crazy in our apartments, allow us to remind you that there are many books to be read, and many books that can help us feel like we're not stuck in our apartments. We've chosen a book for each sign, by an author of that sign. Read up, but please check in on your water sign friends first! They're probably cooking or baking or organizing their photos from the aughts into folders on their iPhones.
Aries: Maya Angelou, And Still I Rise
It's almost Aries season, a time to begin something you've been thinking a lot about. Something that is true to your spirit. Maya Angelou is an Aries, obviously. Her poems charge ahead and give very little room for doubt or panic. She's best known for the poem "Still I Rise," in which she writes, "just like moons and like suns, with the certainty of tides, just like hopes springing high, still I rise." Aries are optimists. Maybe at times they can seem naïve, but it's better to see them as dreamers. Dreamers who are impulsive and, basically, fireworks.
Taurus: Shakespeare, King Lear
Okay, so a lot has been made about how Shakespeare wrote King Lear during the 1606 quarantine due to the plague. Yes, this is true. Yes, this is exactly how a Taurus would spend their time—at home, working away and plotting for world fame. But in all seriousness, King Lear is a great read during this time, in part because it will make you question power (if you haven't been questioning it already). The only power a Taurus respects is their willpower. This should be obvious. Also, please text your Taurus friends about tips during the quarantine if you are freaking out being at home for too long. They know what to do! This is how they basically live at all times of the year.
Gemini: Ralph Waldo Emerson, The Essential Writings of Ralph Waldo Emerson
Geminis, get ready to get transcendental. You all probably need it most. I'm sure you've started seven books at once, won't finish any of them, and can use some Zen. I'm also sure you're driving everyone you're in quarantine with crazy. Okay so, time to turn up with Emerson's essays. Apparently it's safe to take short walks outside. Here is Emerson on walks: "Few people know how to take a walk. The qualifications are endurance, plain clothes, old shoes, an eye for nature, good humor, vast curiosity, good speech, good silence and nothing too much." Leave it to a Gemini to come up with rules for walks. But here we are!
Cancer: Lucille Clifton, The Collected Poems of Lucille Clifton 1965-2010
Sure, Cancers are incredible nurturing, hospitable, and devoted to longterm partnerships, but one thing no one talks about is how enduring they are. Lucille Clifton's poems are direct, tough, and interested in lifting up the human spirit. Many of them are brilliantly short and accessible. She is truly a people's poet, like Cancers are people people. In her celebrated poem, "won't you celebrate with me," she writes, "every day something has tried to kill me and has failed." These poems will absolutely get you through this enforced staycation we're all on. They're full of the mystical and true.
Leo: Emily Brontë, Wuthering Heights
Yes, that's right, this is the time to reread Wuthering Heights. This is the time for heartbreaking, earth-shattering romance. If you're not having it, at least you should be reading about it. You should also be listening to Kate Bush's iconic "Wuthering Heights" and doing karaoke to it in your apartment. Both Kate Bush and Emily Brontë are Leos. Leos are passionate and completely unable to restrain themselves when they are into someone. They will not be subtle! We need this kind of energy now. We need hot Leos. (Also, please make sure to text your Leo friends the most during quarantine. They're starving for attention.)
Virgo: William Carlos Williams, Paterson
Yeah sweetie, you have the time to read an epic poem while you're in the bathtub wondering when quarantine will be over. This is one of the most accomplished long poems ever written—it's five volumes. Virgos go long when they get heated about—in this case—where they were born (New Jersey, wow). Williams is a very plain-spoken and entertaining poet. Obviously, we've all read "This Is Just To Say" and we are very much into those plums and the icebox and yeah, you remember. Paterson is his masterpiece and even more impressive. He was inspired by Joyce's Ulysses. Leave it to a Virgo to outdo one epic with another.
Libra: Arthur Rimbaud, Illuminations (translated by John Ashbery)
Written in the late 1800s, Illuminations is the work of a Libra. Irreverent and steeped in deep exploration of the imagination and the subconscious, Illuminations finds its power in presenting opposites sides of things—which is just so classic Libra. Rimbaud himself was a trailblazer, influencing countless poets after him and arguably instigating movements in Surrealism, which is a way of seeing the world through the dreamworld. Profoundly committed to a wholly personal belief system, revolt, and beauty, Rimbaud's work is the perfect vehicle to carry you into another dimension entirely.
Scorpio: Sor Juana Inés de la Cruz, Selected Works (translated by Edith Grossman)
Like any Scorpio, Sor Juana Inés de la Cruz is an eternal icon. Devoted to knowledge and poetry, she was a nun who demanded to keep creating, even when the forces of misogyny tried to keep her from her art. Her work is bombastic, subtly romantic, and deeply felt, as it many times rages against the forces that imprison our imaginations. Sounds just like a Scorpio, right? So, when your inner walls are starting to feel stale, draw the shades, turn off the lights, light a few candles, and open up this classic work. As she writes, "thought alone can imprison you." Let this Scorpio be your guide to free thinking.
Sagittarius: James Tate, The Government Lake
James Tate is about as Sagittarius as a poet gets. Despite being heralded and widely praised for the 30-plus works written in his lifetime and Pulitzer Prize, Tate remains a rebel in his poetry, making the poem a stage of affect and humor, forcing readers to confront both their own weaknesses and immense powers. The Government Lake is Tate's last work, published posthumously, and it is does not disappoint. The book employs Tate's much beloved style of fusing prose and poetry, and presents the reader with twists and turns of the imagination. In this book's unabashed free Sagittarian spirit, you will rekindle your own and remember how amazing it is to be alive.
Capricorn: CAConrad, Advanced Elvis Course
If you are into Capricorns, there is nothing better than the idea of the Capricorn power. With CAConrad's brilliant book you sure can make it a double. A double dose of strength and groundbreaking artistry, that is! And I mean, who doesn't want that? Published a decade ago, this book remains an important exploration into one poet's devotion to the King of Rock and Roll. In it, you'll find more than just your typical takes on the King. The book shows a deft hand in fusing together work from multiple genres (prose, poetry, dramatic theater) to exalt Elvis. More than that even, the book shows that Elvis is more than his songs or personal history. He is a fixture in a generation's imagination, presenting a model (or anti-model, in some cases) of what American celebrity has come to mean.
Aquarius: Toni Morrison, The Bluest Eye
We always call Aquarius the sign of genius, and there is no exception when it comes to Toni Morrison. Winner of the Pulitzer and Nobel Prizes, Morrison was an iconoclast in her life and in her work, rendering hard truths so precisely in a symphony of poetic language and speech. The Bluest Eye contains these truths in multitude and is a book you will not be able to put down. And if you haven't yet, after reading this book, you'll want to read everything else Morrison has written and watch videos of her being interviewed online, in which her extreme intelligence eviscerates any interviewer silly enough to not put rigorous thought and empathy into their questions. Reading this book (and others) and listening to her glorious voice will carry you through many a long night in solitude.
Pisces: Theresa Hak Kyung Cha, Dictee
Like any Pisces, Theresa Hak Kyung Cha draws her strength from her superhuman emotion. Published after the writer and artist's death in the early 1980s, Dictee is a blazing book that bends ideas of genre and narrative on their head. Fusing together narratives of historic and mythical figures, Cha's mother, and Cha herself, Dictee lives on as a map of loss, memory, and infinity. Nothing sounds more Pisces to us, and in these days, as time moves on in pockets (sometimes effortlessly, sometimes statically), let this Pisces goddess be your guide to considering how interconnected we have been throughout history and will continue to be.
Related: March Horoscopes: The Astro Poets on What's Next Post–Mercury Retrograde